Urgent Care On Demand, Except This Time For Mental Health
Play
This article is more than 4 years old.
The sleepless nights and dull, meaningless days began last summer. In the late fall, Grace, who asks that we just use her middle name, stopped taking her medication for depression and anxiety. It wasn't helping. By mid-winter, Grace says she often struggled to get through a day.
"If I had to do it over again, I wouldn't be here. If I weren't born, I wouldn't care, if you know what I mean," says Grace, looking up at a physician she has just met.
Dr. David Kroll, a psychiatrist at Brigham and Women's Hospital, nods. He continues an evaluation that includes deeply personal, sometimes painful questions. Has Grace thought about how she might kill herself? No, says Grace, just fleeting ideas. Has she thought about harming someone else? No.
Grace has a regular psychiatrist, but even during one of her lowest periods, she couldn't get an appointment to see that doctor right away.
"A couple months ago I tried to book an appointment, and I was given a date in June," Grace says with exasperation. "I've had it."
Kroll knows from experience why it's hard to squeeze patients in. Psychiatrists typically work alone rather than in teams that include a nurse practitioner and medical assistants. And the traditional approach is a thorough evaluation that builds toward a deep relationship.
"But sometimes you just need a quick look to see if there's something that can be done in the moment that might get you back on track for your care," Kroll says.
Long wait times for an appointment are one of the main reasons Kroll opened the unusual clinic where he sees Grace today. It offers walk-in visits with a psychiatrist one afternoon a week. There's a social worker on staff to help arrange follow-up care. So far, the clinic is only open to patients whose primary doctor or specialist is affiliated with the Brigham.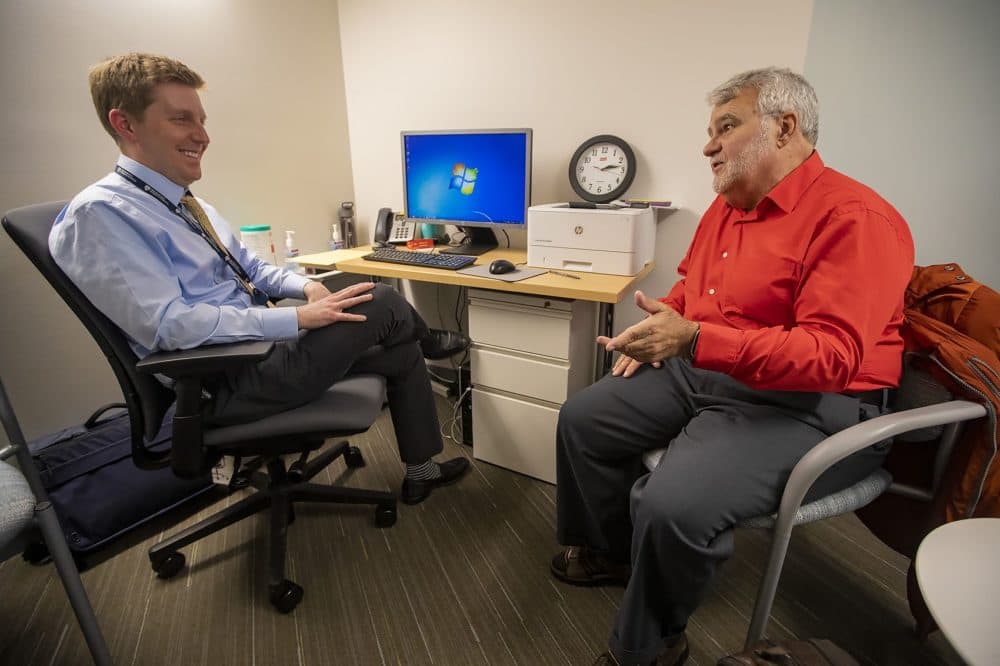 There are just a handful of clinics in Massachusetts where patients can get mental health care on demand and few examples around the country. Eight states are testing a free-standing community center model. Some hospitals are developing walk-in care for addiction during the opioid epidemic, which may include treatment for anxiety and depression. CVS and Walgreen's, two of the largest retail clinic networks, do not offer mental health care.
A key obstacle is money. Danna Mauch, president and CEO of the Massachusetts Association for Mental Health, says having a psychiatrist available, waiting to see patients is expensive.
"You can't plan for the emergence of the urgent thing," says Mauch, "so people have to have staff there, whether somebody shows up at that day or that hour or not."
Mauch is developing an urgent mental health care model for children. A recent report from the Blue Cross Blue Shield Foundation of Massachusetts says the state and private insurers must find ways to fund walk-in mental health visits and a more robust network of urgent care centers because too many patients can't find adequate or timely care.
Kroll says the early numbers show that psych urgent care will pay for itself at the Brigham because demand is so high. The hospital plans to expand the clinic from one to at least three afternoons a week by October.
Leading patient advocacy groups say they are excited about this emerging option for mental health treatment. Teri Brister, the director of information and support at the National Alliance on Mental Illness, says mental health services should be available in urgent care clinics just like blood pressure or stress tests. Delays, says Brister, trigger emergency room visits, hospital stays that could have been avoided and sometimes time in jail.
"The stress on the person and the stress on the family and the potential for symptoms worsening when treatment isn't received immediately only make things more difficult," Brister says.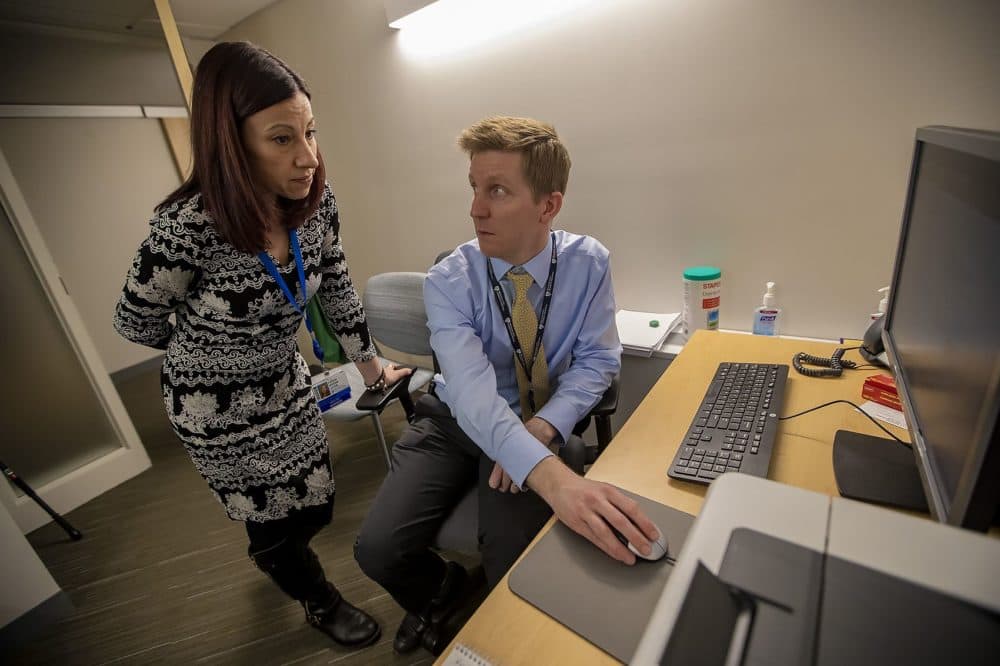 Lisa Lambert, director of the Parent Professional Advocacy League, says providing mental health care in a retail or urgent care clinic will remove some of the stigma patients feel in seeking treatment for depression or anxiety.
"When mental health care looks more like primary care or regular medical care and less like behavioral health care, for some people that's going to make a difference," Lambert says.
But there are potential pitfalls.
During Grace's appointment, Kroll scans dozens of drugs Grace has tried over the years. Grace sees a counselor, attends some groups and exercises, but can't seem to find a medication that helps.
"I don't necessarily remember what I felt like on them," Grace tells Kroll. "I guess I switched off them because they weren't working, but I don't remember why."
Kroll can review Grace's medical record because she's a Brigham patient. But what if he didn't know what medicine Grace had tried, or what pills she still had in the medicine cabinet?
"I think it's a setup for long term confusion and bad care with errors in it," says Dr. Joseph Parks, medical director at the National Council for Behavioral Health, representing 3,000 mental health and addiction treatment programs. Parks says coordinating care will have to be a priority as interest in urgent care psych clinics grows.
At the Brigham, Kroll says urgent care won't work if patients need a medication that requires careful monitoring. He mentions lithium, which is commonly prescribed for biopolar disorder.
Kroll prescribes two new medications for Grace, describes potential side effects, and tells her to follow up with her regular psychiatrist. Grace says she's relieved.
"You've been so helpful I really, and very thorough, my goodness, for just seeing me on the quick," Grace tells Kroll as she leaves.
The Brigham clinic is designed as a bridge between routine psychiatric visits, but Kroll acknowledges that on-demand care will appeal to many mental health patients.
"That's been one of the big worries," Kroll says. "That's why we built this up gradually. We were worried that once you opened the flood gates, then it could become overwhelming very quickly. Most of the time that doesn't happen."
Kroll says the clinic is busy some Wednesdays, but less so on others. The typical visit with a patient lasts from 20 to 60 minutes, which is longer than the average urgent care visit.
The Brigham clinic sees a disproportionately large number of Medicaid patients. And it welcomes patients who've been kicked out of established psychiatry practices for repeatedly missing appointments. So called "no-shows" are common in mental health practices, says Karen Wrenn, a licensed social worker who manages the Brigham's urgent care psych clinic. It could be something as simple as navigating public transportation or finding parking. Some mental health conditions get in the way of seeking care.
"With depression," says Wrenn, "folks will not be able to get out of bed. If you have more acute issues like psychosis, that's going to be a barrier."
But less of a barrier, Wrenn says, if patients know they can walk-in and be seen, when they're ready.
This segment aired on April 20, 2019.