Permit, Funding Hurdles Cleared For South Coast Rail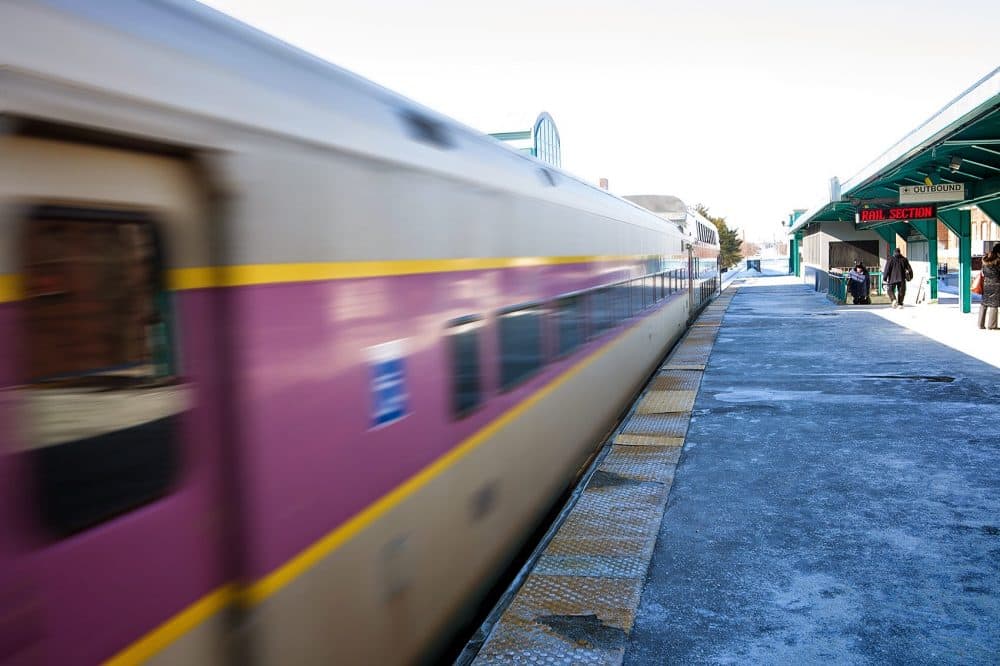 This article is more than 3 years old.
A project to reconstruct and expand commuter rail lines to the South Coast has cleared important hurdles after receiving a federal permit and full state funding, officials announced Monday.
Department of Transportation Secretary Stephanie Pollack, speaking at a MassDOT Board meeting, said the long-discussed South Coast Rail program will now proceed "full speed ahead."
The project's first phase will extend the Middleborough Line to New Bedford and Fall River, bringing six new stations and two new layover facilities into the rail network. Officials also plan to reconstruct almost 30 miles of tracks along the New Bedford main line and the Fall River secondary line and to upgrade the existing Middleborough secondary track.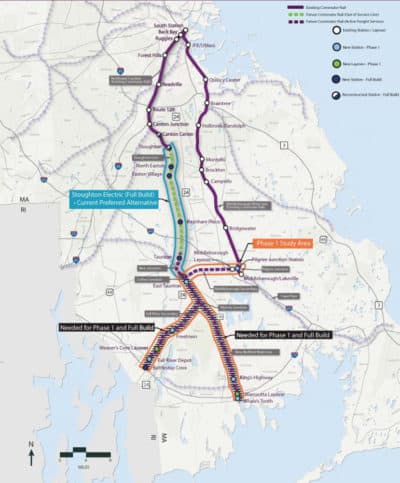 "We have really turned the corner on this project," said James Eng, MassDOT's project manager for the expansion who briefed the board Monday, describing funding and permitting as "two huge, critical milestones."
Earlier this month, the U.S. Army Corps of Engineers issued one of the final permits needed for the plans to move forward. The Baker administration also included the project in the capital investment plan, committing to cover the projected $1.05 billion price tag for the first phase of construction through bonding.
"Providing rail service between the South Coast and Boston will increase access to economic opportunities in both regions," Baker said in a Monday press release. "After decades of promised service, today's announcement moves the project further than it's ever been before, and our administration is proud to continue advancing South Coast Rail."
Under the current plan, the entire first portion of rail expansion will be covered by state bonds. The MBTA will not be required to offer any funding, avoiding any impact at this point to its future budget projections.
MassDOT employees are proceeding with a handful of other key steps ahead of full construction for the project. About half of the land for the new stations has been purchased already, and the board on Monday approved $22 million in spending for related bridge work.
"We are now well on our way to offering passenger rail service to the South Coast in a few short years with the financing secure, major permits in hand and infrastructure being built," Pollack said in a press release posted at the start of Monday's meeting.
Monday's announcement also indicated work will take longer and cost more than initially expected. Estimates last year suggested the rail expansion would cost $935 million and would be allow for passenger service to begin in late 2022, but officials said Monday the new target date is in late 2023.
That news drew criticism from lawmakers who represent the area, including Sen. Mark Montigny of New Bedford. While the permitting and financial plan are welcomed developments, he called the one-year delay "unacceptable."
"We still have a long way to go to ensure proper ride times and schedules for New Bedford residents who have been more than patient in this decades-long wait," Montigny said. "MassDOT and the MBTA must stick to its 2022 completion schedule. Anything less signals that we should simply defer to the original Stoughton route with electric rail as Phase 1 was promoted as an interim, near-term solution only."
Rep. William Straus, the House chair of the Joint Committee on Transportation, praised the development in a statement, calling it "further proof that rail restoration is coming to New Bedford and Fall River."