At The Nave Gallery, 'Avatars//Futures' Questions Who We Are — Online And Off
First, there's Christina Balch, the nice woman in Somerville who is curating the "Avatars" exhibit currently on view at the Nave Gallery. She's got short sandy brown hair and a clear, direct way of speaking. Then there is the digital version of Balch. She's the artist, producer and technologist with a website, LinkedIn account, Instagram account, Twitter account and Facebook page. On Twitter, back in February, she commented on Burger King using old Andy Warhol footage to create an ad. On YouTube, she has given a talk on an art project she did snapping selfies. On Facebook, she has cursed herself each year for not throwing a Kentucky Derby party with fancy hats.
This would be what Balch describes as her "data body" — the computerized version of herself, which she herself carefully curates and which is monitored and tracked by unseen parties who have amassed even more data about Balch of which she is most likely unaware.
"There's still a data body that exists of me online even if it doesn't have my name on it," she says. "What we're doing online is creating this online version of ourselves that advertisers are taking advantage of, and other people too, probably. Even if I change as a person, which I will, my data, in a sense, stays the same."
Representations of ourselves in a digital context, alter egos, cyborgs and who we become online whether it is intentional or not, is the subject of "Avatars//Futures," on view at the Nave from April 26 to May 18. Continuing a theme that began last month at the gallery with "Avatars//Ghosts," a show examining how artists represent their dead in a digitized world in which the human and non-human seem sometimes interchangeable, this second "Avatars" exhibit features nine artists from the Boston area who explore the meaning and context of avatars in new media.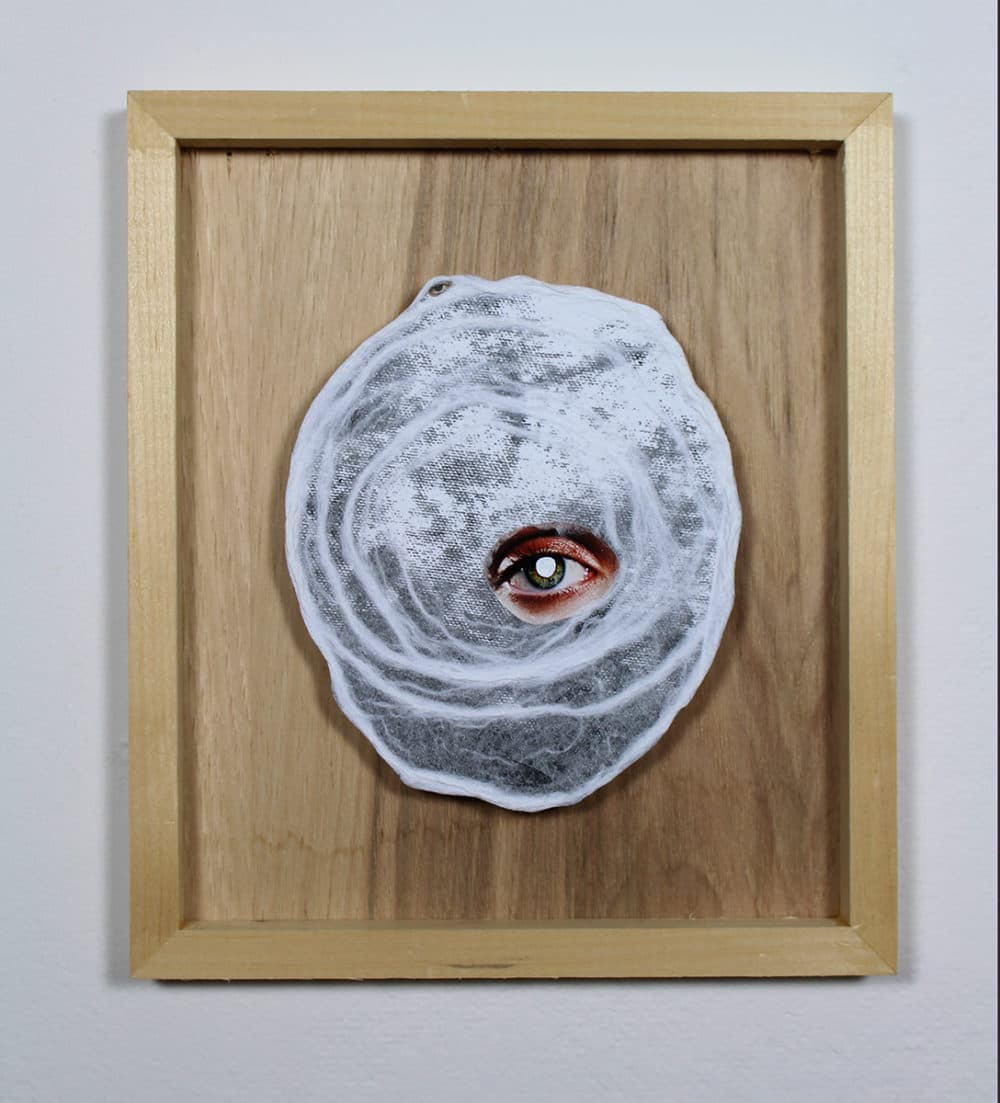 Avatar is a Sanskrit word denoting mortal incarnations of Hindu deities. Today, the word is most often associated with a digital image representing an individual on the internet. In contrast to the first exhibit, it is meant to be future-oriented (although, if you've noticed, the future seems to have collapsed into the present, these days). Where are we headed as more of our lives are lived online? What's virtual and what's real? Are we human or digital? Should we worry or celebrate?
The artists in the show (co-curated with the help of Giuliana Funkhouser and Krista Wright, which originally debuted at the San Francisco Art Institute last fall) present their own individual take on our cyborgian lives.
Mac Pierce, who describes himself as an artist and creative technologist with "a hearty love of Dada" has created a self-aware artwork entitled "Thank you for your feedback," based on the familiar machine that we sometimes encounter in airports. At the airport, we are presented with an apparatus with green and red buttons bearing a happy face or sad face, and it's up to us to hit our preferred button to provide feedback on our trip. In Pierce's "sculpture," gallery visitors can rate how well the artwork is functioning as a piece of art. Equipped with four buttons and speakers, Pierce's piece can respond to whatever feedback you give. Sometimes the machine is exasperated: "Why do I even try?" Other times, it is self-congratulatory: "Yeah, I know I'm good." Sometimes it offers a little sassy sarcasm: "The buttons do work, if you were wondering."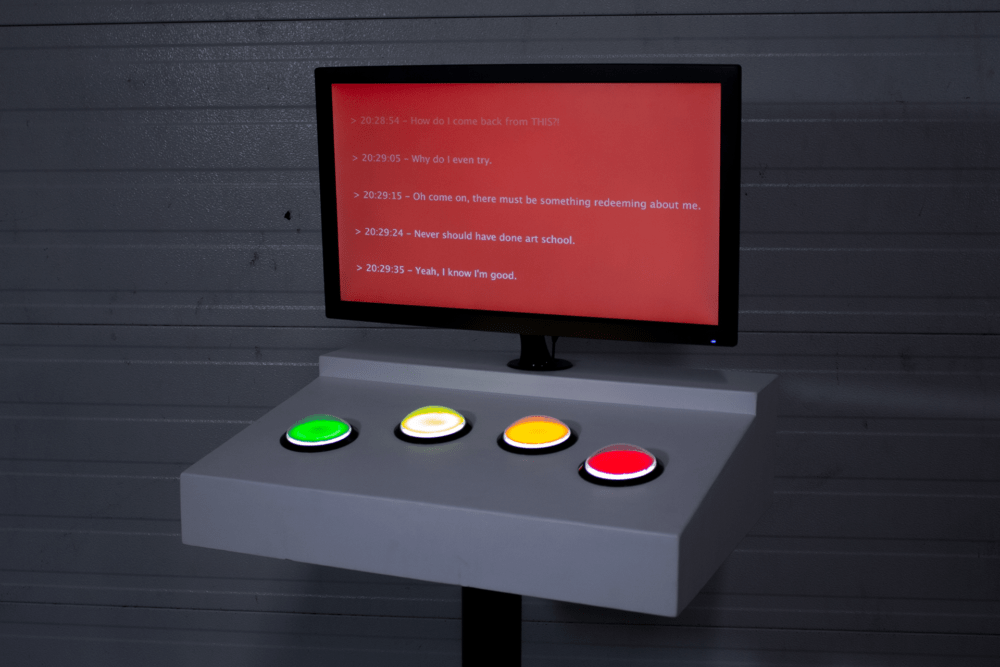 "It's sort of like an avatar of art," says Balch. "For me it's questioning the role of the artist. What is artwork itself? And, of course, the artwork is learning about itself based on the visitors' critiques of it. It's an artwork that is constantly changing because it's machine learning, evolving."
Joy Buolamwini is a Ghanaian-American computer scientist and digital activist at MIT Media Lab who founded the Algorithmic Justice League. Her piece "The Coded Gaze" questions the inherent bias of coding in artificial intelligence, which has resulted in facial recognition technology unable to recognize black faces. The reason? Programmers come from one narrow demographic and have never thought to diversify the images machines use to learn. In the video, a facial recognition software is unable to recognize Buolamwini as human until she dons a white mask.
"We can do better by intentionally creating inclusive code," says Buolamwini in her video.
"Technology is biased like the people who make it, and it perpetuates discrimination online and in the digital world," reflects Balch. "Joy's work is a wake-up call to big tech companies to include diversity in their workforce of coders to prevent coded bias, but she also asks us, as users of the technology, to question its source and to consider that technology is as flawed as its makers."
While some pieces, like an augmented and virtual reality game called "Shadowloop" created by Lori Landay, or Philip Knodle's virtual reality installation "Ocular Link," are very much tied to synthesizing the latest technology, others are rooted in more traditional methods. Tony Astone, for example, has created an acrylic painting of a being that appears to be half human and half machine. Jamezie has created a 2-D collage of tongues as well as a grid installation of body parts entitled "Transcendental Bodies" raising questions about, as Balch terms it, "the post-internet body." Melissa Glick creates colorful constructions out of old computer parts, cell phones, printers and scanners. Anna Spool (appearing in the show as A_Marcel) merges text, image and performance in a video retelling of Plato's Allegory of the Cave.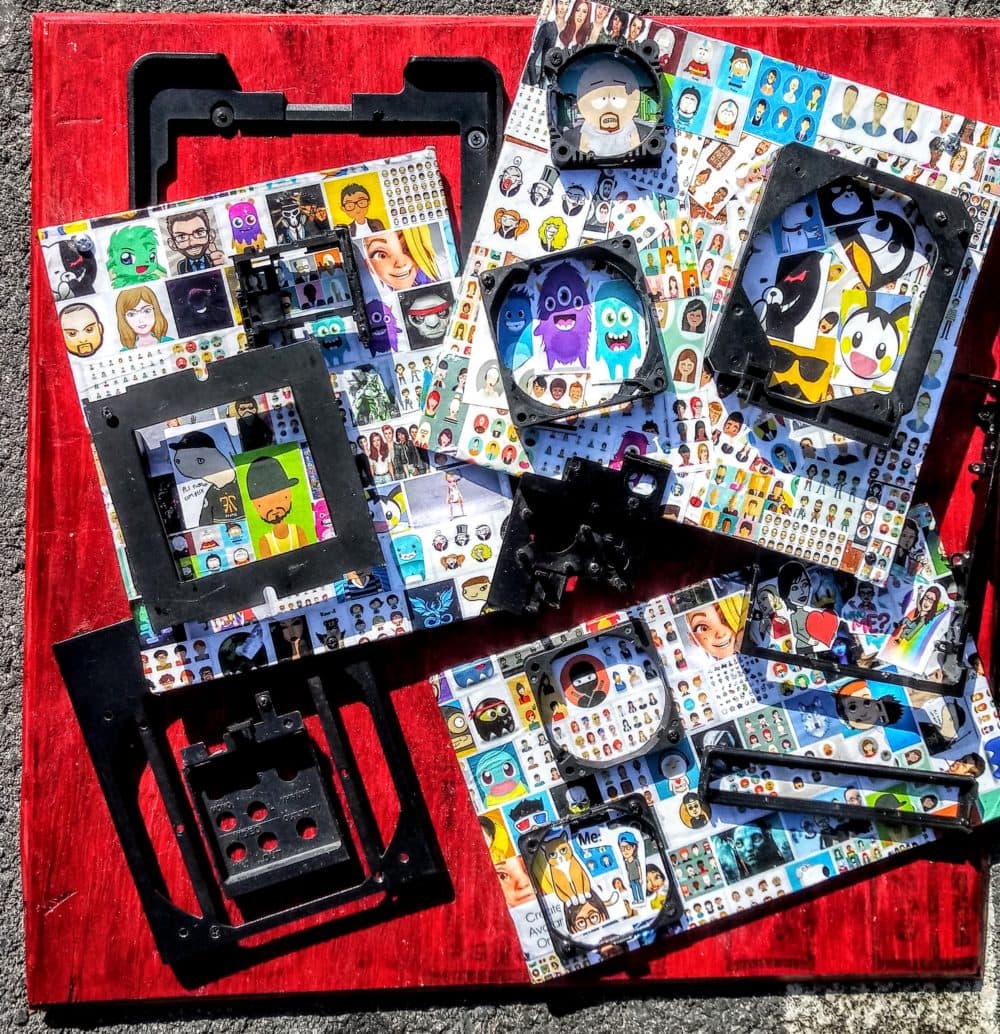 Balch herself is showing two works, an installation of e-waste created in collaboration with Glick, and a second assemblage which presents the artist's data via found objects. It incorporates deer hooves, a gun rack found in Vermont, Balch's own hair, a portrait of Balch which is actually a video on a cellphone, and pulsating lights that have been coded to beat to the rhythm of Balch's own heart. It is a "cyborg self-portrait" inspired by Donna Haraway's 1985 essay "A Cyborg Manifesto" in which Haraway rejects rigid boundaries separating "human" from "animal" and "human" from "machine."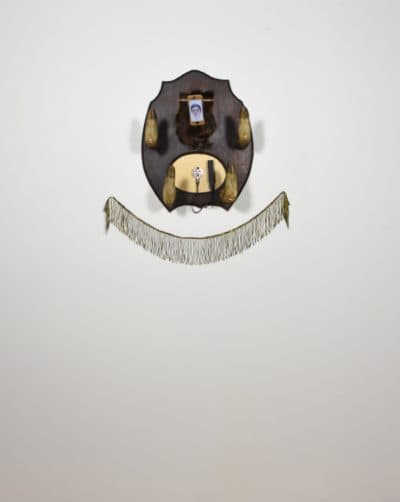 "I wanted to show animal human and machine in one portrait," says Balch.
After seeing "Avatars," one has the distinct impression that even the technologists (most of the artists in the show are tied to the tech community in some way or another) are deeply conflicted about who we are becoming in the face of relentlessly advancing technology that increasingly absorbs our time, energy, thoughts — our very identities.
"It's not that it's good or it's bad because there's both," says Balch. "It's more complex than that. I use technology and I'm knowledgeable of it. But the more that I know about it, because I try to keep up on it as much as I can, I do think it's automating things in a way that takes us away from what I would say is important."
In "Avatars//Futures," you get to stew on that for a while — before, that is, you jump back on Facebook.
---
"Avatars//Futures" is at the Nave Gallery in Somerville from April 26 through May 18. Opening reception is April 26, 7 to 9 p.m. An artist panel discussion will be Friday, May 10, from 7 to 9 p.m.