Nobel-Winning Doctor Warns Next Generation About Nuclear War
Play
This article is more than 3 years old.
With issues like climate change and criminal justice reform gathering steam, some say one longstanding concern is getting ignored: the threat of nuclear war.
Some local physicians are among those leading the call for more attention to the nuclear threat — including the Massachusetts Medical Society and a Nobel-winning doctor.
Dr. James Muller, a cardiologist at Brigham and Women's Hospital, is a co-founder of International Physicians for the Prevention of Nuclear War — which won the Nobel Peace Prize in 1985.
Now recent events, such as the incendiary dialogue between the United States and North Korea, have prompted him to renew his anti-nuclear work.
Muller held an "inter-generational dialogue" with Lasell College students and residents of the college's affiliated retirement community, Lasell Village, to talk about the perils of a nuclear conflict.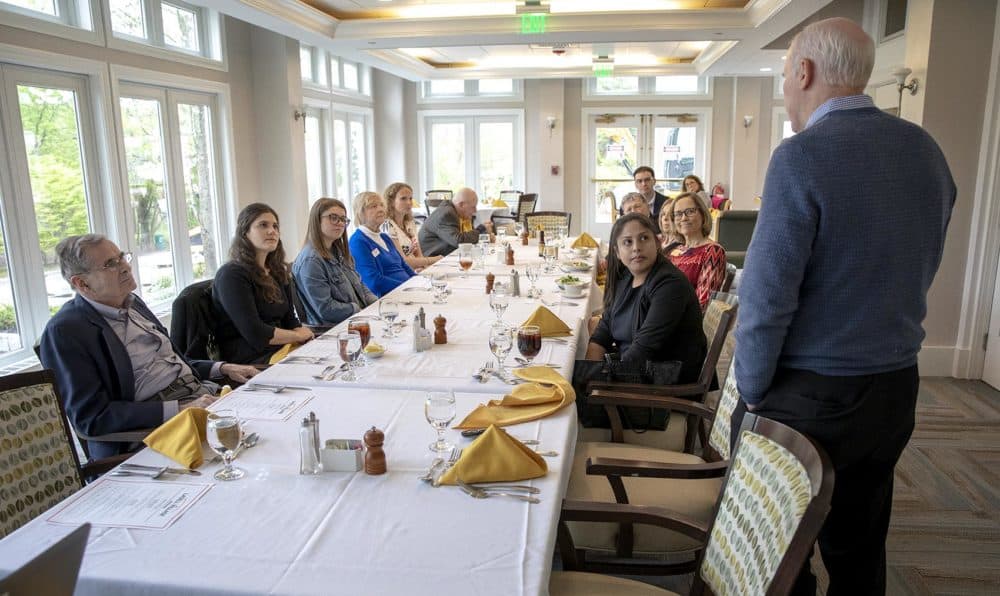 We sat down with him to talk more about his mission, and why he thinks doctors should be involved in the movement toward peace.
Here are highlights from the interview, which has been lightly edited.
Deb Becker: Why should doctors get involved with trying to prevent nuclear war?
Muller: Part of the nuclear problem is the word that often comes up: unimaginable. And the doctors' contributions is to make the darn thing imaginable. You know, to talk about the burned children that will result from use of a nuclear weapon, to make the point that this could happen.
Do you feel that your activism in the 1980s was heard?
Yes, it was definitely heard. The number of nuclear weapons in 1985, the year we were given the Nobel Peace Prize, was about 60,000 — most of them [belonging to] Russia and the U.S. And after there was a broad public consensus against that number of nuclear weapons, the numbers began to fall.
So many parts to the nuclear story are horrible to think about, but one wonderful thing is that, after 1985, they began to dismantle thousands of Russian and American nuclear weapons. We're down to 15,000 now, from over 60,000.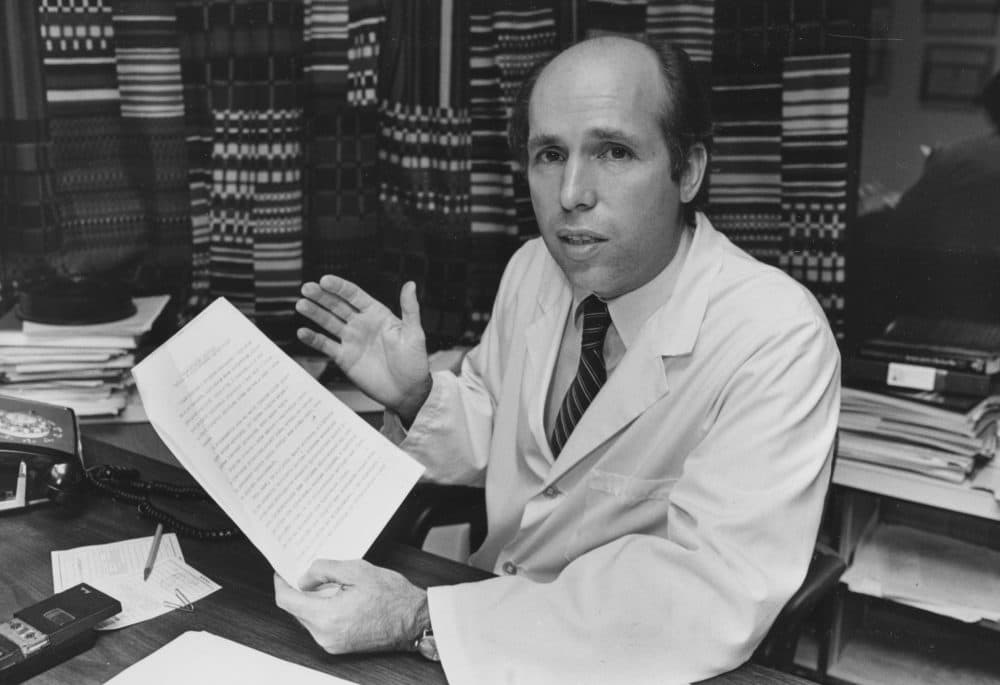 You pulled back from activism for a while. Why get involved again? Why now?
Because we've made progress in numbers, but there are now nine nuclear weapons states. There were six at the time. The weapons have spread to North Korea and Pakistan and India.
Secondly, terrorism has gone up, and the terrorists want to get these weapons.
And thirdly, we're building new types of nuclear weapons so that we can win a nuclear war. The Bulletin of the Atomic Scientists, which tracks nuclear risk, has said we're 2 minutes away from midnight. We're as close to nuclear war as we were in 1953.
Why do we not see huge headlines about that?
It's a hidden threat. You know, the environmental threat is in our face. We see the fires. We see the floods. The nuclear one, it's like a hidden dragon that's kind of hidden underneath the surface so you can't see it. It rears its heads periodically. Our generation lived through the Cuban missile crisis. We were within minutes of an all-out nuclear war with Russia. Then, we had 1980 with the Cold War. And now, we have Kim Jong Un and President Trump talking about "fire and fury" that will come with nuclear weapons.
It's going to be there forever. This is a permanent problem for humanity. Each generation will have to solve it and contain it because of that.
Is that why you're doing things like the lunch, to explain to young people who don't remember the Cuban missile crisis what happened and why you think that this is a continuing issue?
I think our generation, which built nuclear weapons, has an obligation to pass on our knowledge. We've done some things right. We've actually gone 74 years without a nuclear war. But it's also something we're familiar with in cardiology, which is denial. You know, a stroke is a horrible thing. And yet people smoke. Well, nuclear is quite a bit like that. You can live peacefully day to day with the denial, but you can't take action to prevent the catastrophe unless it's recognized. President Trump or Kim Jong Un or any American president can within 15 minutes launch hundreds of nuclear weapons in something that could destroy civilization.
But the argument is deterrence, right?
The argument goes that deterrence has worked, that if we hadn't had nuclear weapons we would have fought a conventional war with Russia. And you can go down that road. But the problem I have with deterrence with weapons on high alert is that it has to function perfectly forever. And I don't think it will. What I think we need is to ban the nuclear weapons the same way we banned chemical and biological weapons, put them in the same category. And then the deterrence will be coming from a different source. It will come from international consensus against the weapons and the knowledge that, if some idiot built them somewhere, you could still build them and threaten that person.
The Mass, Medical Society is taking this issue up. What do you think of that?
There'll be arguments saying, "This is not smallpox that you're dealing with. Why are doctors talking about national security policy?" Of course, the counter-argument that we make is that physicians have dedicated their lives to preservation of life and health of the people they serve. And nuclear weapons are the greatest threat to life and health of civilization. In the same way that physicians worked to help the public understand the threat of measles — that's coming back again with that vaccination — we have to make these hazards known. That's the argument. It was convincing in the 1980s — led hundreds of thousands of doctors to be active against the nuclear threat when it was very visible and I hope that [the medical society will] vote in favor of that.
This segment aired on May 3, 2019.