'The Handmaid's Tale' — And A Sea Of Blood-Red Dresses — Comes Home To Harvard In An Opera
Resume
Even if you haven't read Margaret Atwood's gut-wrenching, 1985 book, or watched the visceral, visually-arresting Hulu series, there's a good chance you'd recognize the Handmaids' now-infamous crimson garb.
"When you see an ocean of long, red dresses — doesn't matter what they look like — you know that it's gonna be 'The Handmaid's Tale,' " Liz Perlman remarked on a recent afternoon in her Somerville shop, Costume Works.
Her team of seamstresses has been deployed to sew enough red dresses to clothe a small army of Handmaids — along with color-coded outfits for the Commanders, Wives, Marthas and Aunts — for the Boston Lyric Opera's new production of "The Handmaid's Tale."
Perlman is an Atwood fan and calls the book "scary as hell." But as an opera, she said, "It seems inconceivable to me. And the intel from the singers is that the music is very difficult, and I assume it will be as hard to listen to as the plot is to know."
"The Handmaid's Tale" unfurls in a Boston where extreme fundamentalists overthrow the U.S. government after widespread environmental collapse causes mass infertility. The men in charge enforce a violently rigid theocracy in their newly created Republic of Gilead to ensure humanity's survival. Women who can bear children are forced into reproductive slavery as Handmaids for barren Commanders and their Wives.
Trying on her blood-red cape and dress for the first time at a two-hour fitting was creepy for soprano Jennifer Johnson Cano. The fictional garments have become potent, political symbols of female oppression, particularly after #MeToo.
"There's something about the cape, and the way it sort of blankets the entire body," she said. "It has a personality all on its own."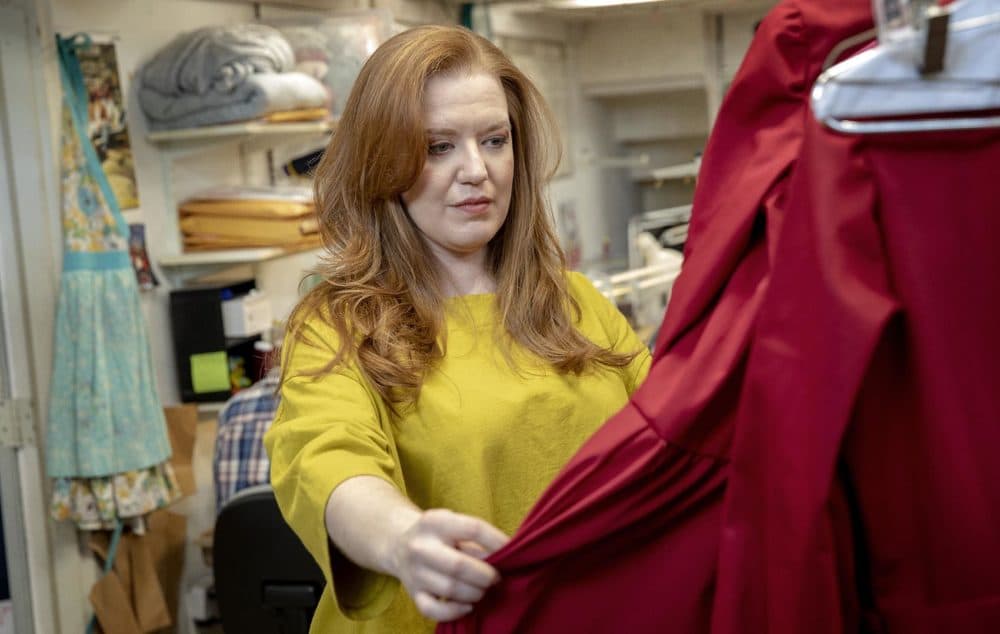 Cano is singing the part of Offred, the lead Handmaid, in this East Coast premiere of the opera. She said she relates to this character more than others she's sung to life on stage. "Lots of us, when we're in operas, we're playing aristocrats, kings, queens gypsies, robbers, thieves, but this is a fairly recognizable person to our everyday eyes."
Atwood's dystopian tale of a totalitarian near-future has been retold as a movie and an award-winning TV series, but Cano said it's also "made for opera." She's seen the  adaptations but warns that comparing the opera to either would be like comparing sculpture to painting.
"I think the thing, of course, that separates the opera from all of these other things is the additional element of orchestrated music and live singing," Cano said, "and that cranks it up to 11."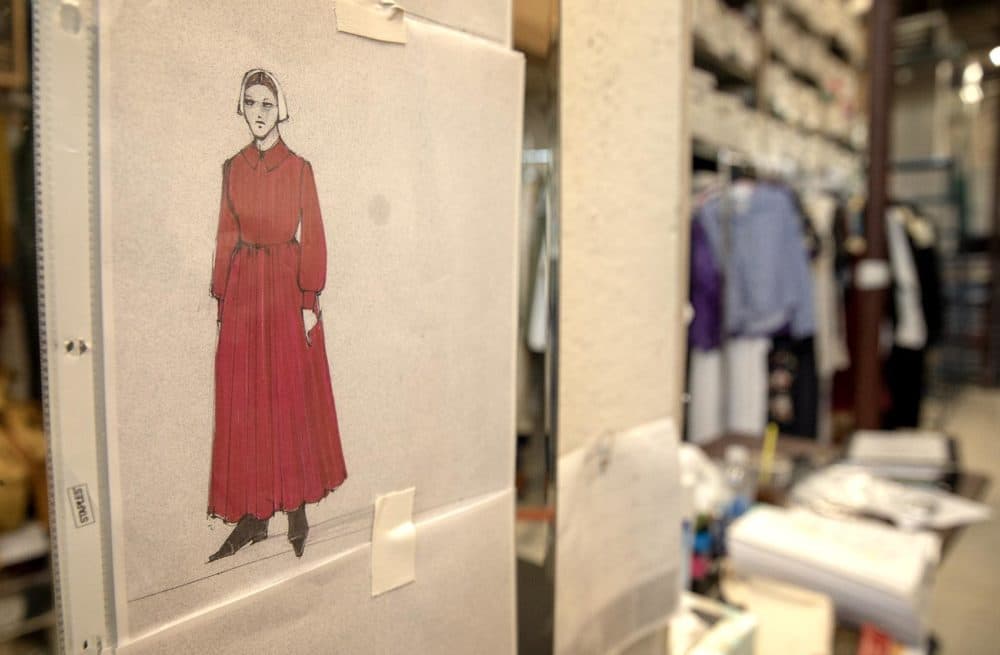 BLO artistic director Esther Nelson read Atwood's novel when she lived in a divided Germany, where she said it was frighteningly relevant. For her, the complexity of the story's emotional world cannot be fully captured by the word alone.
"Music conveys a story and a message directly into your emotional core," Nelson said of the opera. "These characters sing it, they own it."
In both the opera and novel, Offred apologizes to the audience for her gruesome tale.
"I'm sorry my story is in fragments," Cano intoned at a recent rehearsal. "I'm sorry I can't change it. I'm sorry there is so much pain..."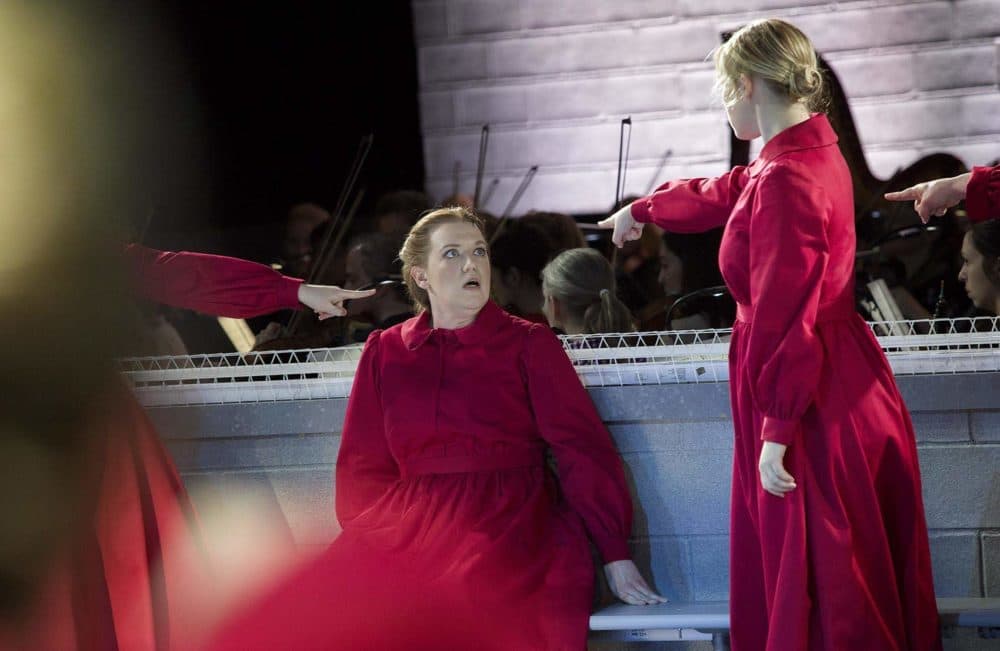 Nelson acknowledges it is indeed a challenge to avoid imitating a story that's become a binge-worthy, pop-culture phenomenon.
"So you have to take people out of the zone that they expect immediately, and pull them into a work for the stage," she said, "which is up close, it's not on a screen. You're gonna confront the people themselves."
For Nelson, the idea of a composer wanting to turn a dystopian novel into a contemporary opera seemed contrary at first "because it's an oddity that very good novels make good operas," she said. But when Poul Ruders read the book "waaaaay back" (as he told me), he was struck "that it's actually quite musical in his own right."
Ruders recalled setting out to channel the story's sound world, fraught relationships and undulating tension. Finding the emotion was easy, he said, because "The Handmaid's Tale" teems with drama. There's illicit love, power struggles, jealousy, collusion, camaraderie and rebellion — the stuff operas have long been built on.
"And then the most important of all is the heart-breaking love between Offred and her lost daughter," Ruders said. "That's the real crux of the whole story."
He teamed up with librettist Paul Bentley, crafted singable dialogue gleaned from Atwood's powerful prose. But Ruders also needed a theatrical device to jump between current-day Gilead and the time before, as happens in the book. His answer? Two kinds of music. "Lighter for happier times," Ruders explained, "and then there's the Gilead music which is unforgiving, relentless and brutal."
"There is that noise of this oppressive regime," Nelson added, "that hammering, that percussive, rhythmic sound. It just keeps pounding you. But there are also these silences that are just transformative in the orchestra and you get into Offred's mind emotionally."
A 65-musician orchestra led by conductor David Angus conjures the beauty and horror. Then, there's the chorus of Handmaids, all in red.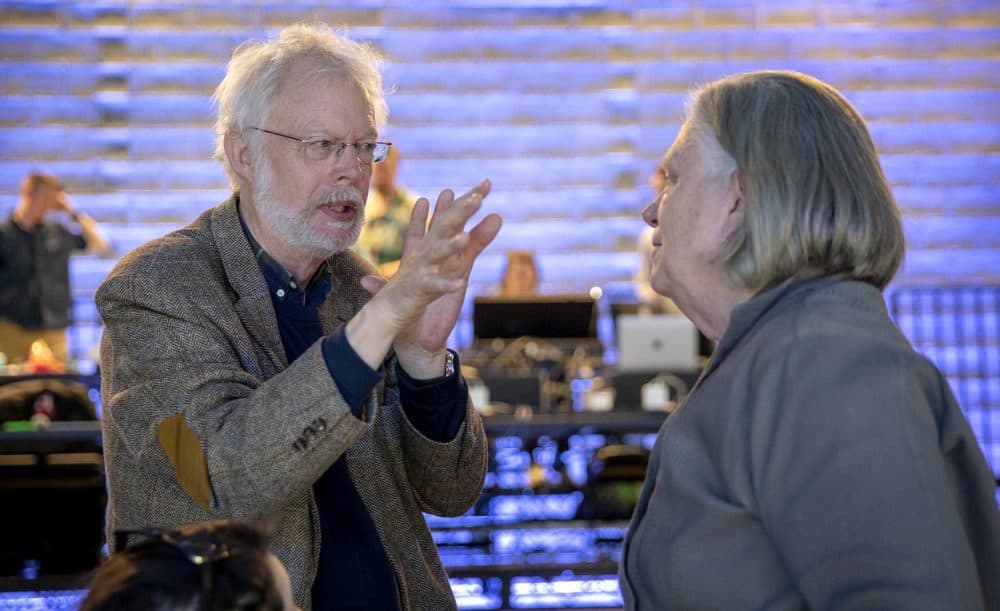 "Give me children, or else I die..." they sing en mass, delivering their ethereal anguish over what's become of their world and their bodies.
Ruders' opera premiered in 2000 in London and has played around the world since. But director Anne Bogart says having two dozen Handmaids singing at Harvard — where Margaret Atwood originally envisioned her story — is a surreal homecoming.
"I think it's eerie," she said sitting in the Harvard basketball arena that's been transformed into the Red Center where the Handmaids are taken to be indoctrinated in Atwood's book.
"She had studied at Harvard, and she imagined that the hanging wall was next to the library, and that the detention center was right here in the Lavietes gym," Bogart said. "Creates quite an impression."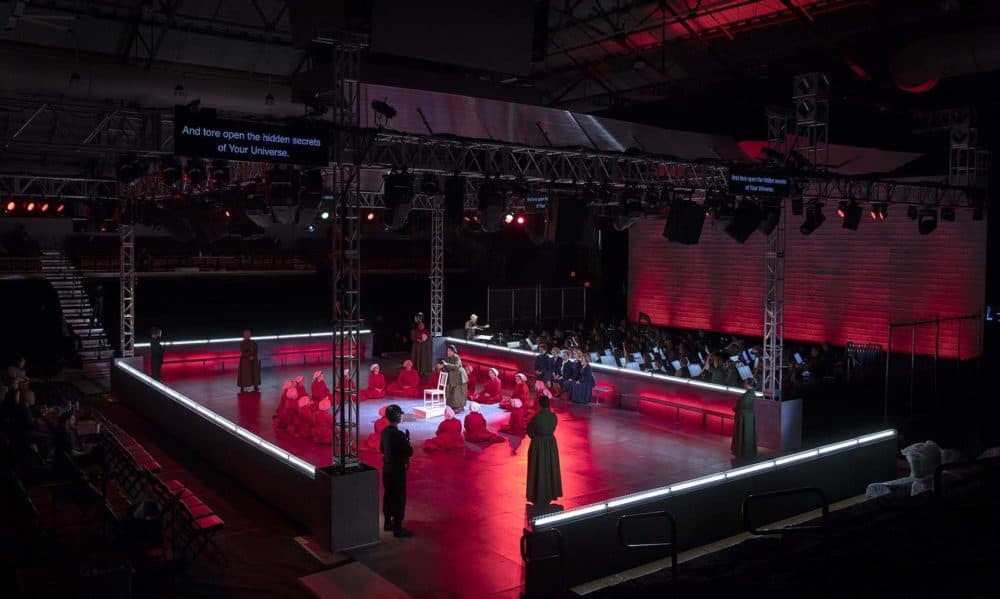 The audience will sit "in-the-round" on bleachers encircling more than 30 chorus members on a stark, gray set, designed by James Schuette, who also created the look for the costumes.
"The space is the call to adventure — as Joseph Campbell would call," Bogart continued, "the entrance into the belly of the whale, the series of trials. It's a very classic story in that sense. So the audience walks in and they are being called on an adventure by the space."
Bogart wants this immersive, Puritan meeting house-meets-coliseum vibe to provoke a sense of complicity in audience members. She wants them to feel like witnesses.
"I hope this opera will help you feel a little bit responsible for the world we live in," she told me, adding its relevance seems to intensify with each passing week.
Like the ancient Greek plays about hubris that haunt us to this day, and that are redone again and again, the director said whatever way "The Handmaid's Tale" is told, it will continue to unearth the big questions of our time — while cautioning us about could happen if we let our guards down.
---
"The Handmaid's Tale" runs Sunday, May 5 through Sunday, May 11 at Harvard's Lavietes Pavilion. The Boston Lyric Opera will provide 50 free tickets for students, which can be reserved online.
This segment aired on May 3, 2019.