Trump, Red Sox Steer Clear Of Controversy Surrounding White House Celebration
Play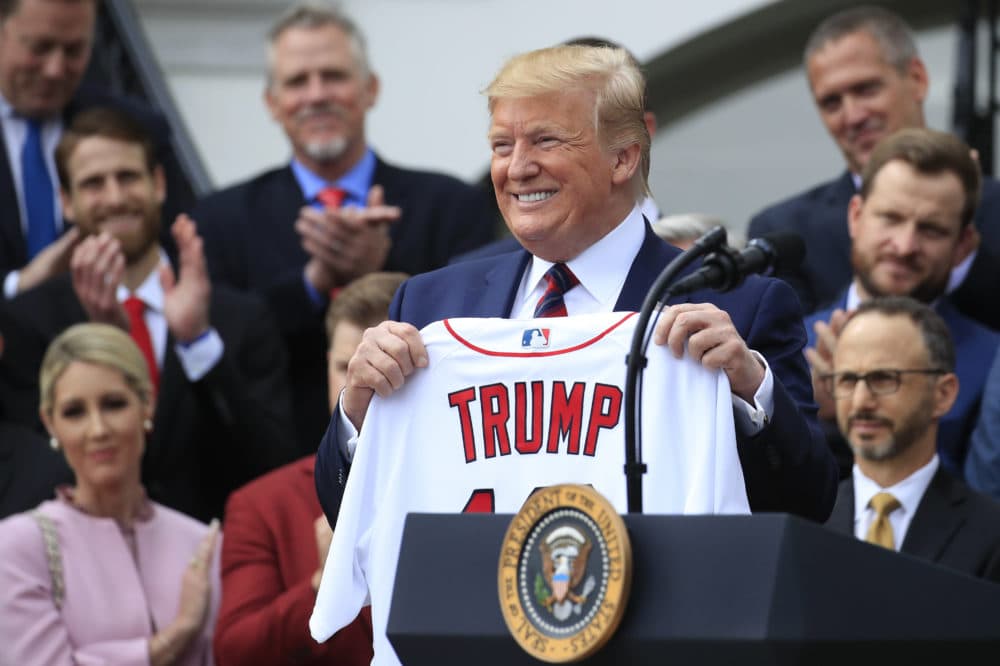 This article is more than 3 years old.
President Trump and Boston Red Sox players and executives steered clear of the controversy surrounding the team's White House visit as the president honored the World Series champions.
Trump called the team an "example of excellence," and he was given a ceremonial jersey, as is custom.
But the absence of key Red Sox figures displayed a divide along racial lines. Manager Alex Cora as well as several players — nearly all people of color — announced before the event that they would not attend.

After the team's series against the Baltimore Orioles, Cora as well as players including World Series MVP Mookie Betts and centerfielder Jackie Bradley Jr., all flew home to Boston Wednesday, while the players who attended the White House ceremony, who were mostly white, planned their return for Thursday.
Trump walked out to the South Lawn of the White House for the ceremony flanked by Red Sox pitcher Chris Sale and outfielder J.D. Martinez — who as the only player of color to announce before the event that he would attend.
Trump made no mention of the missing players and manager, and even joked about being a Yankees fan, saying that for the sake the event, "I think I'll be neutral in this one."
Last year, on the eve of the White House ceremony for the Super Bowl champion Philadelphia Eagles, Trump disinvited the team after several players announced their plans to skip it, citing Trump's rhetoric. Trump also withdrew an invitation to the NBA-champion Golden State Warriors under similar circumstances the year before. But despite the brewing controversy the Red Sox event went forward as planned.
After the ceremony Tom Werner, Red Sox chairman, said he talked to Cora about his decision to skip the event base on his dissatisfaction with the administration's handling of the crisis in Puerto Rico after Hurricane Maira.
"I talked to Alex about it," Werner said. "I certainly understand his decision not to come, and I respect it."
As for the decision of most players of color not to attend, Werner said, "We don't see it as a racial divide."
"I think baseball is apolitical," Werner added.
This segment aired on May 10, 2019.