Your Shoes May Cost More, Thanks To The U.S.-China Trade War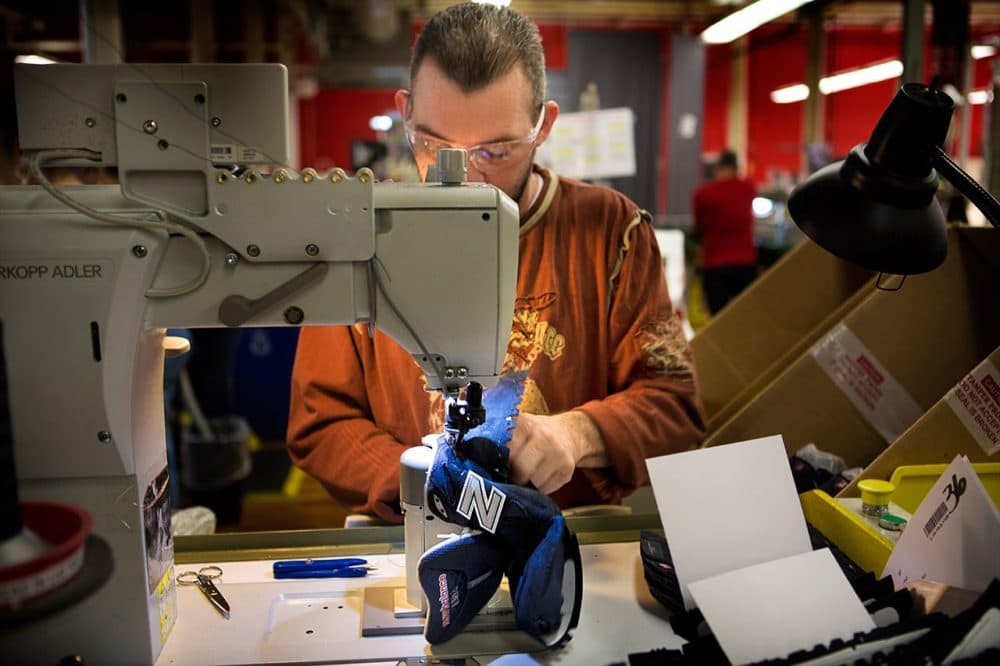 This article is more than 2 years old.
A new round of tariffs on Chinese imports might mean you have to pay more for your sneakers or heels.
The Trump administration put tariffs of up to 25% on $300 billion worth of goods from China — ranging from meat, plants and electronics to clothing, spices and toys.
Shoes are another item on the list, which could impact companies in Massachusetts. The state is home to several major footwear brands, including New Balance, Converse and Reebok. Most of the companies wouldn't comment on the impact of the new tariffs, but one footwear company says the new duties will hurt the industry.
"It's kind of killing the trade," said Mike Jeppesen, president of the Global Operations Group at Wolverine Worldwide, which owns a dozen shoe brands including Waltham-based Saucony, Sperry, Keds and Stride Rite.
Jeppesen said the new tariffs will end up being paid by consumers in the end. (Shoes that are imported into the U.S. already face an 11% tariff on average, according to Jeppesen.)
"If it's a sneaker that typically costs $160 in retail, that shoe will now be costing $200 in retail," Jeppesen said.
A children's shoe that typically costs $60 in retail would now cost $75 in retail, Jeppesen added.
The new tariffs could also have a negative impact on employment in the footwear industry, according to Jeppesen. If consumers buy fewer shoes because of the higher prices, the industry will need fewer people to sell the shoes, he said.
In 2018, 69% of all shoes sold in the U.S. came from China, according to the trade group Footwear Distributors and Retailers of America (FDRA).
Jeppesen, who is also chairman of FDRA, said the latest round of tariffs are forcing shoe companies' hands.
"It's clear that the administration is trying to force the industry to buy shoes from other countries than China," Jeppesen said. "The problem with that is it's relatively difficult to move our production out of one country to another, and it takes time to do so."
Still, Wolverine Worldwide is exploring that option and looking to expand production in the other countries it already sources from, Jeppesen added. Less than 40% of Wolverine Worldwide's shoes come from China — most come from Vietnam, according to Jeppesen. Some of the company's shoes also come from Bangladesh, India, Cambodia and Indonesia.
Other shoe companies also have operations outside of China. Adidas, which owns Boston-based Reebok, also produces a larger share of its shoes in Vietnam. In 2018, 42% of the company's total footwear was produced in Vietnam while 18% was produced in China, according to the company.
Jeppesen said even with operations in other countries, there's still some reliance on China. He said one of the challenges his company is running into is that many of the materials needed to make shoes come from China.
"Trade today truly is a global event," Jeppesen said.
So what about making shoes right here in the U.S.? After all, Massachusetts was once a major shoe manufacturing hub. Jeppesen said the higher labor costs in the U.S. make it "prohibitive" for companies to make shoes here. So, he said, shoe production is unlikely to come back in the U.S. in a significant way.