Protesters Rally At Mass. State House To Support Abortion Rights
This article is more than 3 years old.
Supporters of abortion rights rallied around the country and in Boston Tuesday afternoon to decry recently passed laws that restrict abortion access in Alabama, Georgia and other states.
Roughly 200 people gathered in front of the Massachusetts State House in solidarity with those opposing anti-abortion actions in other states. The protesters also urged legislators to pass bills that would increase protections for abortion rights in Massachusetts.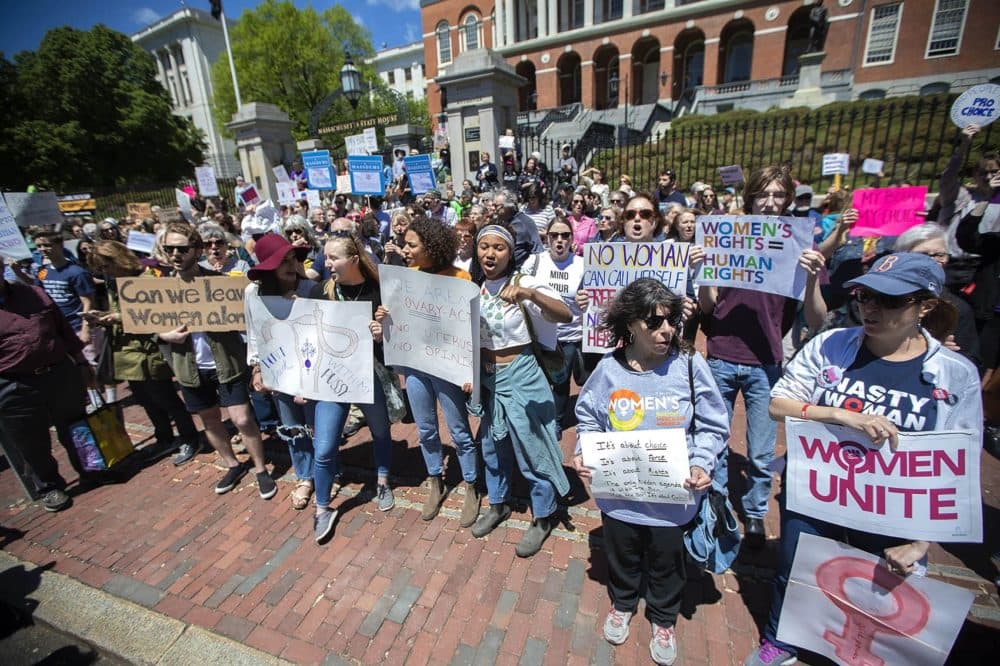 "We need abortion to stay safe and legal," said Laura Innis, of Falmouth, who was dressed as a handmaiden from the dystopian novel, "The Handmaid's Tale."
"We need birth control to be accessible to every woman," Innis added, "and we need things to be between a woman, her doctor and her own god, if so be."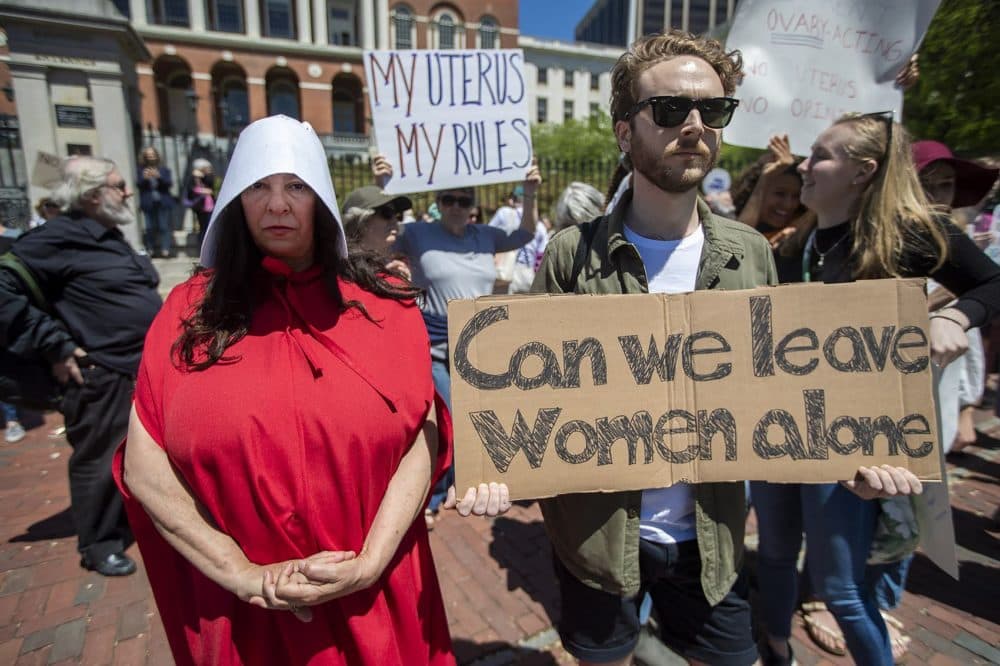 The fact that abortion services are presently secure in Massachusetts offers little comfort to Innis.
"I think it's really frightening for women all over America what's happening," she said. "I think we can't take anything for granted at all. We think because we're from Massachusetts we're safe, but Massachusetts was actually the last state to decriminalize birth control."
Her concern was shared by Pamela Newport, of Boxborough, who also came to protest.
"The government should not be regulating our bodies, and we should be able to make decisions on our own, with our doctors, and the government should not have a say in that," said Newport. "I think it's disturbing what's happening in other states. Women need equality. We should be equal under the law, and we should not have extra laws regulating us."
Some protesters said they fear for the health of women around the country as more and more laws are passed restricting access to legal abortions.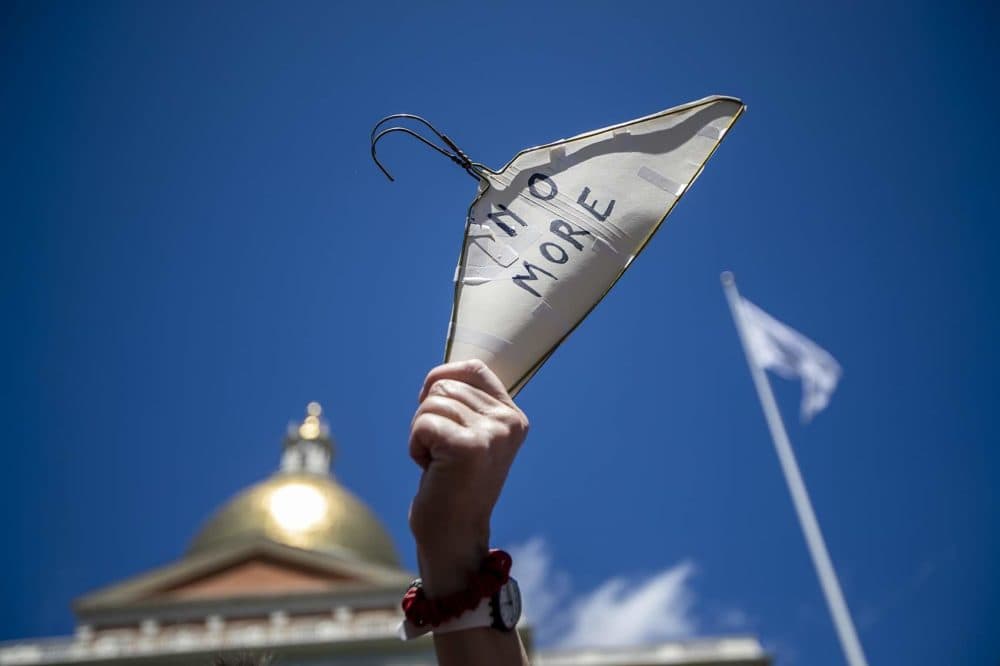 "There will be blood," read a sign with dangling coat hangers held by Sheila Leavitt, of Newton. She said she was a trained physician.
"I remember the days before Roe," said Leavitt. "I had friends back then who were not as fortunate as young women are now, and I also know that in many parts of the United States abortion rights and a woman's right to choose is definitely under attack."
A handful of conservative legislators have filed bills in Massachusetts that would tighten abortion restrictions, but given the overall make up of the mostly Democratic Legislature, those bills are not expected to advance.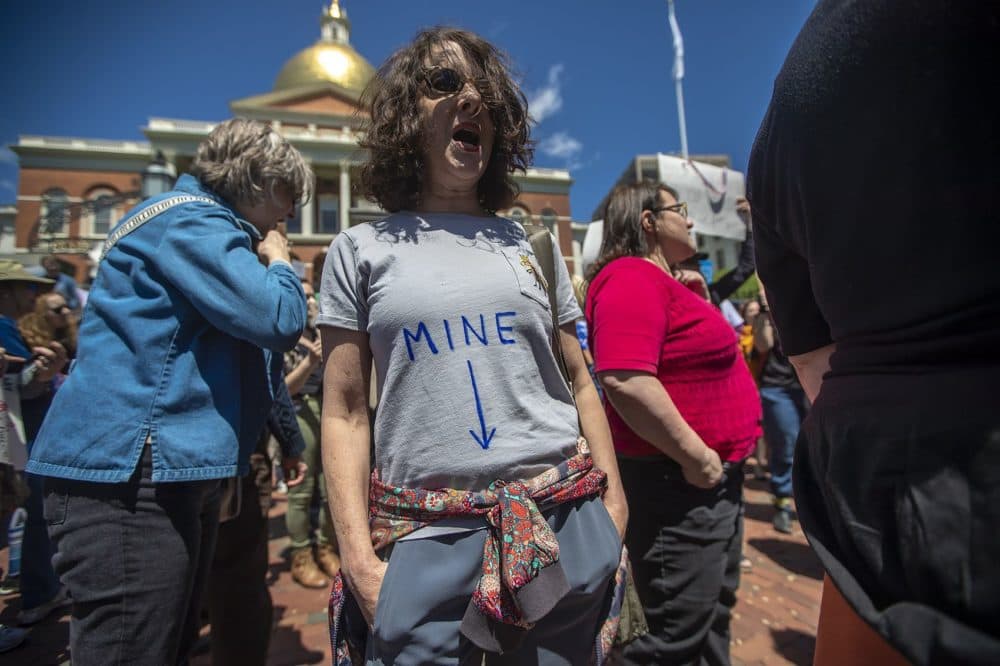 A pair of identical bills, known as the ROE Act, would strengthen abortion rights and is gaining support on Beacon Hill.
The ROE Act would remove the requirement for minors to get parental consent for an abortion. It would also allow abortions later in a pregnancy when "the abortion is necessary to protect the patient's life or physical or mental health, or in cases of lethal fetal anomalies, or where the fetus is incompatible with sustained life outside the uterus."
Current law allows abortion after 24 weeks only when the health or life of the pregnant woman is at risk.
House and Senate supporters of the ROE Act have been huddling privately in recent days to plan a strategy. Hearings have not yet been scheduled, but could be held this fall.