Today's Weather: It's A Gorgeous May Day
This article is more than 3 years old.
Today will be an ideal day across the area, with a little bit less wind by this afternoon and temperatures up near 70 degrees. Skies will be bright and blue and there will be plenty of sunshine. This is the kind of day you'll definitely want to take lunch outside and if you happen to have a midweek day off, it will be good for golf and getting in the garden. Any of those Little League or other field games with the kids will go off without a hitch this evening.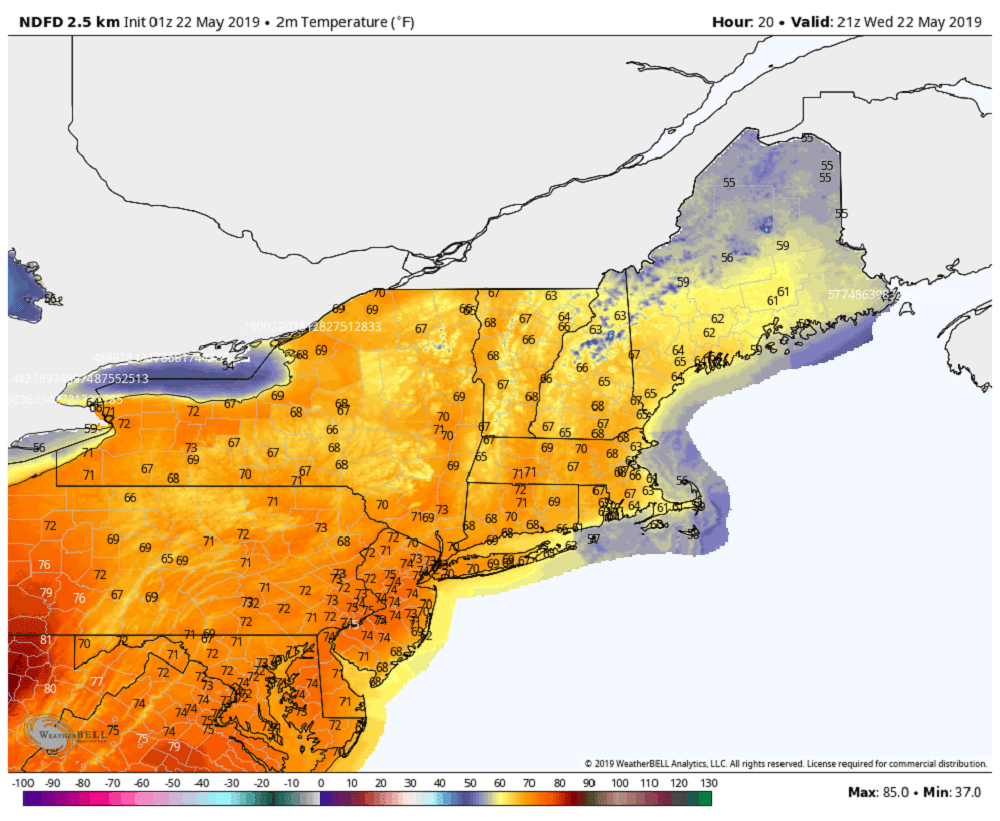 Tomorrow looks nice as well with sunshine followed by increasing clouds and temperatures still quite seasonably mild. There might be a couple of showers Thursday night into Friday morning, with the bulk of Friday being dry after the morning commute. Right now the weekend's looking pretty good. I don't want to overstate or understate the weather this weekend. I do think there's going to be a chance for a couple of showers, but most of the time we'll be dry.
There's two weak weather systems which will be passing by us Saturday and Sunday and the timing of these will determine exactly when or if we see any showers. I'll have a better idea of all this tomorrow.
One thing is for sure — temperatures are going to be seasonally mild to above-average this weekend and you might want to take your first trip to the beach. Even if it's not completely sunny, it still will be nice to be relaxing by the water.
You can follow my updates here and on Twitter @growingwisdom.
---
Wednesday: Sunny and pleasant. Highs in the mid-60s to near 72. Coolest on the Cape.
Wednesday Night: Clear and cool. Lows 50-55
Thursday: Sun and clouds. Night showers. Highs 65-70.
Friday: Partly sunny, may shower. Highs in the mid to upper 60s.
Saturday: Partial sunshine. May shower. Highs 72-76.
Sunday: Sunshine and clouds. Mild. Highs in the mid to upper 70s. Watching for showers.
Memorial Day: Sun and clouds. 72-75.