'They Know Central American Kids Are Dying': Boston Families Fear For Their Kids In Detention
Play
This article is more than 3 years old.
Nohemi is dressed in all black after coming straight from her restaurant job to check in with staff at Centro Presente, an immigrants' rights organization in East Boston.
Fear is rising among families in Greater Boston who, like Nohemi, have children in federal immigration detention. The anxiety follows the death this week of a 16-year-old boy from Guatemala.
His death marks the fifth child in six months to die after being apprehended along the U.S.-Mexico border.
Nohemi, who also lives in East Boston, says she doesn't know where her two daughters — 15 and 16 years old — are being held.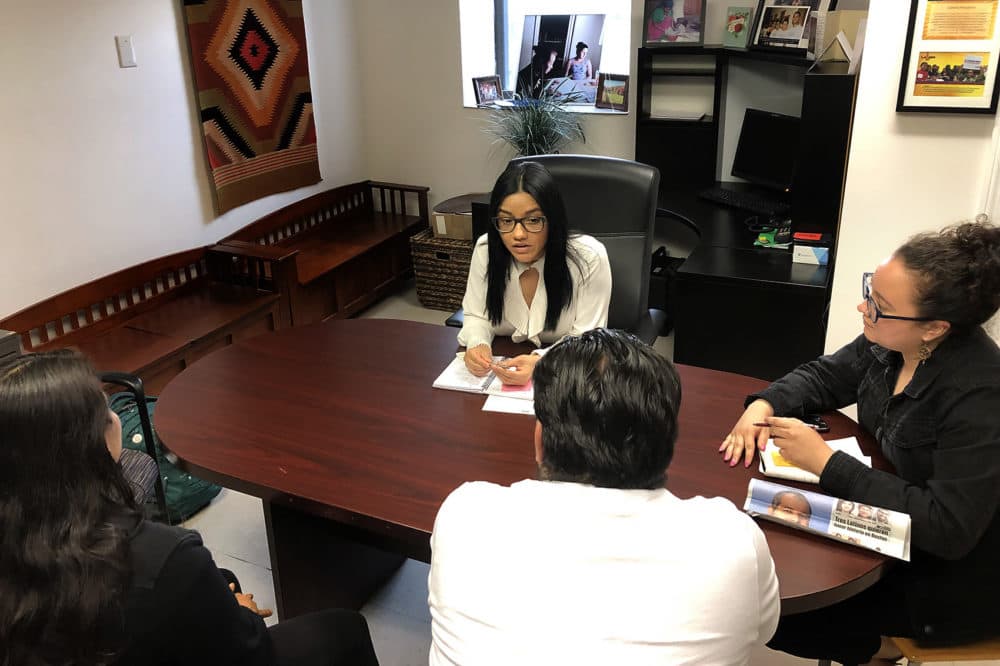 Speaking in Spanish, Nohemi says her daughters called her about two weeks ago and said they are being kept in a shelter, but they didn't know where.
We've agreed to use only Nohemi's first name because she worries for the safety of her daughters while they're in detention.
Nohemi is in the country without documentation and sent for her daughters from El Salvador, where they were living on their own. She says the girls left their house on April 24, headed for the border. She's not sure exactly where they crossed into the U.S., but believes it was in Texas.
"She called me and told me they're both fine and they don't really need anything," Nohemi says. "But, they're very sad because they want to be with mom."
The sisters are being held together, but they have different case workers. Nohemi says this makes communication even more challenging.
"... They are afraid because they are undocumented. But at the same time, they also want to know where their kids are."

Patricia Montes, executive director of Centro Presente
Patricia Montes, executive director of Centro Presente, says in the past two weeks her group has seen a surge in the number of Central American families calling, desperate for help locating their children near the border.
"Unfortunately, most of the families are undocumented, and they are afraid because they are undocumented. But at the same time," she says, "they also want to know where their kids are."
Montes says her small organization's case load is already at capacity. She plans to call an emergency meeting of service providers and immigration attorneys to pool resources and help more Boston-area families.
"They are afraid because they don't speak the language. They don't know how to navigate the system. They are afraid that if they provide all of their information to immigration authorities, immigration can come to their houses," Montes says. "And on top of that, they are watching the news, and they know that Central American kids are dying."
Jamie is also from El Salvador and now lives in East Boston. He too made the difficult decision to send for his 14-year-old son, who he says was harassed on his way to school every day and being pressured to join a gang.
We're only using Jamie's first name due to his concerns for his son's safety.
He's relieved knowing his son is no longer in El Salvador, and that he survived the journey north. He believes his son is also being held in a Texas shelter, though he hasn't been able to confirm this. He's been there for more than two weeks.
Speaking about the 16-year-old Guatemalan boy's death, Jamie says he won't be at ease until he's reunited with his son.
"I know that it's not easy waiting for someone to get here, and I think it'd be very painful for a parent who hoped they were giving their child a better future, like I thought," Jamie says. "It must be such a deep pain because he didn't come back alive, he came back in a casket."
The cause of the 16-year-old's death is still unknown and under review by U.S. Customs and Border Protection. The office says says he was found unresponsive during a routine welfare check.
The U.S. Health and Human Services Department operates shelters for minors apprehended at the border. On its website, the agency says the process for releasing unaccompanied children to parents involves many steps, including background checks and identity verification. It says the policies are in place to ensure the care and safety of the children.
This segment aired on May 24, 2019.