Boston And Teacher Union Reach Tentative Contract Adding Nurses, Counselors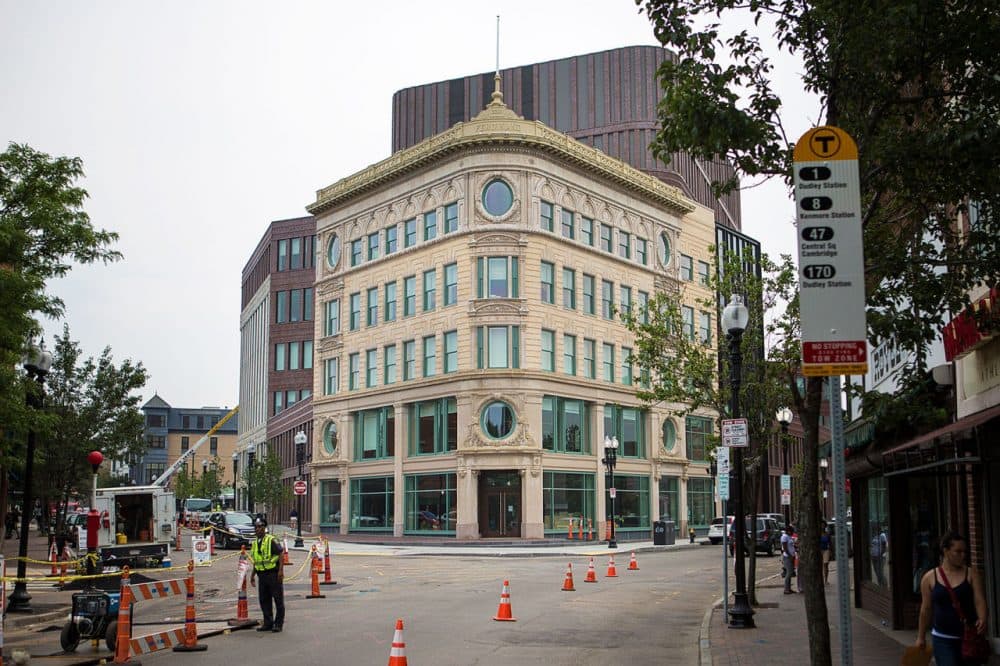 This article is more than 3 years old.
After more than a year of negotiations, Boston Public Schools arrived at a tentative agreement for a three-year contract with the Boston Teachers Union (BTU) Thursday night — one that both sides say is focused on serving students equitably.
If adopted, the contract would establish modest annual raises for all BTU employees, as well as giving unassigned teachers an easier path back to permanent homes in classrooms.
It would also partially satisfy what became the BTU's most high-profile demand in recent weeks: by guaranteeing that by the end of the contract in 2021, each of Boston's public schools will have access to its own full-time nurse, and by hiring 23 new mental-health providers to work in schools.
Throughout negotiations, the BTU took time at school committee meetings and online to emphasize the need for additional staff to support students' physical and mental well-being.
Union president Jessica Tang said that demand arose organically from BTU members, concerned about untended injuries or students struggling with trauma.
"Their needs are not being met" at current staffing levels, Tang said.
Others took up the BTU's cause. In a Boston Herald op-ed last month, City Councilor Annissa Essaibi-George — herself a former teacher — wrote that 44 BPS schools lacked a full-time nurse. Essaibi-George said that full-time nurses "cannot be a line item discussion in the budget; it needs to be a standard operating, non-negotiable requirement." Under the tentative agreement, Tang expects 22 nurses to be hired by the end of the contract.
Speaking to reporters Thursday, interim superintendent Laura Perille characterized the added health staff as "a win for everybody."
Perille also said the deal would strike a balance between valuing the city's teachers and practicing fiscal restraint, with 2% annual raises written in. Tang characterized that raise as "modest," but she noted that paraprofessionals — usually the union's lowest-paid members, who often assist in specialized classrooms — will get a $1 raise on their hourly pay in addition to the annual increases.
The agreement would also facilitate the hiring of teachers currently unassigned to a particular classroom. According to a BPS spokesman, there are 59 such teachers who have lost their permanent roles in the classroom— likely due to school closures, academic "turnarounds," declining enrollment or parental leave— but still have tenure within the district.
Those unassigned teachers tend to serve the district as co-teachers or long-term substitutes, but schools can be reluctant to hire them on a permanent basis, especially if they've spent multiple years in the reserve pool.
Tang said that these veteran educators don't always get a "first look" from schools despite their experience: "These veteran teachers will apply to 20 or 30 positions, and they don't get an interview." She attributed that reluctance to the teachers' higher salaries, in some cases, or to simple age discrimination.
So, under the tentative deal, unassigned teachers who apply to multiple jobs would be guaranteed an interview. And schools could hire unassigned teachers for a one-year trial period, after which point their jobs would be protected once again.
Tang said the union didn't get everything they wanted. For instance, they sought full-time, three-teacher teams in classrooms with many students with special academic needs, but are settling for part-time help in those classrooms. But she thanked BPS negotiators for arriving at a deal she said was fair.
With the negotiation behind it, the state's largest school district can turn its attention to welcoming incoming superintendent Brenda Cassellius — who starts on July 1 — and to a big feature of its near-term financial planning: the so-called PROMISE Act, a state overhaul of education funding that could pump millions of dollars of state aid into Boston's coffers.
But first, union members must vote whether to approve the contract on June 12, as will the city's school committee.