At The Brattle, 3 Days Of Celebration For Filmmaker Jim Jarmusch's 35-Year Career
"You know, it's funny. You come to someplace new and everything looks the same," sighs Richard Edson's sweet, dim-bulb New Yorker upon arriving in Cleveland, inadvertently summing up Jim Jarmusch's 1984 deadpan classic "Stranger Than Paradise." A screamingly funny comedy without any jokes, Jarmusch's breakthrough feature follows the minor-key misadventures of three weary travelers who drive around the country and back again yet somehow always wind up sitting around playing cards and watching TV. It's a gently hysterical counterargument to traditional road movie escape fantasies. Wherever you go, there you are.
"Stranger Than Paradise" kicks off the Brattle Theatre's latest retrospective of this singular American filmmaker's work, a quick three-day cram session in preparation for Jarmusch's upcoming, star-studded zombie movie "The Dead Don't Die." One marvels at the persistence of vision over these past 35 years, our premier poet of inertia jumping between genres and continents while refining a distinctive style unmistakably his own. It's a dryly literate, rockabilly beatnik sensibility slowed down to a quarter speed, positively swimming in silences. Stumble upon one part way through and you can tell you're watching a Jim Jarmusch movie within 30 seconds.
The 30-minute short that grew into "Stranger Than Paradise" was originally photographed on leftover 35mm black-and-white film stock gifted to Jarmusch by director Wim Wenders, who'd just finished shooting "The State of Things." According to legend, these odd lengths of typically discarded film at the end of the rolls helped determine the movie's radical structure — its short scenes are brief, static shots from a single angle with a few seconds of leader in between. The abrupt cuts to black don't just serve as extremely droll punctuation, they also help imprint the frames upon your memory, the way your eyes sometimes feel like they're clinging to whatever it was you were looking at right before you shut off the lights.
Sofia Coppola once perfectly described Jarmusch's characters as "the cool older kids you wish you could hang out with." His casts are full of musicians and hipster icons like Tom Waits, Bill Murray, Tilda Swinton, John Lurie, Iggy Pop and Chloe Sevigny — with Adam Driver being a recent, natural addition to the repertory company. Like their director, these are folks who can still pull off wearing a leather jacket well into middle age and it makes perfect sense that Robert Mitchum's final role was in a Jim Jarmusch movie. Yet the films themselves are never too cool for school, and can be downright heartbreaking with regard to the yearning beneath these aloof personas.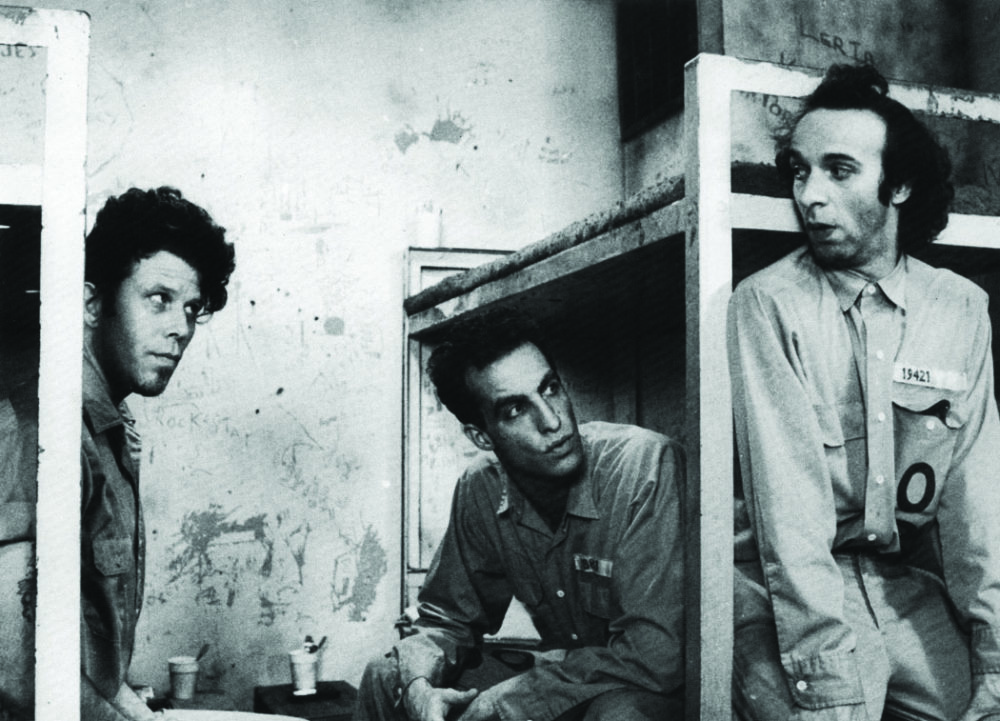 His 1986 "Down by Law" is a prison break picture in which — hilariously — we're never shown nor even told how the characters break out of prison. Waits and Lurie star as a washed-up disc jockey and a surly pimp jailed for crimes they didn't commit, snarling insults at one another all day and night in a dyspeptic funk. The instrument of their liberation, both physically and spiritually, is an endlessly effusive, motormouthed cellmate played by Roberto Benigni who bounces, bores and badgers them into becoming their better selves. It's my favorite Jarmusch movie. Some days it's my favorite movie, period.
"It is a sad and beautiful world," Benigni announces upon his entrance, with Robby Müller's high-contrast, black-and-white cinematography illustrating this assertion via the extraordinary textures of an overgrown Louisiana bayou and these lonely New Orleans nights. As in "Stranger Than Paradise," no matter how far these characters may run, they can't quite help always arranging themselves into the same tableaux and having the same arguments.
But there's salvation here, in the form of a ritual sacred and redemptive in so many Jarmusch movies: dancing around the house to old music. The final kitchen scene between Benigni and his real-life wife Nicoletta Braschi is as swooningly magical as movies get.
Jarmusch protagonists don't come more inert than Bill Murray's practically catatonic Don Johnston, an aging lothario informed via an anonymous letter that he's the father of a 19-year-old son in the 2005 "Broken Flowers." The news sends our saddest of screen clowns upon a circuitous journey through his past, revisiting ex-girlfriends and reconsidering old losses in this slyly unsentimental and often inexplicably funny ode to roads not taken.
The movie is a muted marvel of regret, with the majority of Murray's minimalist performance taking place behind those sunken eyes, registering microscopic reactions to daft turns by the likes of Swinton, Sevigny, Jessica Lange and a never-better Sharon Stone. Don's supposed to be flying cross-country, but the film was all shot within 40 minutes of Murray's actual house in upstate New York because once again, when you come to someplace new, everything looks the same. The best sight gag has Don always lounging around in a tracksuit for no apparent reason — running clothes for a guy who doesn't go anywhere.
But then staying home never seemed sweeter than in "Only Lovers Left Alive," Jarmusch's gorgeous 2013 romance starring Tilda Swinton and Tom Hiddleston as 500-year-old vampires. Like his similarly-themed, late-period masterpiece "Paterson," it's an ode to domesticity and the artistic life. Dedicated to Jarmusch's longtime partner and collaborator Sara Driver (credited as "instigation and inspiration"), it depicts these ancient creatures of the night as aging bohemians, savoring immortality surrounded by great books and old records.
Hiddleston plays an amusingly Byronic type (turns out they were friends back in the old days) whose mercurial mood is often brought low by the crassness of contemporary life and a growing cultural illiteracy that allows the couple to travel under in-jokey aliases like "Stephen Dedalus" and "Daisy Buchanan" without raising any eyebrows. But in my favorite scene, his grouchy doom and gloom is countered by a scolding from Swinton, followed by a familiar Jarmusch panacea.
"How can you have lived for so long and still not get it? This self-obsession is a waste of living. It could be spent on surviving things, appreciating nature, nurturing kindness and friendship… and dancing."
---
"The Films of Jim Jarmusch" runs at the Brattle Theatre from Monday, June 3, through Thursday, June 6.