Report: Trump's Focus On Illegal Immigration Affects Thousands Of Lawful Immigrants In Mass.
A new report released Thursday from the Boston Foundation underscores the significant impacts of President Trump's shifting immigration policies on Massachusetts communities.
The study tracked changes under Trump to programs like Deferred Action for Childhood Arrivals (DACA), Temporary Protected Status (TPS) and his administration's proposed changes to the "public charge" rule. It found that tens of thousands of Massachusetts residents are feeling some adverse effects as a result of the president's policies and rules.
Iris Gomez, an attorney at the Massachusetts Law Reform Institute, co-edited the report. In a press release, Gomez stated that while most of Trump's rhetoric has focused on illegal immigration, the impacts of his presidency have been felt by lawful immigrants as well.
"This report captures how policy changes and an atmosphere of intimidation have had very real consequences, effectively rolling up the welcome mat to immigrants, refugees and asylum seekers," Gomez said.
What Stands Out
The report noted several changes under Trump related to immigration issues that affect a particularly large number of Massachusetts residents.
The termination of DACA and the end of TPS for certain countries, according to the report, could potentially affect more than 20,000 people living in the state, many of whom are business and homeowners, pay taxes and have children who are U.S. citizens.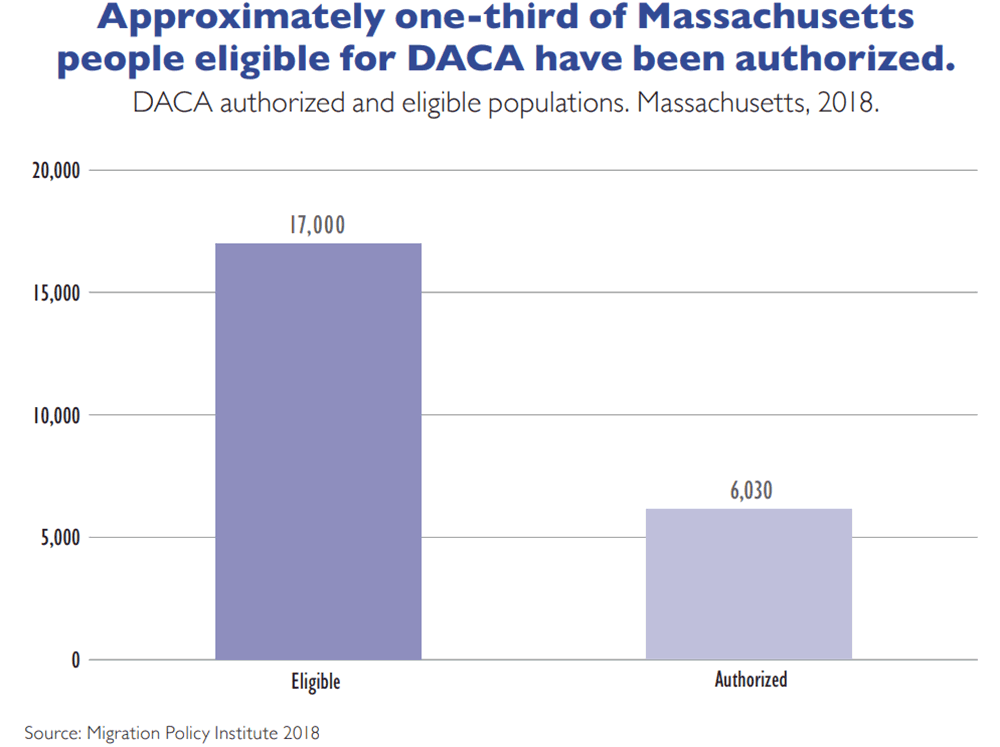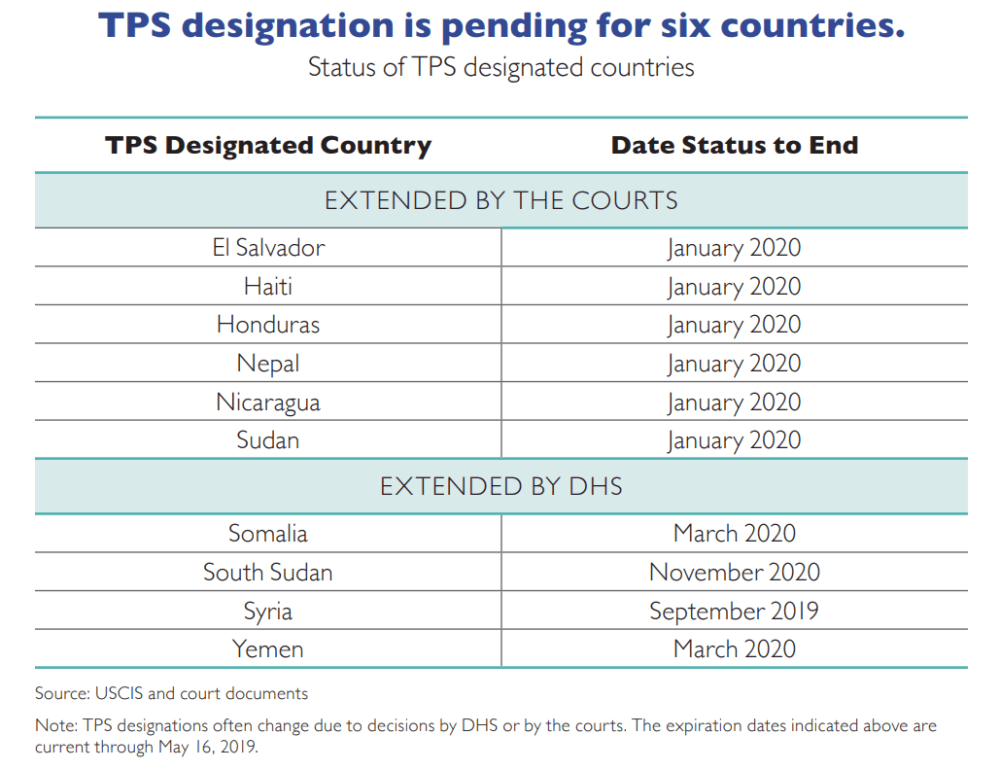 The U.S. House of Representatives earlier this week passed a bill that would provide DACA and TPS recipients a pathway to residency, and in some cases citizenship. The proposal is not expected to be passed by the Republican-led U.S. Senate, and the topic promises to be a hotly-contested campaign issue in the run-up to the 2020 presidential election.
Still, there are a number of federal lawsuits pending on behalf of both DACA and TPS recipients. The result is a large cohort of people living, working and studying in the state with an unclear picture of their future.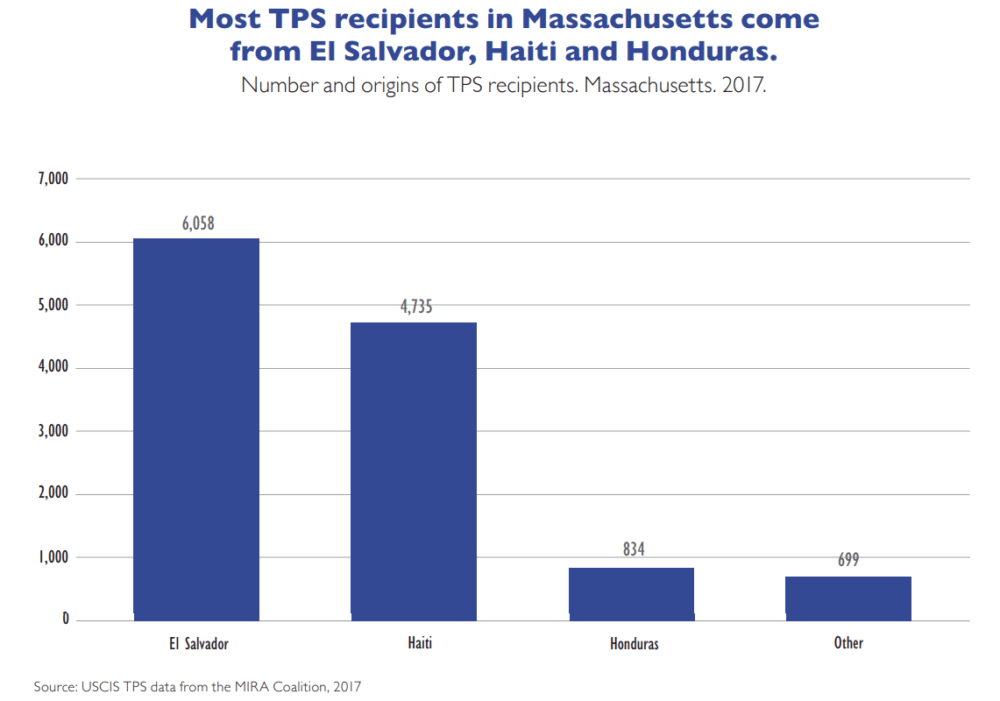 The study also found the Trump administration's proposed changes to the "public charge" rule could impact up to 510,000 Massachusetts residents, including 160,000 children.
The "public charge" provision — which allows federal immigration officials to examine the likelihood of an immigrant becoming primarily dependent on government assistance — is used as a basis for admissibility into the U.S. It's also used as a determining factor when someone is trying to adjust their immigration status to obtain legal permanent residency. Currently, immigration officials can use only records of cash assistance or long-term care to make this determination. Individuals deemed "public charges" may be denied entry into the U.S. or denied a green card.
The Trump administration has proposed sweeping changes to the way someone is deemed a "public charge." Under the new proposed rule, which is under review by the U.S. Department of Homeland Security, any immigrant who lawfully accessed housing, healthcare or nutritional assistance could be deemed a "public charge."
As a result, the Boston Foundation study estimated more than half a million people in Massachusetts could voluntarily un-enroll or forgo assistance from programs for which they are eligible in order to avoid being deemed a "public charge."
Luc Schuster, who heads up research for the Boston Foundation, said the most consequential changes under the Trump presidency have been to longstanding legal immigration systems.
"And so what this report does is try to detail, in an accessible, clear way, what these far-reaching restrictions to legal immigration have been over the last couple of years and then quantify, where we have good data, how many people those affect here in Massachusetts," Schuster said.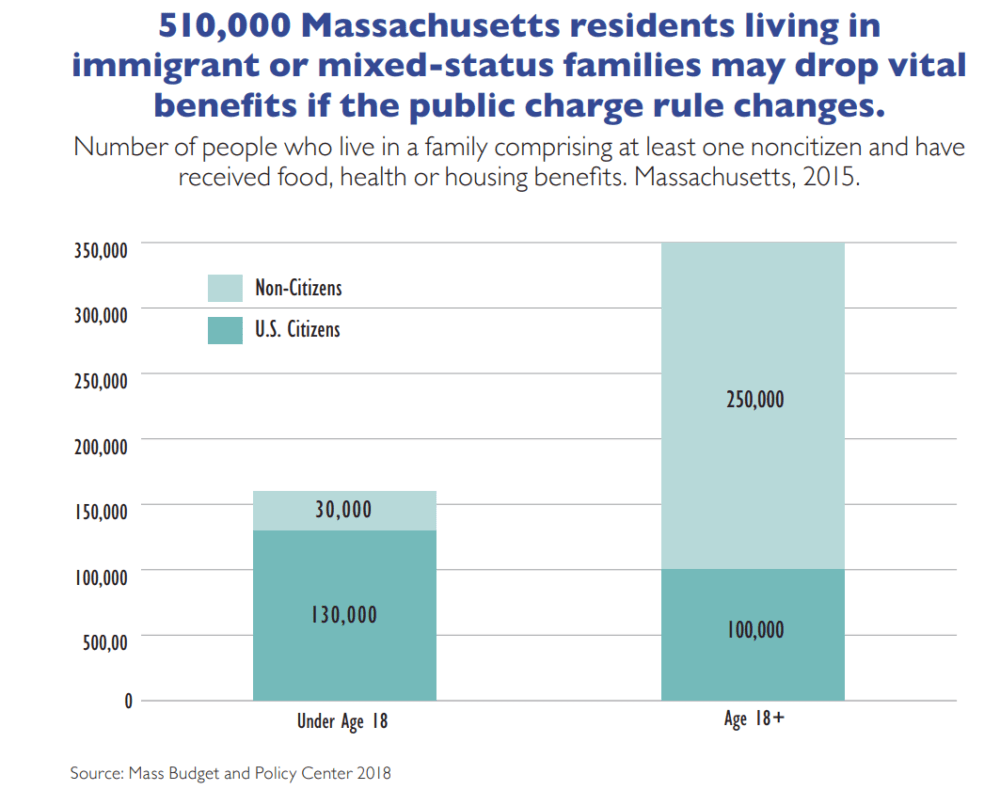 A Call For Local Action
The report highlighted areas of opportunity where communities could help ease the burden felt by immigrants. Greater investment in legal representation funds was one area.
According to the study, immigrants in Massachusetts are six times more likely to win a deportation case if they have legal representation. The city of Boston created an immigrant defense fund in 2017, moving to include public dollars in the fund in 2019. The cities of Cambridge and Somerville also recently joined forces to establish a joint legal defense fund for immigrants.
The report also suggested Massachusetts join 20 other states in allowing some or all undocumented high school graduates to pay in-state tuition at state colleges; enabling children to access all of the MassHealth benefits regardless of immigration status; and creating a system for municipal IDs and driver's licenses for undocumented immigrants.
A spokesperson for Gov. Charlie Baker said the governor had not reviewed the report but pointed to a 2018 campaign video during which Baker addressed a number of the same topics.
In the video, Baker said he supports ensuring DACA recipients receive in-state tuition and called on Congress to provide a permanent solution — though he stopped short of calling for in-state tuition for any Massachusetts high school graduate regardless of status. Baker also stated in the video that he believes it is important to uphold the federal REAL ID standards, which include proof of lawful presence in the U.S. in order to obtain a driver's license.