Boston Labor Attorney Wants To Ride Wave Of Voter Discontent Past Markey And Into Senate
Play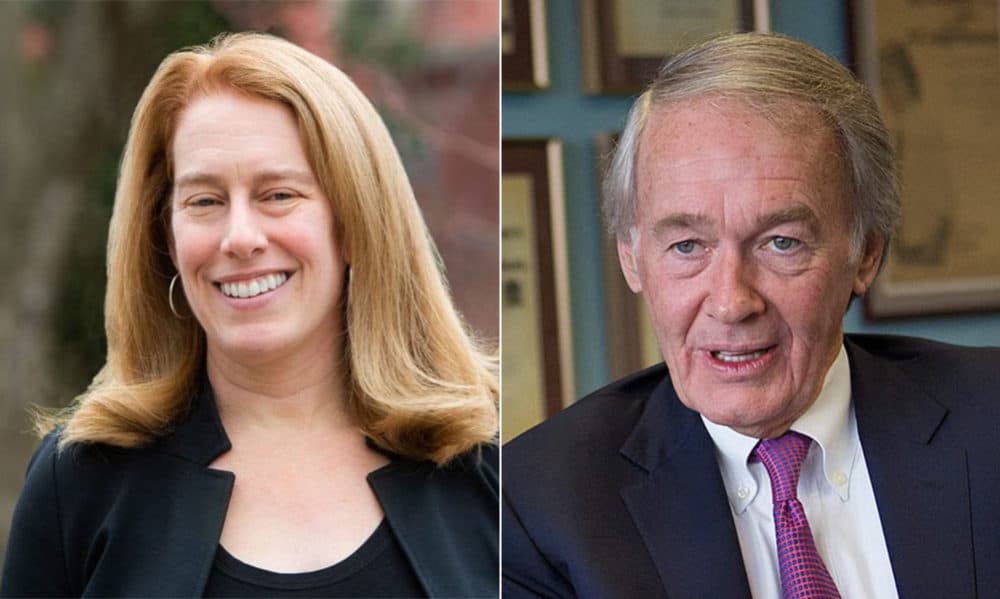 This article is more than 3 years old.
In Shannon Liss-Riordan's Back Bay office, there's a sledgehammer leaning against the wall by her desk, a memento from the case she says she's most proud of: when she took on American Airlines on behalf of the skycaps at Logan Airport and won.
Among the ways the skycaps were paid was through passenger tips — usually $2 a bag. So a lot of cash was changing hands on the curb, and the airline went after it.
"American Airlines, one of the biggest airlines in the world, was brazenly stealing the tips from some of its lowest-paid employees," Liss-Riordan explained. "So we took that case to trial and got American to change their policy in Massachusetts and throughout the country."
Which brings us back to that memento. At a rowdy celebration after the legal victory, one of the skycaps dubbed Liss-Riordan "Sledgehammer Shannon." The name stuck.
"She was a fighter. I mean, she was a tough one," said Joseph Travers, one of the Boston skycaps for whom Liss-Riordan advocated.
She also represented Travers in a wrongful termination suit for which he won nearly $1 million.
So it's not surprising that he is ready to support her Democratic primary challenge of Massachusetts U.S. Sen. Ed Markey.
"I think it's a great idea," Travers said. "She's someone who can speak for the guy who doesn't have much of a voice — low-wage employees, contracted-out employees, things like that."
Over her 20-year career, Liss-Riordan has gained a national reputation taking on big corporations, including Amazon, Google, FedEx and Starbucks. She also took Uber and Lyft to court, winning settlements on behalf of worker-drivers in the gig economy.
These high-profile worker rights' cases have everything to do with why she wants to go Washington.
"The big picture is that there are these big corporations, very powerful, [that] ... have been writing the rules and rigging the system to fuel their own profits off the backs of working people," Liss-Riordan said.
The Boston attorney says she's devoted her career "fighting for regular people," arguing that is a perspective missing in Washington. If elected to the Senate, she says she would push for a higher minimum wage, and compel corporations to pay fair wages and benefits, while clarifying the line between employee and independent contractor.
"We need more women in Congress. ... I would fight tooth and nail to stop these attacks on women."

Shannon Liss-Riordan
She also says, as a woman, she would bring new energy and a different point of view to the Senate.
"We need more women in Congress," according to Liss-Riordan, who said "we're facing a war on women today in this country," referring to laws passed by several states rolling back access to abortion. "I would fight tooth and nail to stop these attacks on women."
But truth be told, there is little light between her policies and those of Markey, who also supports women's reproductive rights, as well as immigrant rights and criminal justice reform. And earlier this year, in a shrewd move to bolster his liberal credentials, Markey teamed up with Congresswoman Alexandria Ocasio-Cortez to sponsor the Green New Deal.
"It doesn't make any difference what the issue is, I just continue to fight," Markey said.
Markey's office didn't respond to a request to talk about Liss-Riordan. But last November, he told WBUR that he will defend his seat by running on his record — including his opposition to President Trump.
"I do my best to be at the cutting edge of every issue that affects the state of Massachusetts and our country, and my message is that Donald Trump can't make America great again by making America hate again," Markey said.
With a statewide network of support and millions of dollars in his campaign war chest, Markey should be tough to beat. On the other hand, he's almost 73 and has been a representative and senator for a combined 43 years — a Washington insider at a time when many voters want change.
"I do believe that the general voting public is very upset, and very motivated and activist — particularly in a Democratic primary," said former Massachusetts U.S. Rep. Michael Capuano, who was knocked off in a stunning primary upset last September by fellow Democrat Ayanna Pressley.
Capuano is not predicting that Liss-Riordan will do the same to Markey, but he does contend that opposition to Trump has energized the political base, so incumbents need to beware.
"I think anybody in public office today [who faces] a legitimate opponent — any incumbent — should be concerned," Capuano said. "I think my race showed that."
But a key difference in Liss-Riordan's challenge is that she is a political novice who will be running against Markey in a statewide race. Pressley, by contrast, was an experienced politician, running in an urban district where many already knew her as their city councilor.
Still, in this era of political foment and anger, Markey would be wise to take nothing for granted.
This segment aired on June 6, 2019.