Local Musicians Mourn The Loss Of 'The Evel Knievel Of The Tuba'
Resume
You might not know Sam Pilafian by name, but you've probably heard his tuba.
Whether it was on Pink Floyd's "The Wall" or he was playing while doing a headstand — a move that gave him the nickname "the Evel Knievel of the tuba" — Pilafian became perhaps the most prolific tuba player in Boston. He spent much of his career in Boston teaching, performing and re-imagining brass music.
Pilafian died in April at 69 from colon cancer.
Back in the '80s, Mister Rogers wanted to introduce kids to brass instruments. So, he brought his show to Pilafian's home in Brookline. He did his best to teach Rogers to play.
It made sense, because Pilafian was a lifelong teacher — not just of the tuba, but all brass instruments.
Joe Foley, of Sherborn, is an orchestral trumpet player and a former student of Pilafian. He recently found old notes from some of Pilafian's masterclasses.
"These are from a few different people," Foley said, flipping through pages of handwritten and typed notes about breathing techniques and performing. "You could tell people were sort of hanging onto his every word. Back then, he was talking about being very flexible, being in shape."
When Foley was a student, worried about his future, he turned to Pilafian for advice.
"He looked straight at me and he just said, 'Be ready,' " he remembered. "And I knew what he was saying. He was saying anything that's a weakness in your playing, you want to address that because when you're working as a musician, you don't have time to deal with all that."
In addition to being a teacher, Pilafian was an accomplished performer.
While at Tanglewood in the summer of 1971, music icon Leonard Bernstein took notice of him and a handful of other young brass musicians. Pilafian remembered the moment on "The Brass Junkies" podcast.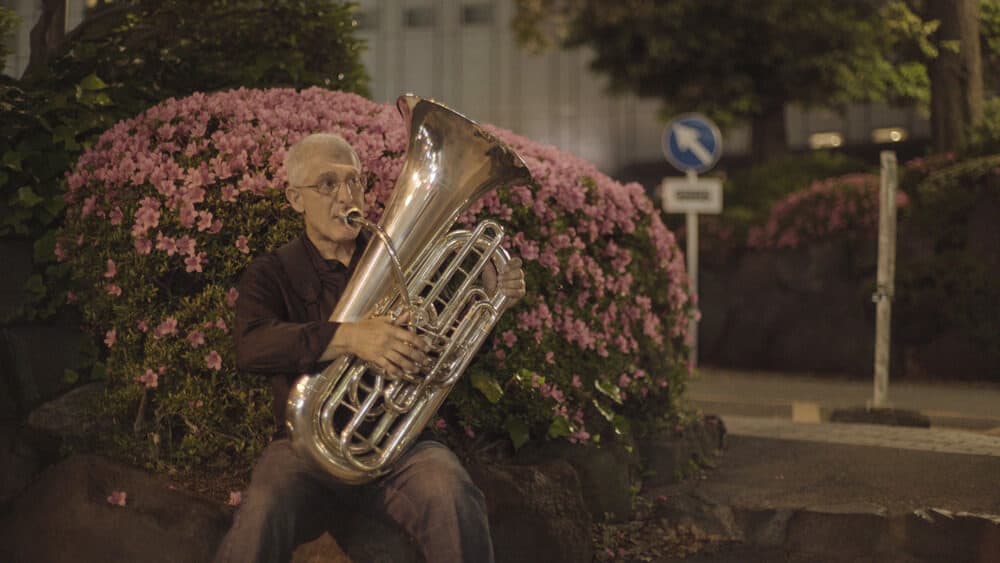 "So Bernstein told us that we sound the same," Pilafinan recounted. And Bernstein wanted to know where they were all from. They were from different parts of the country. "And he said 'well it's not because you play the same youth symphony'."
Bernstein assembled an impromptu quintet, which became Empire Brass. It was based in Boston, but toured the world.
Dave Ohanian played French horn with the group.
"Sam and I — we had a natural fit together," he said. "It just seemed to go very smoothly."
Ohanian was in the Mister Rogers episode with Pilafian, where they played a duet by Handel. But they didn't just get along musically. They also became good friends.
"We're both Armenian, so there was a natural affinity there," Ohanian said. "And also people thought we were cousins, so we'd play that up. We'd say, 'Yeah, we're cousins.' "
Empire Brass' popularity grew. For Pilafian, that eventually caused a challenge: The group was running out of new music to play because there wasn't a robust repertoire for brass ensembles.
"We ran out of rope in terms of literature within the first year," Pilafian remembered on a podcast that discusses musicians and entrepreneurship. "We had to learn how to write and we had to learn how to collaborate with composers and arrangers in an area that was almost uncharted territory."
Empire Brass had new music commissioned. Former student Foley said the group started performing pieces that weren't originally intended for brass instruments.
"There were some Bach pieces that you wouldn't think of," he said. "Things that hadn't even been dreamed of previously."
Thanks, in part, to Pilafian, the literature for brass chamber music expanded.
"He didn't think of music as being categorized that much. He just thought that there's good music and there's boring music. And he didn't want to play any of the boring music."

Dave Ohanian, former colleague of Sam Pilafian
Ohanian said Pilafian's diverse taste in music helped drive that movement.
"He didn't think of music as being categorized that much," he said. "He just thought that there's good music and there's boring music. And he didn't want to play any of the boring music."
Pilafian stayed in Boston with Empire Brass for over two decades before he left to teach in other states. Later in his career, he wanted to tour again. So, he came back to join Boston Brass, whose members grew up idolizing Pilafian — including trumpet player Jeff Connor.
"As we traveled around the world, he was able to see all of his former students — seeing that they were successful," Connor said. "In every place we went — no matter where we were in the world — he had students, which was pretty amazing."
A few years ago, Pilafian said: "Why we study music and why people want to get to the middle of this — to get to the core of what this music performance thing is all about — is to communicate with people."
He said that communication has to start in your heart.