Medford Students Unveil Memorial For Unmarked Graves Of Slaves
08:11
Play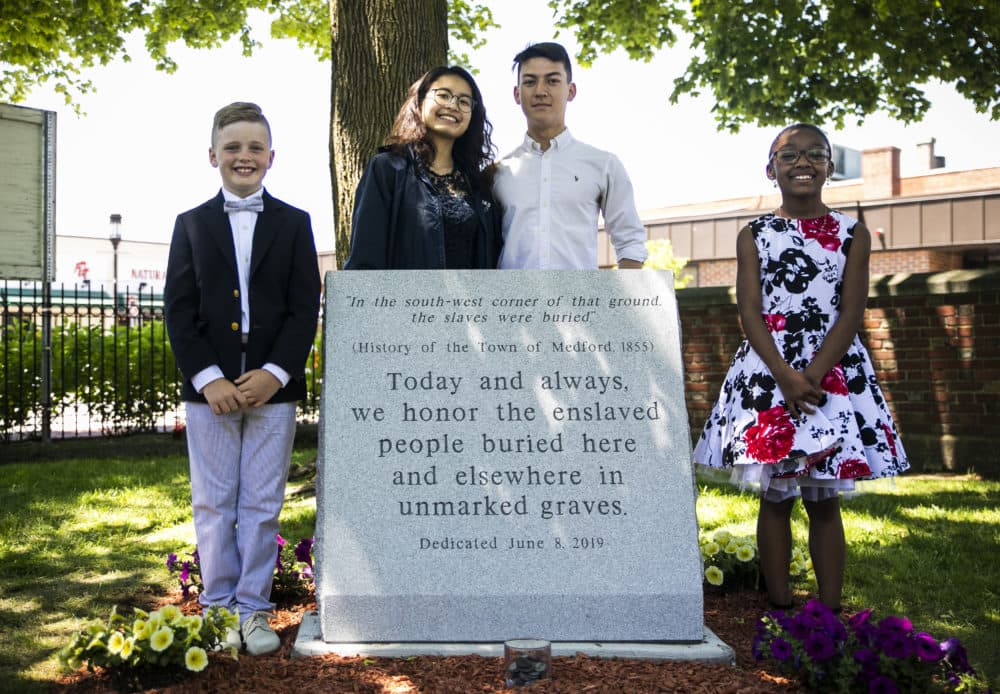 This article is more than 1 year old.
A memorial honoring about 50 slaves believed to be buried in unmarked graves in a Medford cemetery was unveiled Saturday at the site historians consider to be one of the oldest standing slave quarters in the northern United States.
The ceremony for the large grey memorial stone at Salem Street Burying Ground was organized by Medford Public Schools students in the Center For Citizenship & Social Responsibility.
Recent high school graduates Jenny Lu and Joseph Schmidt, along with third graders Jasmine Hagbourne and Liam Brady, spearheaded the effort, raised money and secured additional funding through a city grant.
The students learned about the unmarked graves from a teacher who was researching the history of Medford.
The site was already part of the African American Trail Project, an initiative of Tufts University's Center for the Study of Race and Democracy. The project maps African American and African-descended public history sites throughout Massachusetts.
Project co-directors and historians Kerri Greenidge and Kendra Field joined WBUR's Weekend Edition host Sharon Brody to discuss the project.
Interview Highlights
On what historians know about the burial site
Greenidge: What we know about enslavement  — particularly in Medford — is that Medford was a leading distiller, manufacturer and distributor of rum. And Medford founding fathers of the town had connections to the slave trade.
So what we know about the Salem Street Burying Ground is that in addition to being a land that was lived upon by early European settlers, it was also a place that became a burial site for the elite in Medford.
Many of those people owned slaves and many of those people then had their enslaved people buried alongside them, or in other sections of the cemetery, during the time that the cemetery was open.
On the practice of burying slaves in unmarked graves
Field: Many, many people of African descent were buried in unmarked graves throughout North American history. In some cases, like my own family in Oklahoma, there was actually a fence and my father's ancestors for the most part were buried on one side of the fence beyond the part that's where the landscaping happens.
Within the history of New England in particular, because we're talking about people of African descent and because of the nature of slavery, you don't have the kind of plantation complex and black majority communities that you have in other parts of the country  — for instance, South Carolina. But instead you have smaller numbers of people of African descent, who for the most part, are attached to white, slave-owning families in terms of where they're located.
"I think the general public often has a view that enslavement is, you know, that photograph taken in the 1850s of people working on a cotton plantation somewhere in the distant south if you're from Boston."

Historian Kerri Greenidge
On slavery in Massachusetts
Greenidge: I think the general public often has a view that enslavement is, you know, that photograph taken in the 1850s of people working on a cotton plantation somewhere in the distant south if you're from Boston. And not realizing that it's an economic and political and cultural system that thrived in the Americas from the 1500s all the way up to the late 19th century. And that that means, in that amount of time, that slavery takes on many different modes.
It looks very different say, if you're in western Massachusetts versus being in Boston, versus being in Salem, versus being in New Bedford, but the enslavement still existed. And to reckon with the fact that slavery itself involved human beings, which means that there's all these sort of multivalent sort of ways that human beings react and act and live and love and exist within a system that took place for that long of a period of time.
This article was originally published on June 09, 2019.
This segment aired on June 9, 2019.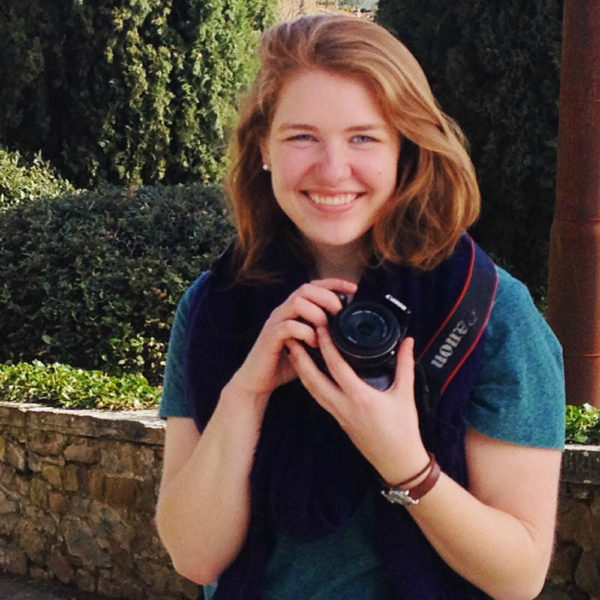 Hannah Chanatry All Things Considered Senior News Writer
Hannah Chanatry is WBUR's senior All Things Considered newswriter.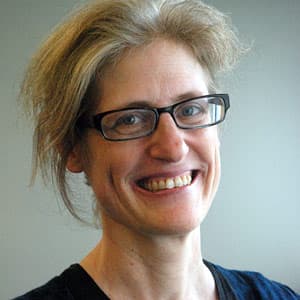 Sharon Brody News Anchor
Sharon Brody is the voice of WBUR's weekend mornings. On Saturdays and Sundays, she anchors the news for Weekend Edition and other popular programs.