Some Red Line Service Suspended Again, A Day After Train Derails
Play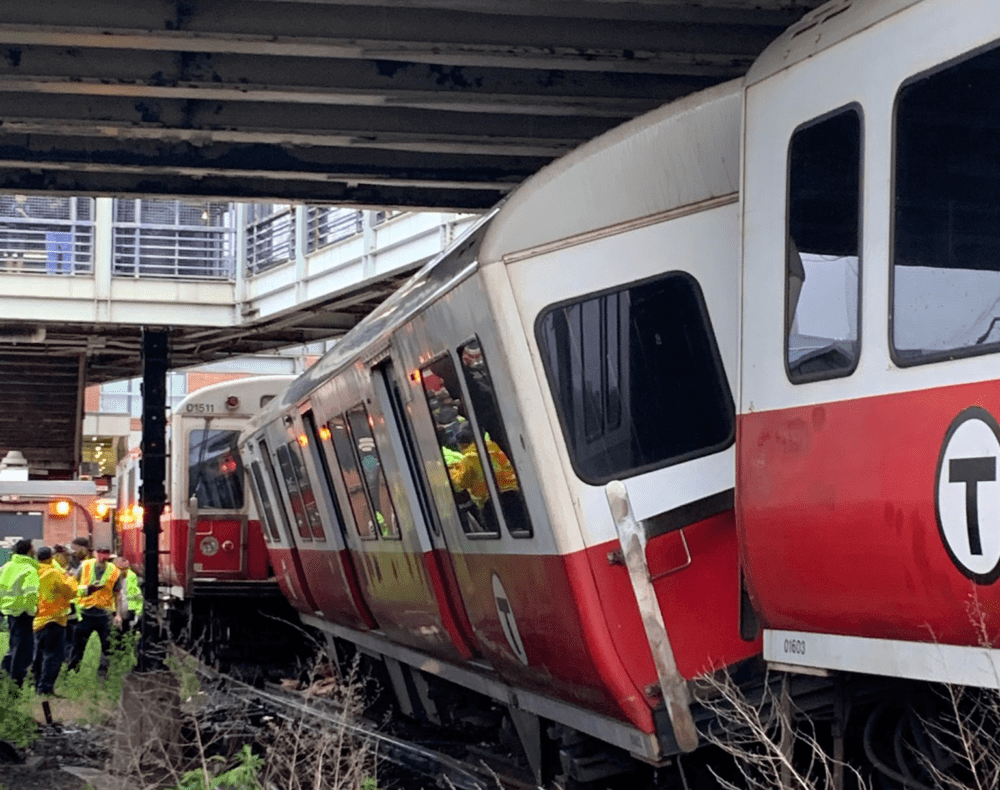 This article is more than 3 years old.
The MBTA said it planned to suspend Red Line service between JFK/UMass and North Quincy stations for a few hours midday Wednesday, a day after a derailed train snarled the Tuesday morning commute.
Service had been restored Tuesday afternoon, but the train apparently damaged more than just the tracks it jumped off.
From 11 a.m. until 2 p.m. Wednesday, shuttle buses would again replace service between select stations as workers made repairs to signal sheds that were damaged in the incident.
MBTA spokesman Joe Pesaturo told WBUR said the T expects trains to be back up and running in time for the Wednesday evening commute.
The MBTA said signal bungalows needed to be rebuilt, and new signals and cables would have to be installed. It asked customers for patience and understanding.
"For now, trains will continue to travel at slower speeds," the agency said in a tweet at about 5:48 a.m.
The derailment injured one person and caused severe delays to commuters.
The Boston Fire Department said Tuesday that the injured person declined EMS treatment. Sixty people were evacuated, the department said.
On Tuesday, the agency had encouraged riders to instead take the additional commuter rail trains being deployed.
Some trains appeared crowded Wednesday morning, with large groups of riders filtering in at Quincy Center.
MBTA General Manager Steve Poftak said on Tuesday that officials did not have a cause yet for the derailment.
The incident came just three days after a Green Line D Branch train derailed, sending nine people to the hospital. MBTA officials have said Saturday's derailment was caused by an operator.
Poftak said the T is launching an outside review of all derailments from the last two years. He said there have been four derailments on the system so far this year.
"I want a fresh set of eyes on this to make sure we're not missing something," said Poftak, who added that he believes the train system is "safe" and that he uses it every day.
"We understand very clearly that the situation with these derailments is not acceptable and we are taking steps to address that," he said.
Ride-hailing prices reportedly spiked after Tuesday's derailment. According to the Boston Globe, Lyft prices to go from the JFK/UMass station to downtown Boston spiked as high as $123 around 8:15 a.m.
With reporting by State House News Service
For a report from WBUR's Fred Thys on Tuesday afternoon, click the audio button atop the post.
This article was originally published on June 11, 2019.
This segment aired on June 11, 2019.