'Rolling Thunder Revue: A Bob Dylan Story By Martin Scorsese' Is A Raucous And Wildly Entertaining Collage
It's worth noting that the first thing we see in "Rolling Thunder Revue: A Bob Dylan Story by Martin Scorsese" has nothing to do with Bob Dylan. Rather, it is a clip from Georges Méliès' 1896 short "The Vanishing Lady," in which the fabled French illusionist — lovingly profiled in Scorsese's 2011 "Hugo" — performs a magic trick you can probably predict from the title. (I guess folks were less fussy about spoilers 123 years ago.) It's a fun little stunt with a spirit akin to the old-timey, traveling medicine show caravan we're about to witness, and also a sly reminder to not always believe your eyes.
"A man wearing a mask tells you the truth," according to Dylan, who you will notice is not wearing a mask when he tells us this. Sitting for his first on-camera interview in over a decade, the 78-year-old, newly-minted Nobel laureate smirks, snickers and deadpans his way through fanciful recollections of his 1975 Rolling Thunder Revue — a rollicking, financially calamitous tour that quickly became the stuff of rock 'n' roll legend. In what's bound to be an enormous headache for more serious-minded music historians, Scorsese has combined all sorts of amazing archival footage and half-kidding contemporary interviews with figures both real and fictitious to create a raucous, wildly entertaining collage that spends at least 30% of its screen time pulling your leg.
The story goes that after his blockbuster 1974 tour with The Band, Dylan was burnt out on impersonal arena rock shows and returned to Greenwich Village to reconnect with his folkie roots. He gathered a familiar gang of misfits, mentors and troubadours — including Allen Ginsberg, Joan Baez, Bob Neuwirth and Ramblin' Jack Elliott — to embark on the Rolling Thunder Revue, a travelling rock 'n' roll circus that began in Plymouth, Massachusetts and rattled around New England and Canada throughout the fall of 1975, playing barely-publicized, sometimes spur-of-the-moment shows at small venues while stars like Roger McGuinn, Ronee Blakely and Joni Mitchell wound up jumping on the bus and coming along for the ride.
A good deal of these shenanigans were filmed for the sake of "Renaldo and Clara," Dylan's four-hour, experimental art cinema opus that was pulled from circulation after a disastrous 1978 theatrical release and remains missing to this day. (I hazily recall seeing some of a bootleg back in college during an evening when I was regrettably not in possession of my critical faculties.) Scripted — in a sense, anyway — by Sam Shepard, the largely improvised and reputedly impenetrable movie played with personas and shifting identities. Dylan and his then-wife Sara portrayed the title characters while Canadian rockabilly star Ronnie Hawkins was billed as "Bob Dylan."
Scorsese's film doesn't mention "Renaldo and Clara" but samples liberally from the footage, most importantly restoring the concert performances that captured Dylan at his most electrifying and intense. The Rolling Thunder backup band was the largest Bob ever toured with, boasting a small army of guitar players and the frenetic violin shreddings of sword-carrying fiddler Scarlet Rivera. Their hard-charging sound is like a folksy piledriver — roots music blown up bigger than life with glam rock flourishes via Spiders from Mars guitarist Mick Ronson. (It's fun to spot Ronson's immaculately feathered hair bopping around amidst these hippie ragamuffins.)
And then there's Dylan, wearing a wide-brimmed cowboy hat strewn with fresh flowers, his face smeared in white clown makeup. (Like most folks in 1975, Bob was fascinated by KISS.) Emboldened perhaps by the face paint or the dimestore Halloween mask he wears during "It Ain't Me Babe," Dylan's trying on a much larger, more emphatic performance style than usual — his shouty delivery punctuated by bug-eyed facial contortions and rock star poses. The film's appropriately apocalyptic rendition of "A Hard Rain's A-Gonna Fall" roars like a wave that could drown the whole world.
"Mr. Tambourine Man gives us the opportunity to be whoever we wish to be," says Rivera. It's this spirit of radical self-reinvention — a la singing cowboy Ramblin' Jack Elliott, born the son of a Jewish orthodontist in Brooklyn — that courses through the phases and stages of Dylan's protean, shape-shifting career, as well as his rather elastic relationship with the truth. Scorsese's extraordinary 2005 documentary "No Direction Home: Bob Dylan" was a deeply sympathetic examination of the artist's need to shed influences and personas like a snake's skin, to always be in the process of becoming. (This is why Todd Haynes' "I'm Not There" — the only legitimately great rock biopic — cast six different actors as fictionalized faces of Dylan.)
Scorsese gets in on the fun this time, threading the magnificent musical numbers through a series of misty-eyed recollections and amusing anecdotes that feel emotionally true even when they're not entirely on the level. We hear a fair amount of funny gripes from an axe-grinding Dutch filmmaker who looks suspiciously like Bette Midler's husband, performance artist Martin von Haselberg. (The Divine Miss M herself can be spotted in one of the early nightclub scenes.) Sharon Stone shows up to tell a few killer Dylan stories that couldn't possibly be real yet sound exactly like what Bob Dylan would do. Or rather, they sound exactly like what we imagine our idea of Bob Dylan would do.
Has any cultural figure this exhaustively documented ever remained so elusive? The most emotionally affecting offstage moments in "Rolling Thunder Revue" chronicle the endless backstage jockeying and cajoling for the superstar's attention, with even a literary god like Ginsberg supplicating himself in what guitarist Steven Soles describes as "the court of Henry VIII." Baez, having been burnt early and often by Bob, emerges as a wry voice of reason in both Scorsese docs, bemoaning his ornery unknowability yet admitting all is forgiven again whenever she sees him sing. "Don't make myths," Baez scolds a cooing crowd when she gets up to duet with Dylan, as if mythology weren't her song partner's stock-in-trade.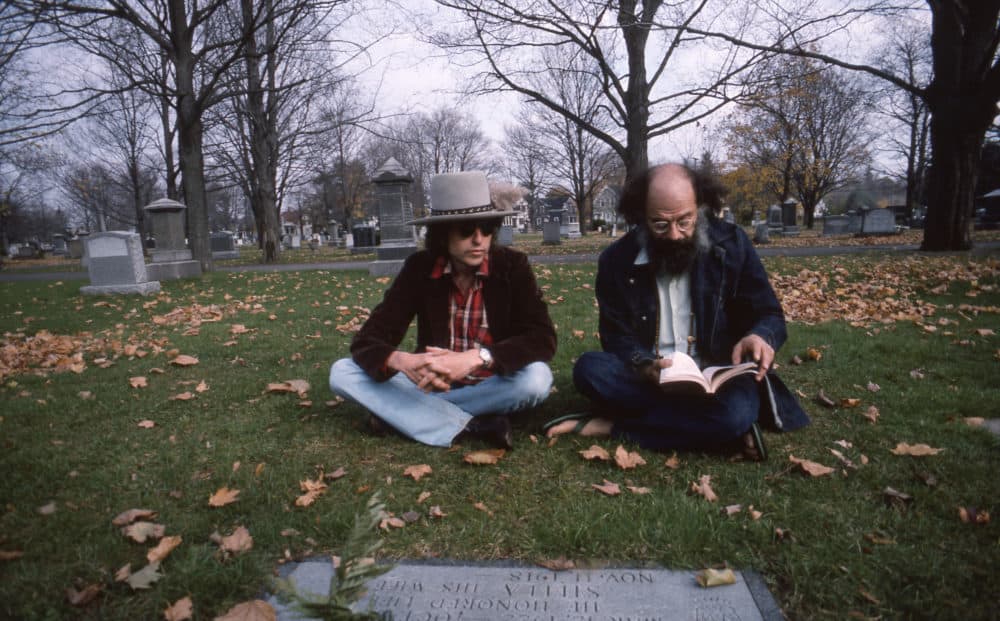 If you've ever wanted to see Bob Dylan and Allen Ginsberg bore a bunch of old ladies at a Falmouth Mahjong parlor, have I got a movie for you. "Rolling Thunder Revue" is full of such oddball, archival treasures for rock aficionados, including a deliriously unhinged Patti Smith coffeehouse performance and Joni Mitchell busting out an early version of "Coyote" in Gordon Lightfoot's living room. Scorsese even sneaks in a wonderfully obscure homage to Robert Altman, toying with a fictional politician's empty banalities to blur the line between whether we're watching another gassy boomer hagiography or a vicious parody of the genre.
At 142 minutes, this does all get a bit baggy and is probably too much of a good thing. Honestly, I could have done with less about Rubin "Hurricane" Carter, the wrongfully imprisoned prizefighter whose plight strikes me as too heavy for such a loosey-goosey, metatextual romp. Real-life injustice has a way of dragging down nonsense delights like the modern-day Bob claiming Roger McGuinn used to build miniature audio surveillance devices in his hotel room. But then I've never been all that big a fan of "Hurricane" to begin with, the song's blunt recitation of facts lacking the tangled, personal imagery I treasure most in Dylan's lyrics.
One of the film's interview subjects muses that when people look at Bob Dylan it's like when they look in a mirror, seeing either whatever they want to see or the thing they hate most in the world. The fact that the person saying this doesn't actually exist doesn't make it any less true.
---
"Rolling Thunder Revue: A Bob Dylan Story by Martin Scorsese" screens at the Museum of Fine Arts Boston on Wednesday, June 12, when it also begins streaming on Netflix.