NwaSoul Brings Its Inventive Jazz, Rock And Hip-Hop Blend To BAMS Fest
An hour and a half before the set starts, two members of Boston-based music collective NwaSoul walk into Darryl's Corner Bar and Kitchen. While the after-work crowd converses with each other, bass player and bandleader Bobby Etienne and vocalist Tricia Reed (born Latricia Rucker) settle in.
"Are you going to bless me with your voice tonight?" Audrey Evans, a patron, asks aloud. "I love her spirit and her energy. She's very humble and very good at what she does," Evans explains.
NwaSoul's been performing here for years. Once the show starts, it's evident the group feels at home on stage. Melding jazz, rock and hip-hop, they take popular songs like the Stylistics' "People Make the World Go Round," and Fleetwood Mac's "Dreams" and make them their own. Reed massages the lyrics of "People Make the World Go Round," and her staccato repetitions of "round" at the end of the phrase ooze with skill. The crowd, enjoying the music over dinner and drinks, applauds after each rendition. But when the collective embarks on its original song "To the Dawn," from their EP "Prepare to Fly," diners whose backs were to the band turn completely around and bop to the beat approvingly.
This Saturday, the group will take a bigger stage in Franklin Park for the second Boston Art and Music Soul Festival (BAMS). Both Etienne, originally from Fort Lauderdale, and Reed, who grew up in Little Rock, look forward to the chance to make a deeper connection with the local music scene.
The collective's interest in setting down roots in the community seems to be one of the reasons they were chosen for the BAMS lineup. When curating the art and music celebration — now partnered with Berklee College of Music — the festival's founder Catherine Morris looks at more than just the musicians' body of work. "For me, the through line for every artist we select is the content of their character," says Morris, one of The ARTery 25. "Beyond their music, beyond their art form, that they're active in their community ... they're being an ambassador for arts and culture. [It's important because] when they get to the stage … future generations are looking at them. We're all about supporting artists that want to build a legacy."
NwaSoul started in 2012, bringing together a cadre of talented Berklee alumni. When naming the collective, Etienne wanted to impart some of his Haitian culture. He chose noir, French for black, and solis/sol, Latin for sun. For him, the two together are like the "ying yang symbol basically. ... When you combine the opposites, something new is created from those two things."
Over the years, the members have changed. Vocalist and songwriter Jonathan Hoard, who can be heard on Chance the Rapper's "No Problem," moved to Brooklyn and pianist Lauren Fuller went on tour with fellow Berklee alum Betty Who. Recently, the roster's become more stable, Etienne said. In addition to Etienne and Reed, the collective now includes Aaron Venable (drums), Antonio Loomis (guitar), Craig Hill (saxophone), Daniel Abraham and Ben Stepner (keys). The newest addition is singer Malaya Tina Watson.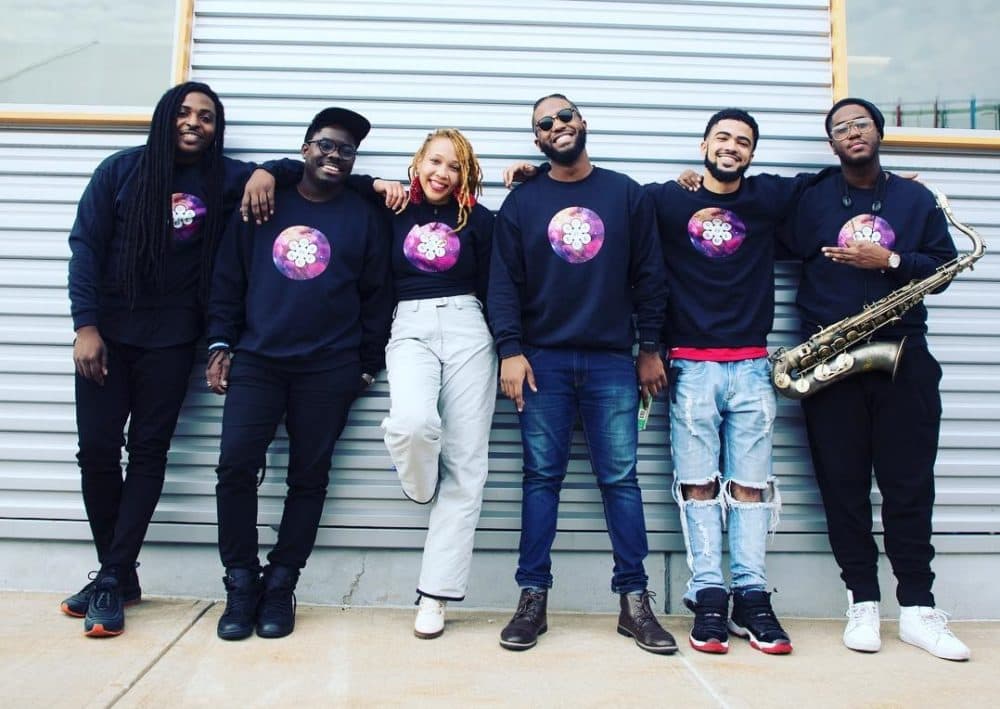 The members of the collective juggle working together in NwaSoul and working on individual projects. Etienne plays in local band Biscuits and Gravy and favors odd time signatures (think Dave Brubeck's "Take Five"). Reed's solo album is nearly done, Loomis produces hip-hop heavy beats under moniker Tony Royale, and Hill plays in another collective called Freelance.
NwaSoul's latest offering is brimming with good vibes.
The collective employs a collaborative songwriting process; Etienne starts creating a foundation with melodies or chords, then he engages others for lyrics. Title track "Prepare to Fly" — with uplifting lyrics like, "The sun kissed the moon and carried morning to you, just to prove you could endure the night" — stands out to me. Reed believes those words and wants "people to feel what I feel when I first heard it and also when I sing it."
That song began "with a feeling," Etienne says. Then, in this case, Hoard penned the lyrics.
That spirit of collaboration, Morris says, is what piqued her interest in the band.
"When you're talking about what authentic collaboration looks like, between individual artists, that's NwaSoul," she said. "It's very hard sometimes to bring different personalities together to make one vision work," she said, "because everyone's got their own thing. But I feel like that is one band that has genuinely and authentically figured out how to work together to fight for and sustain black music in every aspect of it."
Pushing to make a name for themselves locally and beyond, NwaSoul is committed to reinforcing the creative vibrancy of Boston. Etienne considered leaving Boston briefly, but his friend and musical big brother's wise words inspired him to stay. He said, "Wherever you go, you'll have to make something happen, so why not make it happen here," Etienne shared.
That sentiment, about carving an artistic space in Boston, fuels Morris, too. When she started BAMS Fest, she imagined it as a fest customized to Boston — a chance to center black artistry with a hyperlocal perspective. This year, BAMS is putting some of Boston's freshest talent, like NwaSoul, alongside established musicians from across the country.
---
NwaSoul performs at BAMS Festival on Saturday, June 22 at Franklin Park.