Today's Weather: Clouds Linger For Another Overcast Day
A few showers yesterday have led into another cloudy day today. I can't rule out some sunshine, but it's not going to be a beach day, that's for sure.
Humidity will be noticeable throughout the day. This is a bit of a lull — sort of a day between weather systems. Temperatures will stay in the upper 60s on Cape Cod, but get into the lower 70s elsewhere.
There's been a stalled-out frontal system to our south much of this week and little ripples of energy have moved along it, bringing occasional rain and showers. We haven't had much overall rainfall, however.
The next weather system arrives tomorrow in the form of showers and even a few downpours, especially in the afternoon and overnight. There could even be a rumble of thunder with this weather system. You might be surprised, but we're actually about an inch below average rainfall across much of New England for the month of June so far, so this weather is welcome.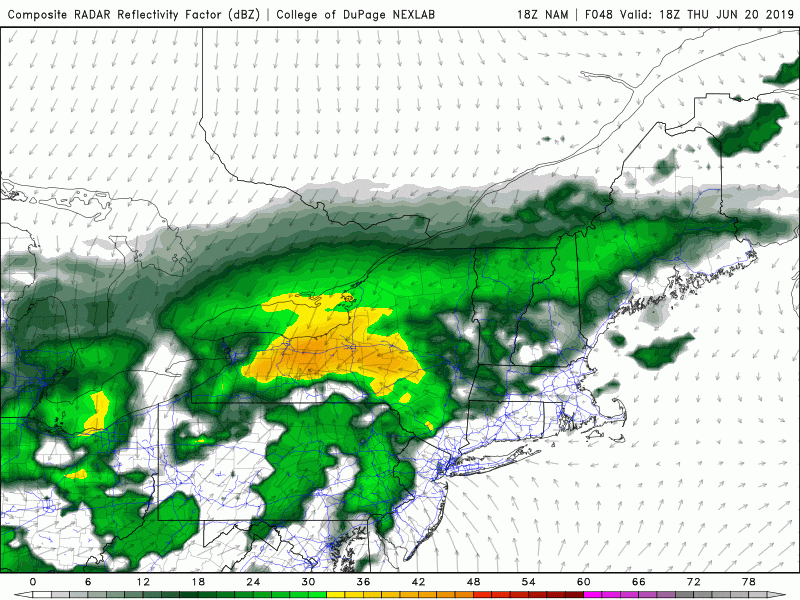 The pattern undergoes a bit of a change starting Friday. We will drop the humidity and increase the sunshine for the weekend. Any shower activity Friday will end quite early, and it's not going to be surprising if we see the sun by the end of the day.
The weekend looks fantastic with plenty of blue sky and temperatures in the upper 70s and even some low 80s by Sunday.
The summer solstice arrives just before noon Friday, marking the official start of astronomical summer. This also marks the longest gap between sunrise and sunset. The peak summer heat is still a ways off, usually occurring sometime in July or the first week in August.
You can follow my updates here and on Twitter @growingwisdom.
---
Wednesday: Clouds, some sun. Low chance of a shower. Highs 70-75.
Wednesday Night: Clouds remain. Mild. Temps around 60.
Thursday: Watching for showers and even a thunderstorm later in the day. Highs 70-75.
Friday: Showers and some morning downpours. Then just cloudy. Highs 67-73.
Saturday: Partly to mostly sunny. Highs 72-76.
Sunday: Sunshine and clouds. Highs around 80.