'Less Is A Bore' At The ICA Offers Maximal Relief In A World Of Tasteful Art
There's the art that took over galleries in the 1960s and '70s — cool, minimal, barely there. And then there's art — eye candy a poppin' with color and pattern, effulgent and radiantly explosive.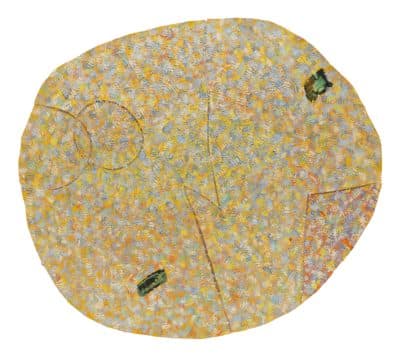 "Less is a Bore: Maximalist Art & Design," opening at the ICA on June 26, happily traipses down the gilded lane of the latter type of art.
What you'll find here is a no-holds-barred, full-immersion blast of living and creating with abandon, no concern about being a little, well, "loud."
In fact, curator Jenelle Porter says that's kind of what she was hoping for, creating a show that would seem "exuberant, crowded, possibly in places a little too crowded. I want the viewer to feel a little overwhelmed."
And feeling overwhelmed is a distinct possibility. Taking its name from architect Robert Venturi's witty retort to the modernist "less is more" edict of architect Ludwig Mies van der Rohe, the exhibit offers a sumptuous display of excess in disciplines spanning not only sculpture and painting, but interior design, fashion and applied art. We see a few of the usual icons of modern art — like minimalist Sol LeWitt and abstract expressionist Jasper Johns — but considered in a new context, alongside artists such as Miriam Schapiro, a leader of the pattern and decoration movement of the '70s, and iconoclast Howardena Pindell, known for her paintings loaded with color and texture as well as social commentary.
We see Dutch furniture designer Marcel Wanders and his "Bon Bon Chair," a gilded lounge chair combining, improbably, modernist lines with decorative pattern worthy of Gianni Versace, along with American ceramicist Betty Woodman, whose "Window" defies characterization as either painting, pottery or sculpture. It's none of these things and all three at once, elevating pottery into the world of fine art.

The oldest work on view is Lucas Samaras' "Chair Transformation #9" of 1969, offering a humorous vision of a chair, adorned in primary colors and exploding, cheekily, out of a black box like a furniture version of a Jack in the box. The most recent work is Dianna Molzan's "Untitled" painting, that when you think about it, has a lot in common with Samaras' chair made 50 years earlier. Just as Samaras transformed a chair into sculpture, Molzan has reimagined the concept of a "painting" by retaining a painting's basic components — canvas, paint, stretcher bars — but presenting them as something more akin to sculpture. In the 50 years between Samaras' and Molzan's work, we see a whole lot of stuff, often dramatically different, and yet most everything playful and indulgent.
The work in "Less is a Bore" is not only about resplendent color and unapologetic pattern, but surface density and unbridled energy. The work feels wide open compared to many museum shows, as it is easy to see the influence of non-Western visual culture such as Islamic tile work, and Iranian and Indian miniatures, in addition to Byzantine art and Mexican mosaics. We see a reverence and respect for the artisanal arts, and a celebration of the sorts of things that surround most of us at home — wallpaper, fabric, embroidery, carpet, quilts. Many of the artists on view, particularly those belonging to the pattern movement, used techniques and materials associated with women's work, craft and the domestic sphere in a not-so-subtle challenge to the male domination of the art world.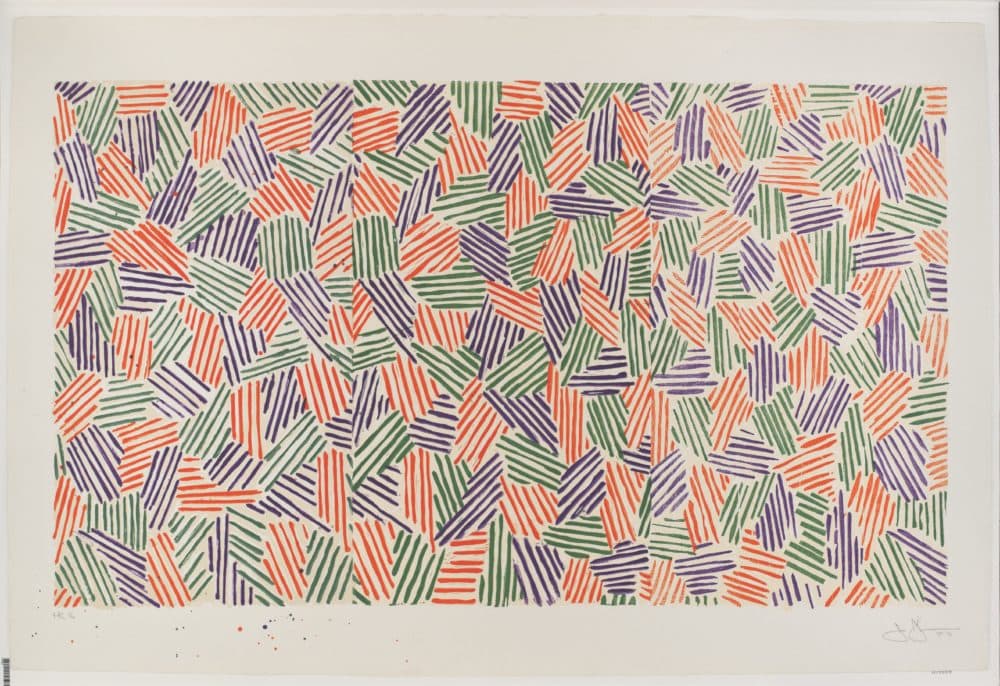 In addition to painting, "Less is a Bore" offers assemblage and three-dimensional work, such as Nancy Graves' "Trace," a biomorphic bronze and steel sculpture of green, blue and orange that in its organic fluidity recalls a flower, a tree, or even a bird, as well as Frank Stella's "Brazilian Merganser," a mixed media composition of paint on aluminum whose name references the South American duck. Also in the mixed media camp, we see Sanford Biggers 2016 work "DAGU" of fabric, spray paint and acrylic on antique quilts as well as Liza Lou's 2008 work "Offensive/Defensive," combining glass beads on aluminum panel.
The point among these artists seems to be that it's okay to mix and match traditions and crafts, using unconventional materials outside their usual context. Freedom is good. Symmetry is okay. Harmony is hunky-dory. And, hey, good art can also be pleasant to look at. It can even be fun.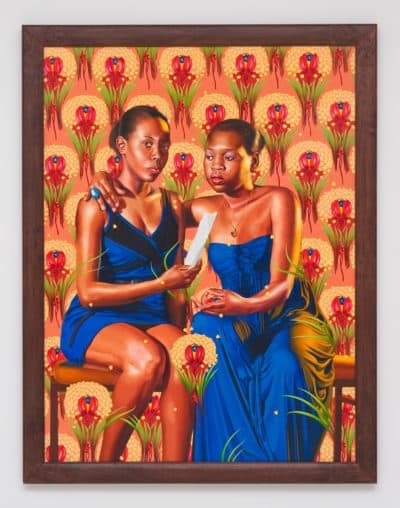 You might call the show transgressively pretty.
"The word 'maximalism' is kind of a red herring," says Porter. "Because it's not any thing. The word 'maximalism' doesn't describe a movement that we've ever heard of. It's not minimalism. It's not conceptualism. It's really about approach."
In an essay written for the show catalog, Porter describes it as "hip-hop compared to punk, multiplying layers of samples versus 60 seconds of three chords."
There are seven rooms that make up this exhibit, and two of them Porter refers to as the "decorated body room" and the "flower painting room." (Kehinde Wiley's 2014 portrait "The Sisters Zénaïde and Charlotte Bonaparte" graces the room of the decorated body.)
"I think those two rooms really kind of focus you," says Porter. "It's super clear what's happening and how it relates to you as a viewer. I mean, the flower paintings — don't we all want to put a flower painting on the wall?"
---
"Less is a Bore: Maximalist Art & Design" is on view at the ICA June 26-Sept. 22.