Here Are The Museum And Gallery Exhibitions To See This Summer
With a little bit of sunshine and warmer temperatures, it may be difficult to even think about retreating indoors to see art this summer. And yet, it would be something of a shame to spend all your time on the beach, wouldn't it?
That's because this summer, there's a lot on offer in museums and galleries both in and outside of town. There's substantial food for thought, especially around issues relating to the environment and climate change. Some exhibits admittedly, are pretty heavy, others are lighthearted, but all of it, in the end, is thought-provoking.
May 25 thru 2020
California filmmaker and multidisciplinary artist Cauleen Smith commands the entire first floor at MASS MoCA in one of her most comprehensive shows to date. In "We Already Have What We Need," Smith combines an astonishing number of topics and influences running the gamut — black women in film, the music of John Coltrane, the New Orleans post-Katrina landscape, Dutch conceptualist Bas Jan Ader. Her work encompasses video, textiles, a selection of banners from her "In the Wake" series and new works on paper. The centerpiece of it all is a new video meditation on what exactly comprises our basic needs. Food? Shelter? Medicine? Music? Art? Our environment? Smith composes her own multi-layered still life of mundane objects that, along with her videos, ask us to pause to evaluate our accumulation of material goods and what effect it might have on Mother Earth. Her work, she says, is a reflection on "the everyday possibilities of the imagination."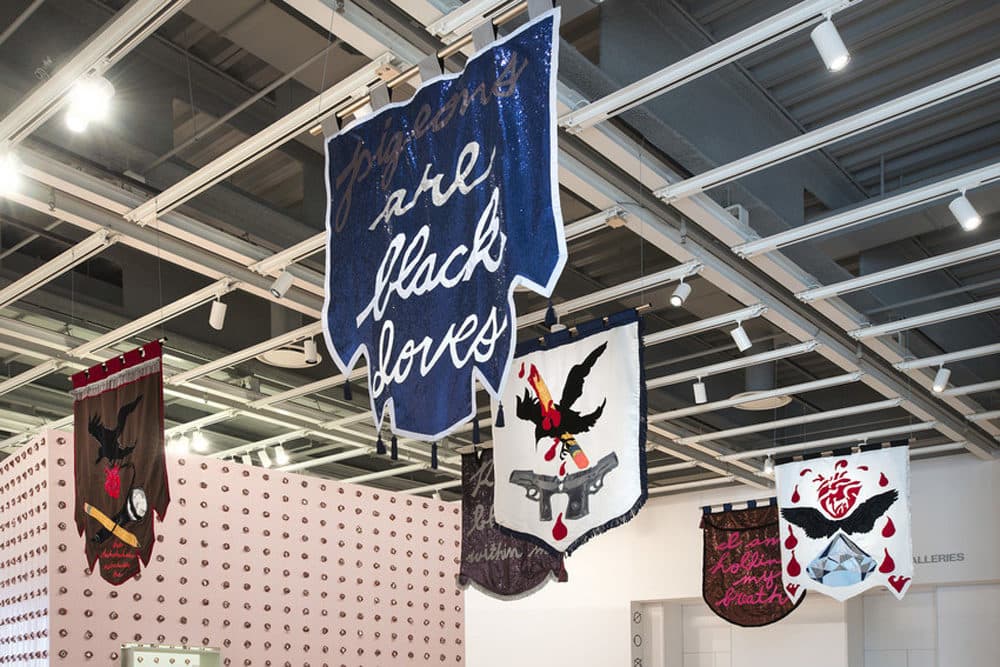 ---
John Akomfrah: 'Purple'
ICA Watershed, East Boston
May 26 to Sept. 2
In only the second show to be hosted at the ICA Watershed annex, the museum has co-commissioned acclaimed London artist and filmmaker John Akomfrah to create "Purple," a sweeping six-channel video installation on the subject of climate change. Akomfrah's panoramic and poetic work draws from hundreds of hours of archival footage, combined with newly shot film and a hypnotic soundtrack, addressing themes related to our changing climate, biodiversity and the environment. Divided into five symphonic "movements," the work features disappearing ecological landscapes in Alaska, Greenland, the Tahitian Peninsula and the South Pacific Marquesas Islands. Akomfrah's work underscores the complex and fragile interrelation of human and non-human life in precarious environments.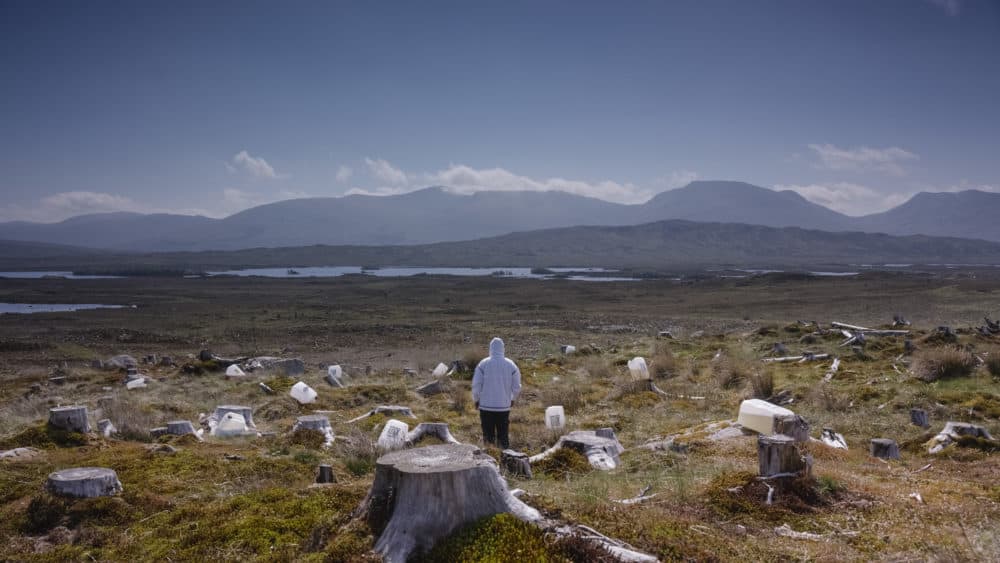 ---
June 5 to 30
Continuing with the environmental theme, the Kingston Gallery presents "Oh That Beautiful Planet, What Have We Done?" Rhonda Smith transforms found materials and wire mesh into constructions using clay, paint, netting and wood. Her work is symbolic of man's urban architecture in conflict with the gentle persistence of nature. Although Smith, who works in both Boston and Maine, is better known for her painting, she presents an adroit assemblage combining contrasting natural forms with model "skyscrapers" containing stairs and ladders that go nowhere. The buildings are symbolic of man's ongoing destruction of nature, despite his technological prowess.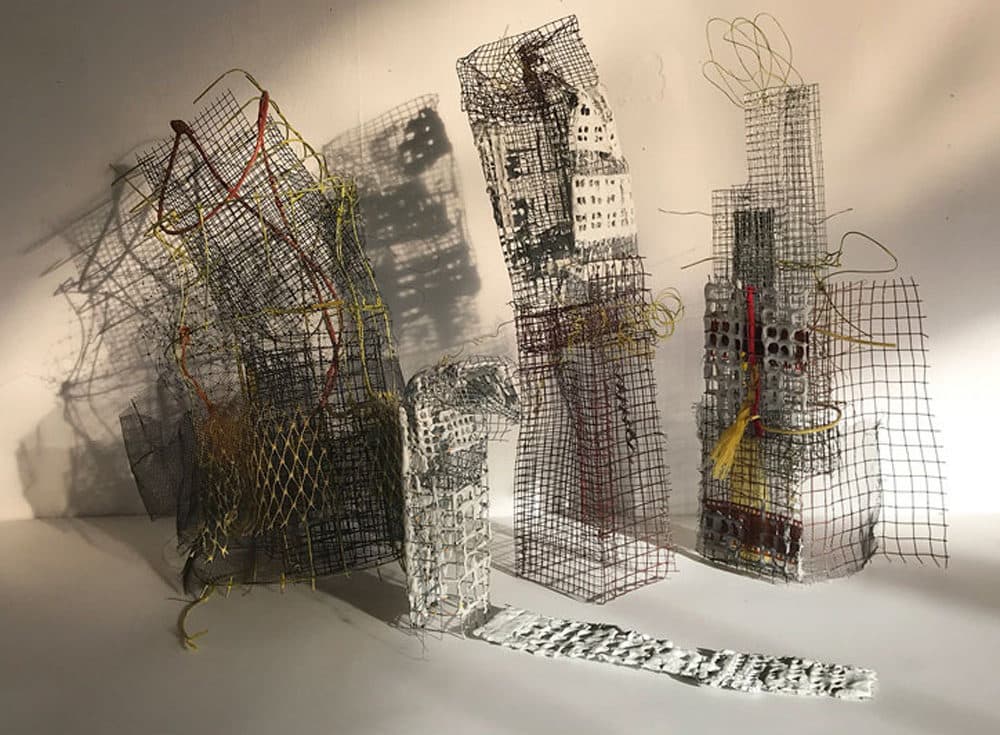 Showing concurrently with Smith is Conny Goelz Schmitt in "Neverending Stories." In a departure from this summer's reigning despair around climate change, Schmitt presents delightful geometric collages, sculptures and assemblages using the bindings, spines and covers of vintage books. Her forms feel both whimsical and endearing, deftly deconstructing, reconstructing and shifting dimensionality — all in the same piece. In Schmitt's show, the book gets to tell a whole different story.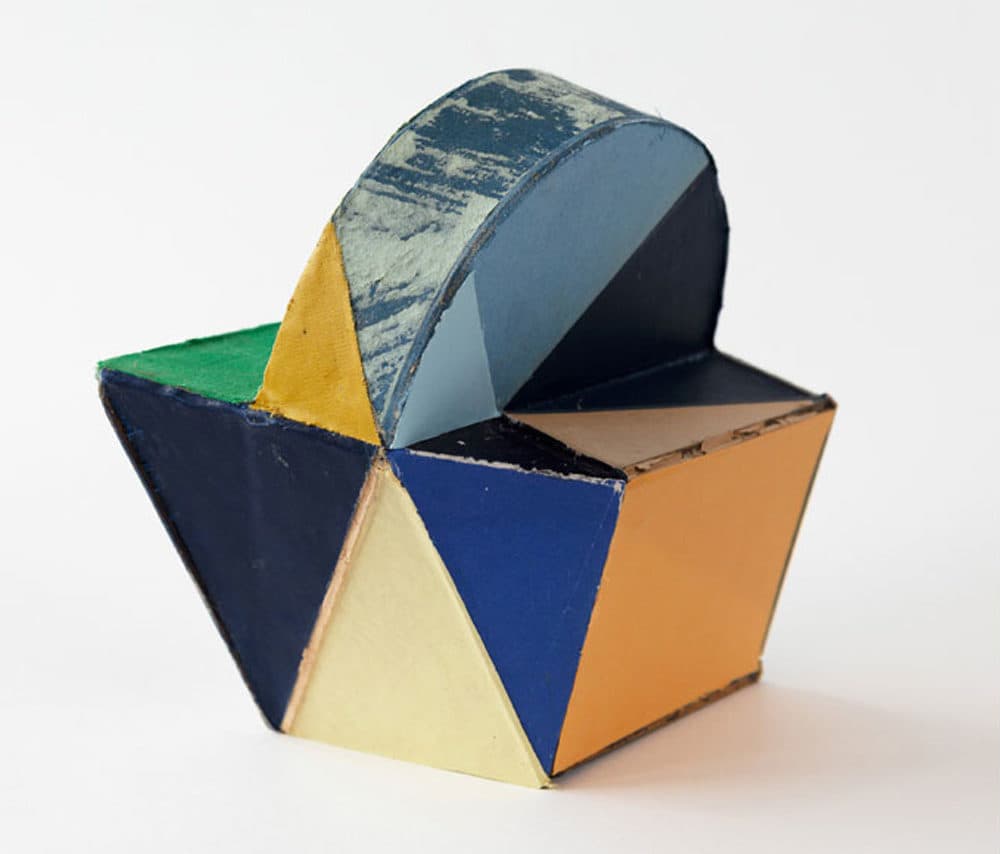 ---
June 12 to July 14
Too often, Boston's cooperative galleries get lost in the artistic fray, but Boston Sculptors Gallery always manages to make its presence felt. In June, the gallery offers the work of cooperative members Sally Fine and Kathleen Volp.
Fine is a graphic designer, sculptor and educator whose most recent work has focused on the ocean environment from a social political and historic perspective. "Patient Seas" features recent sculpture on oceanic phenomena as seen through the lens of climate change. Fine repurposes glass flotation balls originally used for research at Woods Hole Oceanographic Institute into globes representative of planet earth. The interiors are made of stained glass while the exterior is etched or painted. Electroluminscent wire winding around the globe traces the ocean circulation. The work is a reminder of the devastating effects of climate change on our oceans.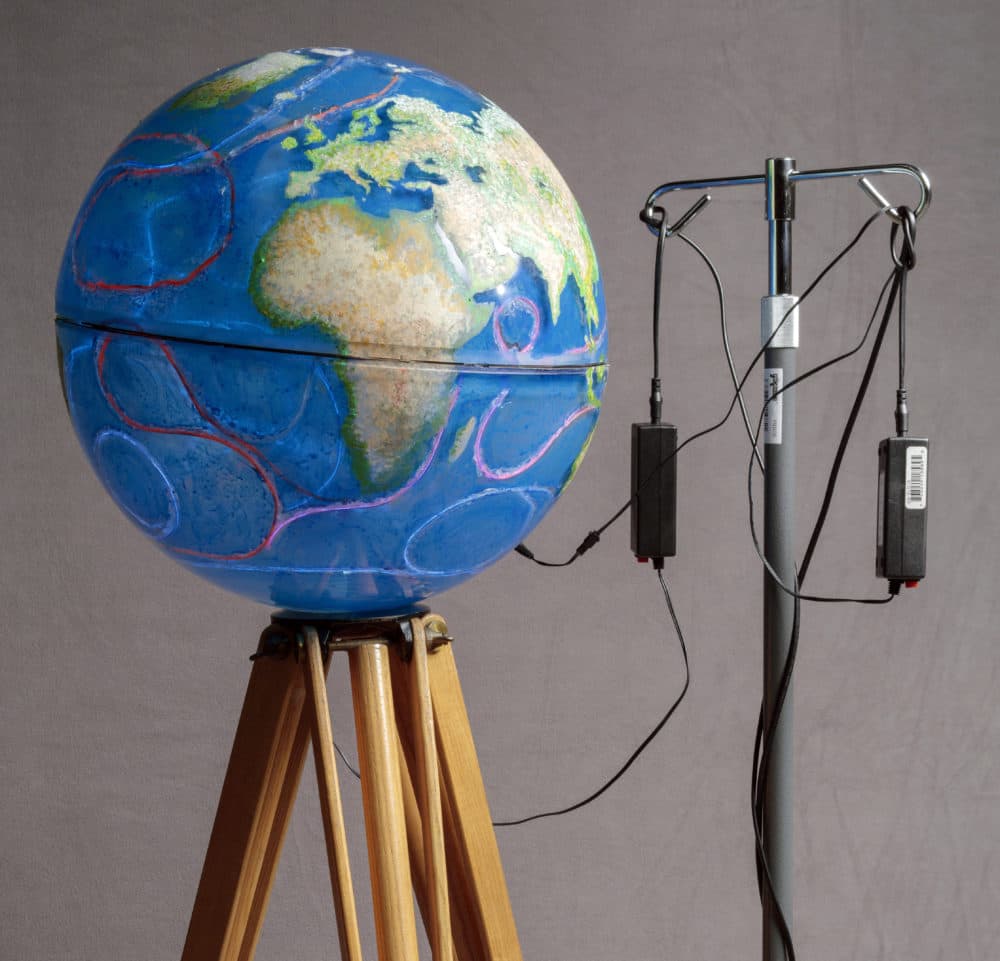 Meanwhile, sculptor Kathleen Volp takes on the political climate in a show entitled "How?Now" Inspired (or rather sickened) by the corrosive presidential campaign, Volp in 2016 began making a series of politically-charged small works she called "The Politics of Fear" to express her own anxiety. Volp positions plastic toy horses and other thrift store finds in buffed graphite, or paints them plaster white. They are meant to recapture the poses and subject matter of monuments to war heroes, and yet, the small scale and humble materials say a lot about man's hubris. In a rebuke to arrogant ideologues, her false monuments question who we put on pedestals and why.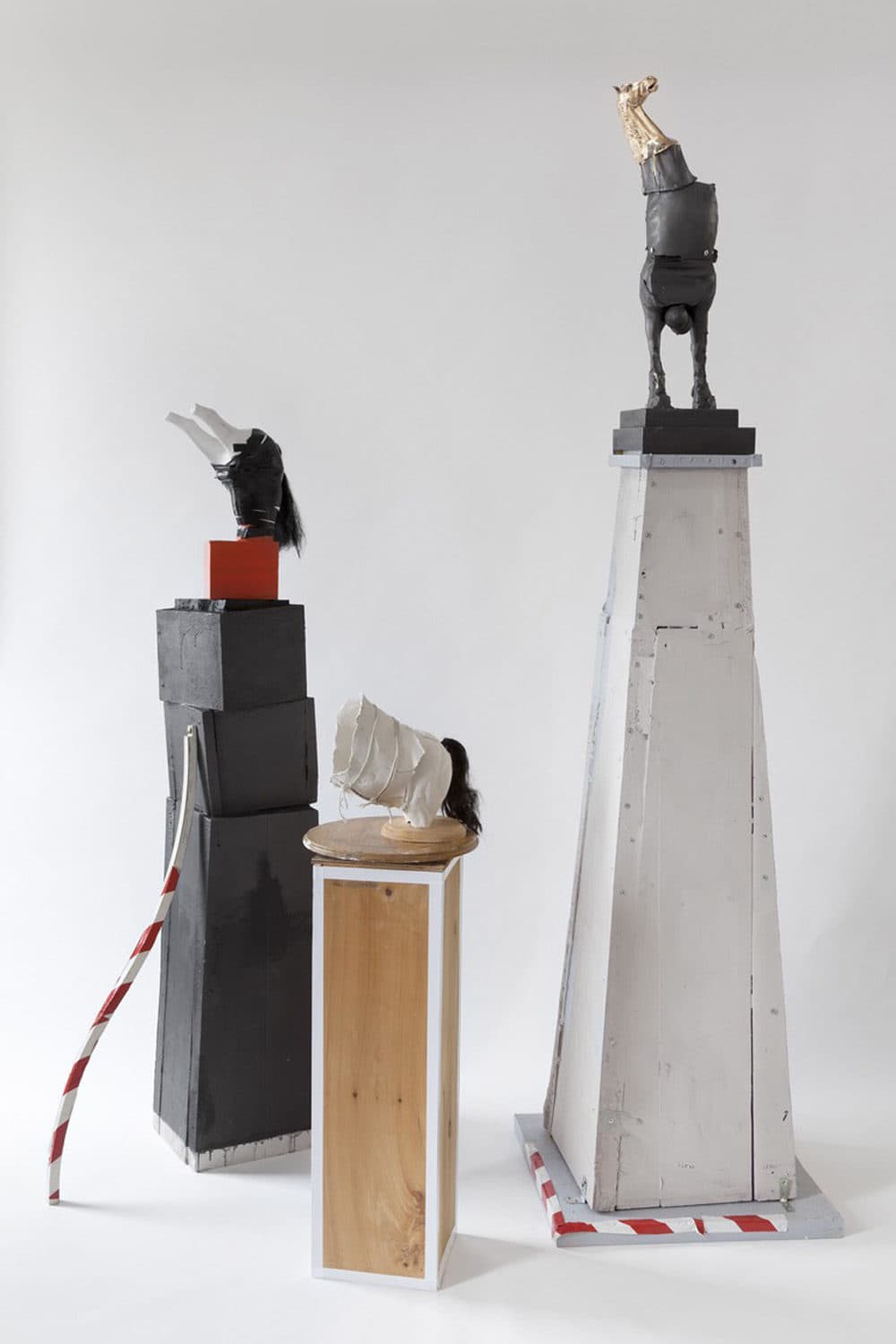 ---
June 26 to Sept. 22
Yes, minimalism is cool and chic. But who among us can resist the utter joy of bold color and fulminant pattern? And now we don't have to. For most of the summer, the ICA offers up a resplendent explosion of eye candy in the exhibit "Less Is a Bore" whose title comes from architect Robert Venturi's witty retort to Mies van der Rohe's modernist "less is more" ethos. Incorporating painting, sculpture, ceramic, dance and furniture design, the show rattles the cages of dominant minimalist modernism while celebrating decoration, pattern and full-out Elton John maximalism. Among others, the exhibit includes the work of artists Sanford Biggers, Howardena Pindell, Jasper Johns, Miriam Schapiro, Lucas Samaras, Ettore Sottsass and Polly Apfelbaum. Yes, pattern is pretty, but the decorative movement also challenged entrenched categories that marginalized non-Western art, fashion, interior design and applied art.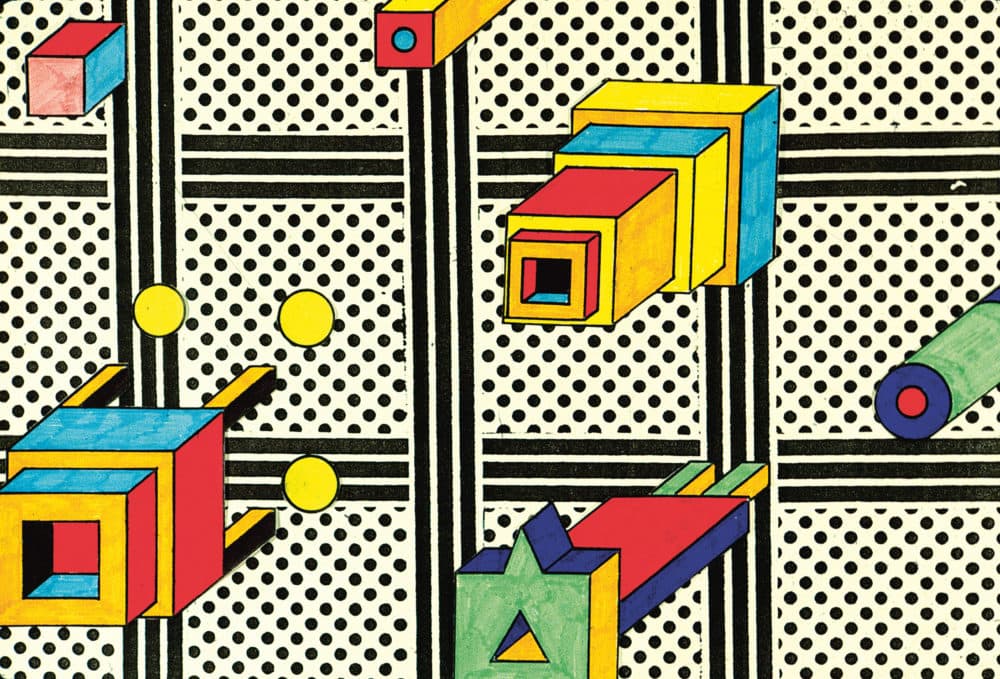 ---
July 13 to Feb. 23
In his paintings of the 1940s and '50s, Hyman Bloom explored the subject of death. He painted corpses, skeletal trees and archaeological excavations, as he sought to unearth the depths of things. Even while his peers enjoyed fame and fortune painting large modernist abstract paintings, Bloom stuck by figurative painting, creating thick, impasto canvases in jewel tones that belied the subject matter. The MFA presents more than 40 of Bloom's paintings pulled from both public and private collections. His complex works draw on his Jewish faith, his interest in Eastern religions and his transcendent beliefs in regeneration. Death never looked so good.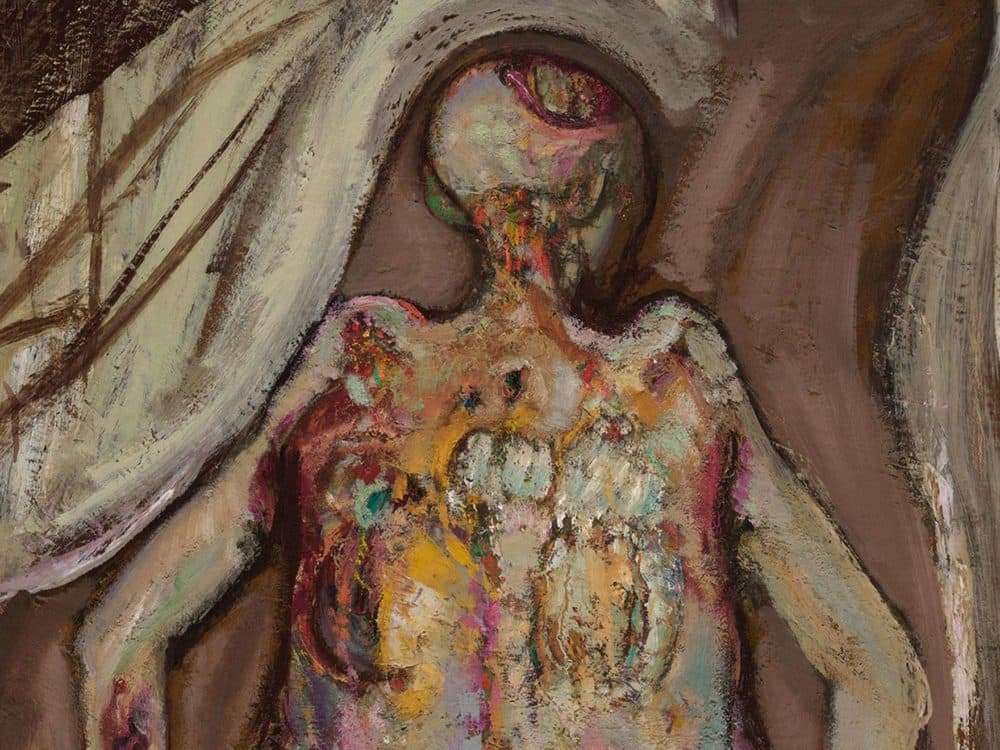 ---
Aug. 3 through 2020
Artist Marco Ramirez Erre lives and works between Tijuana and San Diego. He has made the U.S.-Mexico border a central part of his work for more than two decades, examining its fraught history and shifting contours. In "Them and Us/Ellos y Nosotros," Erre brings a palpable image of the border wall to Western Massachusetts with his piece "Of Fence." Erre erects his own rusty-red metal fence reaching up to the ceiling and stretching across 120 feet of the museum, marking the entry to a gallery where a selection of new and existing works by the artist will be on view. It is a sculptural recreation of the weathered metal barricade separating the U.S. and Mexico, a formidable obstruction which has come to powerfully dominate life in both countries, physically and psychologically.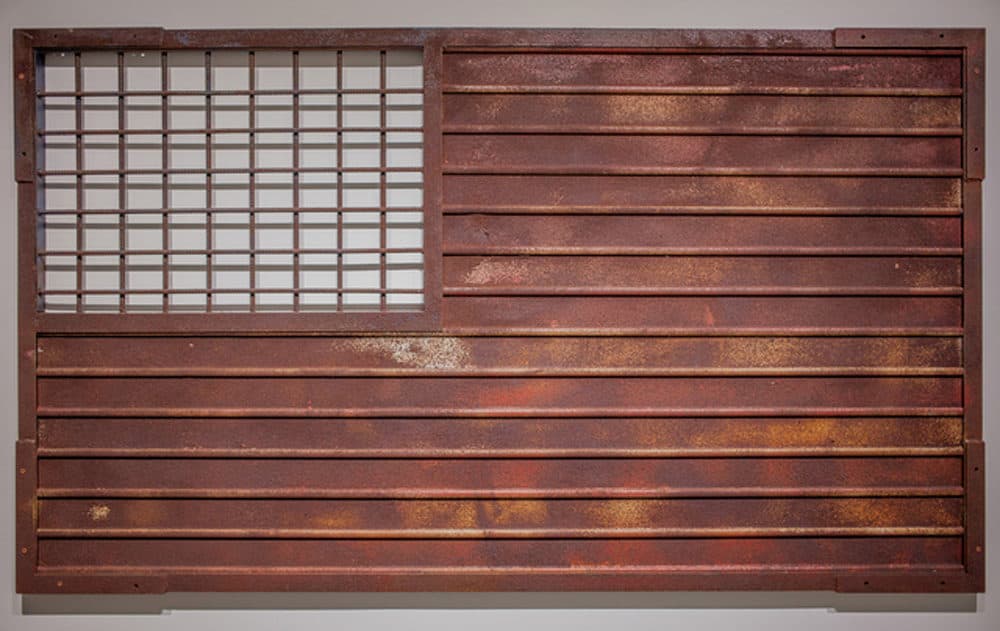 ---
Aug. 21 to Jan. 5
It can be a relief sometimes to get back to pure painting. That's Vivian Suter's specialty. The Argentinian artist, now living and working in Guatemala, paints large, lush canvases in vivid colors. But Suter has a co-creator: nature. She moves her canvases from the studio to the outdoors and back, allowing rain, wind, mud, sunlight and the odd animal or two, to determine the development of her gestural compositions. Her installation of layered and suspended canvases allows visitors to lose themselves in her imagined and natural worlds.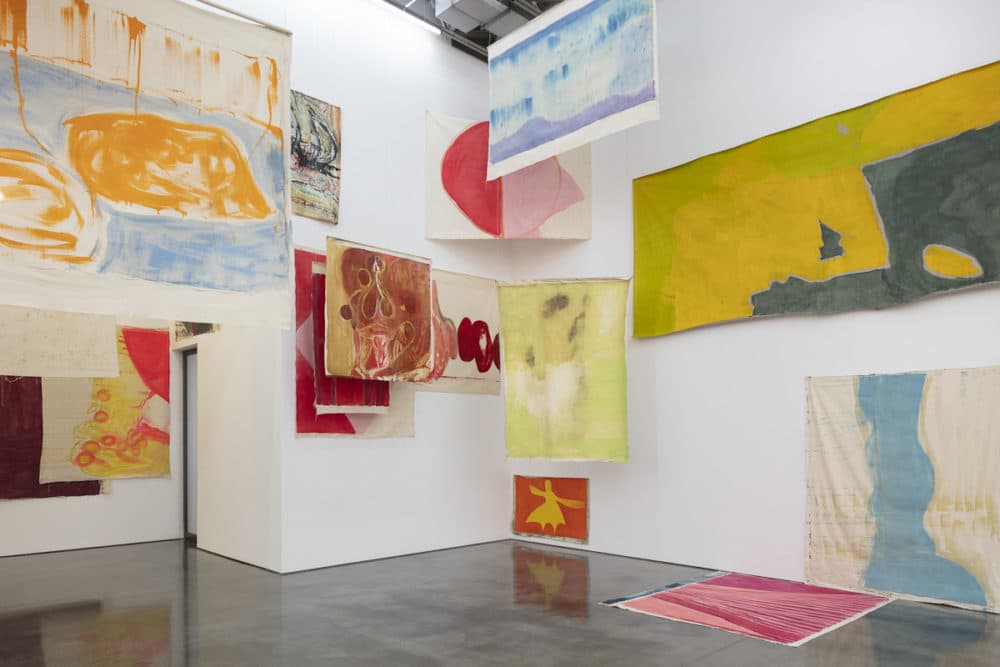 Running concurrently at the ICA is the 2019 James and Audrey Foster Prize Exhibition, which features the winners of a prize awarded bi-annually to Boston area artists of exceptional promise. The 2019 winners include Rashin Fahandej, Josephine Halvorson, Lavaughan Jenkins and Helga Roht Poznanski. These four artists belong to different generations and work in diverse media including painting, sculpture, film and video, exploring questions of place, portraiture and belonging.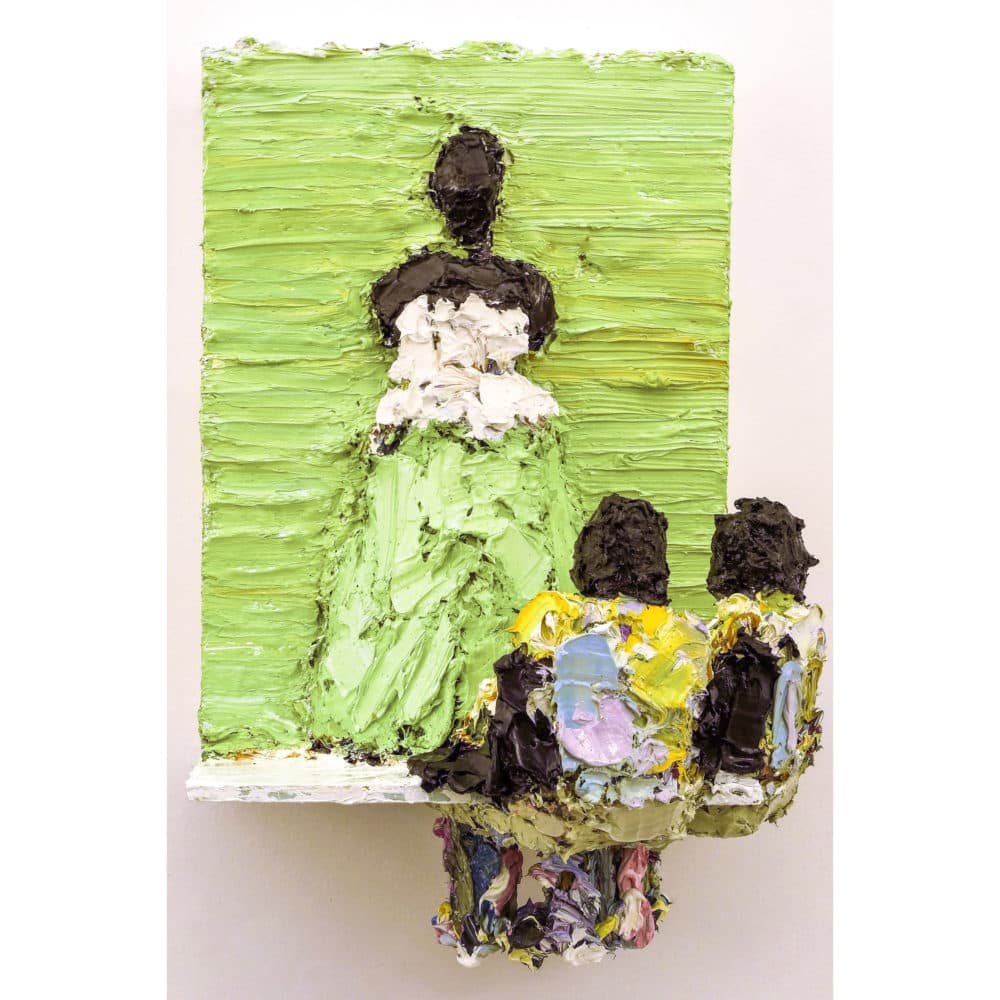 ---
TJ KELLEY III: 'PARADICE'
The Distillery Gallery, South Boston
Aug. 17 to Sept. 20
TJ Kelley III is a Boston artist who creates appealing works by incorporating painting drawing, sculpture, bookmaking and installation to examine the way our personal narratives distort the stories we hear and tell. In "Paradice," he presents a whole new body of work, including some larger pieces, focusing on the themes of balance, challenge and chance in "an existence full of orange detour signs." His paintings and an ongoing sculptural project will be shown along with a large silkscreen print and a printed book that accompanies the show.
Recalling early lithograph printed poster design and commercial iconography, Kelley employs a bright but limited palette, which makes his sharp wit and observations go down as easy as a sugar pill. Kelley also happens to be a curator at the Extension Gallery, an art gallery and exhibition space located above Orchard Skateshop in Allston, lending his work a kind of street cred.