The 14 Productions To See This Summer In The Boston Area
This article is more than 3 years old.
Summertime and the theater is easy. Or so goes the stock-fueled cliché in which descendants of Judy Garland and Mickey Rooney put on a show, the more lightweight and melodious the better. And aren't we required to go up to an old barn in Vermont to see it?
Think again. Among this vacation-season offerings are a fantastical plunge into gay history, race- and gender-bending takes on classics, Spanish tragedy with a flamenco twist, a tsunami followed by a nuclear disaster, the six wives of Henry VIII re-imagined as a girl band and a decapitation on Boston Common. Even the musicals have their ominous, if not outright anguished, sides. Yes, there is a pair of glam old movie icons, but what's wrong with a little star power so long as it's not limping along the deck of the Love Boat? Here's a peek at what's up on area stages for those lazy, hazy, crazy days.
---
SpeakEasy Stage Company
May 31 - June 22
When a young fashion designer from 2017 buys a dilapidated old building in New Orleans' French Quarter, he falls into the rabbit hole of gay history, landing at the iconic UpStairs Lounge — before it became the site of an infamous 1973 arson attack that killed 32 people. Written by Max Vernon and helmed here by SpeakEasy artistic director Paul Daigneault, the show — boasting a score that ranges from disco and glam rock to contemporary pop and gospel — was a 2017 Off Broadway hit. (RuPaul was a fan.) And the cast showcases such area musical talents as Will McGarrahan, Jared Troilo, Davron Monroe and Yewande Odetoyinbo.

---
Huntington Theatre Company at Calderwood Pavilion
May 31 - June 30
Boston-based Cuban-American playwright Melinda Lopez, winner of the 2019 Elliot Norton Prize for Sustained Excellence, has penned a lyrical translation/adaptation of the 1934 theater piece that Spanish writer and revolutionary Federico García Lorca called his "tragic poem." Set in a hard-toiling rural community, the piece centers on a barren young wife whose desperate desire to conceive a child leads her to commit a crime. Lopez, however, infuses the piece with female strength while Drama Desk Award-winning composer Mark Bennett pumps it up with flamenco-inspired music.  Obie Award-winner Melia Bensussen is at the helm of the production, which features Nadine Malouf, a 2019 recipient of Lincoln Center Theater's Emerging Artist Award, in the title role.

---
Mount Auburn Cemetery
May 30 - June 9
For a new twist on outdoor theater, Boston playwright Patrick Gabridge ("Blood on the Snow"), Mount Auburn Cemetery's first playwright-in-residence, has authored two series of site-specific works inspired by the landscape and history of the fabled graveyard. The first suite will be performed in various cemetery locations as a sort of dramaturgical walking tour. (The second series, "The America Plays," is set for September.) Courtney O'Connor is at the helm of this quintet of nature plays, which take as their subjects Mount Auburn's natural environment and embrace such subjects as global warming, mushroom hunting, spotted salamanders and some historic debates that took place between naturalists who are buried here — before they died, of course.

---
Actors' Shakespeare Project at Tufts' Balch Arena Theater
June 5 - 29
Actress-playwright Kate Hamill, whose hurtling adaptation (for New York-based Bedlam) of "Sense and Sensibility" was seen at American Repertory Theater in 2017, pushes another beloved work by Jane Austen out of the drawing room and onto "a comic playground of sexually repressed characters skirmishing for their own romantic existences." At least there are no zombies. Artistic director Christopher V. Edwards is at the helm of this regional premiere, in collaboration with the Dorset Theatre Festival, featuring Lydia Barnett-Mulligan as "Lizzy" Bennet and Omar Robinson as the hunky if glowering Mr. Darcy.
---
The Front Porch Arts Collective and Greater Boston Stage Company
June 6 - 30
Catherine Bush's fleet and funny 90-minute adaptation of the "all for one and one for all" classic by Alexandre Dumas premiered in 2015 and was performed in 2017 by the Classical Theatre of Harlem. It is in black and brown hands again in this collaboration between The Front Porch Arts Collective, whose mission is "to advance racial equity in Boston through theater," and Greater Boston Stage Company, whose Stoneham home will be the site of the production. Directed by Front Porch co-artistic director Dawn M. Simmons (who is also the executive director of StageSource), the rambunctious piece will feature an African-American cast in which not all musketeers are male. And it promises a plethora of high jinks and swordplay, the latter staged by fight director Angie Jepson.

---
Nora Theatre Company at Central Square Theater
June 6 - 30
Nora's artistic director, Lee Mikeska Gardner, is at the helm of this revival of revered British playwright Caryl Churchill's loopy/prescient 1979 exploration of society and sexuality in which gender is without borders. Act 1 is a satire set in British Colonial Africa. Act 2, in which the same characters have aged but 25 years and are played by different actors, miraculously moves to London in 1979. The performers switch genders as quixotically as they do personae in Churchill's witty if pointed ode to sexual fluidity — with a nod to the parallels between oppression by Empire and oppression by men. You just have to figure out who are the men — and Nora makes that one degree harder by casting a woman as the stiff-upper-lipped patriarch of Act 1, who is usually played by a guy. If you are confused now, imagine how this blew British minds in 1979.
---
Huntington Avenue Theatre
June 22 - July 14
Formidable film star Faye Dunaway channels equally formidable film star Katharine Hepburn in this one-woman show, which is presented by Ben Feldman and Scott Beck and touches down in Boston for its only stop on the way to Broadway. Tony-nominated director John Tillinger is at the helm of the play by Matthew Lombardo, which debuted at Hartford Stage in 2002 starring "Star Trek" vet Kate Mulgrew. It has been rewritten since then and tailored to Dunaway, who will inhabit Hepburn in her retirement, holding court in her Fenwick, Connecticut home, where she reflects on "her turbulent childhood, her unlikely rise to stardom and her heartbreaking 27-year affair with Spencer Tracy." Possibly, she serves tea — or dish.
---
Citizens Bank Opera House
July 10 - Aug. 4
Boston gets its first look at the Broadway musical that took home six 2017 Tony Awards, including those for Best Musical, Best Book (by Steven Levenson) and Best Score (by the "La La Land" team of Benj Pasek and Justin Paul). At the center of the sensitive show with a gently melodic pop score is a lonely misfit teen who inadvertently becomes a social media sensation on the basis of a lie (which goes viral) concerning his ostensible friendship with a classmate who committed suicide. Undertaking the title role is 21-year-old Ben Levi Ross, who understudied Tony-winner Ben Platt as the impressively tearful teen in the Broadway staging.

---
Commonwealth Shakespeare Company on Boston Common
July 17 - Aug. 4
The Bard's infrequently produced late romance is Commonwealth Shakespeare Company's 2019 offering of free Shakespeare on Boston Common — never an event to be missed. But there are so many plot turns in this one that you may get whiplash just sitting in your lawn chair. Featuring attempted rape, beheading, falsified infidelity and other nastiness, the play nonetheless offers Imogen, daughter of the title king, a lovely heroine with agency. As the king's family is beset by one dire intrigue after another, "she is swept into a nearly mythic realm of mistaken identities, twists and turns and the all-consuming quest for true love." Actor-director Fred Sullivan Jr. celebrates 13 years with Shakespeare on the Common at the helm of the production.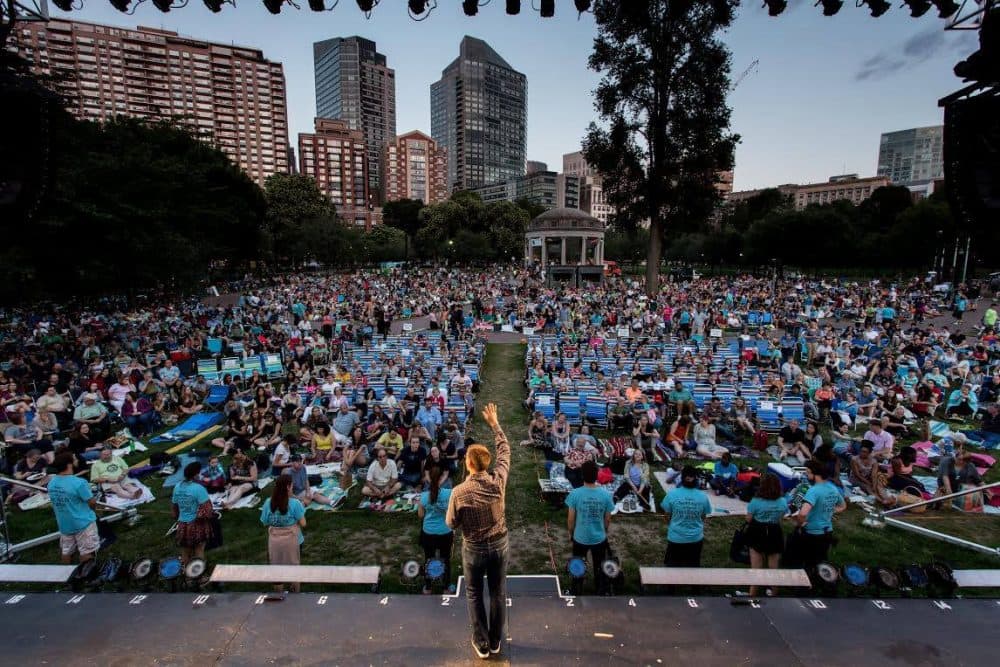 ---
Company One Theatre at Commonwealth School
July 17 - Aug. 17
Company One premieres a site-specific theater piece by its Obie Award-winning playwright in residence, Kirsten Greenidge ("Milk Like Sugar"). With Steven Bogart at the helm, the show will usher its audience through the halls and classrooms of the Commonwealth School in order to "examine Boston's legacy as a hub for education (and the intersections of education, governance and democracy) through the lens of one private, progressive school that is struggling to live up to its mission." That's all we know, but it sounds ambulatory, adventurous and substantial.
---
Shakespeare & Company, Lenox
July 18 - Aug. 18
Lenox-based Shakespeare & Company offers productions of the Bard's "Twelfth Night," "The Taming of the Shrew," "The Merry Wives of Windsor" and "Coriolanus" this summer. "The Children" is a part of where the "& Company" comes in. British playwright Lucy Kirkwood's eco-thriller, a 2018 Tony Award nominee that the New York Times called "bristling with chills and suspense," focuses on a couple of retired physicists burrowed in a borrowed cottage on the English coast and coping with the aftermaths of both a nuclear-plant accident and a tsunami when a collegial blast from the past shows up. At issue is what we might be expected to do for the generations that follow us into a world we have so deeply damaged. James Warwick directs a cast led by the superb Jonathan Epstein, who can be counted on to silkily supply those chills.
---
Wellfleet Harbor Actors Theater
Aug. 9 - 31
Proving you can make a play out of just about anything, dramatist Vern Thiessen crafted this madcap 2010 black comedy out of actual intrigues and events surrounding the 1924 preservation for posterity of Communist leader Vladimir Lenin's corpse. And a lively corpse it is, offering droll commentary as a frenemy pair of biochemists, sloshed on vodka and dread of Stalin, work to carry out the high-stakes project. R.J. Tolan is at the helm of the piece, which mixes tragedy, farce and Soviet history.
---
American Repertory Theater at the Loeb Drama Center
Aug. 21 - Sept. 27
In this rock 'n' roll antidote to "Masterpiece Theatre," the six wives of Henry VIII take to the stage transformed "from Tudor queens to pop princesses," singing their serial histories in songs such as "Ex Wives," "Haus Of Holbein" and "Don't Lose Ur Head." The musical entertainment, written by Brits Toby Marlow and Lucy Moss, made its debut at the Edinburgh Fringe and then moved to London's West End. Now its sassy sextet of sister wives comes stateside, "remixing five hundred years of historical heartbreak into a 75-minute celebration of 21st-century girl power."
---
Gloucester Stage Company
Aug. 30 - Sept. 22
Gloucester Stage caps its 40th-anniversary season by becoming the first theater in the country to produce this dramaturgical debate since its Broadway premiere starring Harry Potter — well, Daniel Radcliffe — as a determined young fact-checker pitted against an unorthodox author who holds that truth is truth if you say it is. For this New England premiere, theater, film and television veteran Sam Weisman helms a cast led by Academy Award nominee Lindsay Crouse as the editor caught in the middle of the dust-up over real vs. fake news. The play, written by Jeremy Kareken, David Murrell and Gordon Farrell, is based on the 2012 book by John D'Agata and Jim Fingal about their own magazine-article wrangle. But the argument could hardly be timelier if it had popped this morning from the head of Rudy Giuliani.