Air Pollution In Mass. Hits Asian Americans Hardest
This article is more than 3 years old.
Communities of color are disproportionately exposed to vehicular air pollution, according to a new analysis from the Union of Concerned Scientists.
The hardest hit are Asian Americans, who are exposed to 36% more small-particle air pollution than white residents. African American and Latino residents are exposed to 34% and 26% more air pollution than white residents, respectively.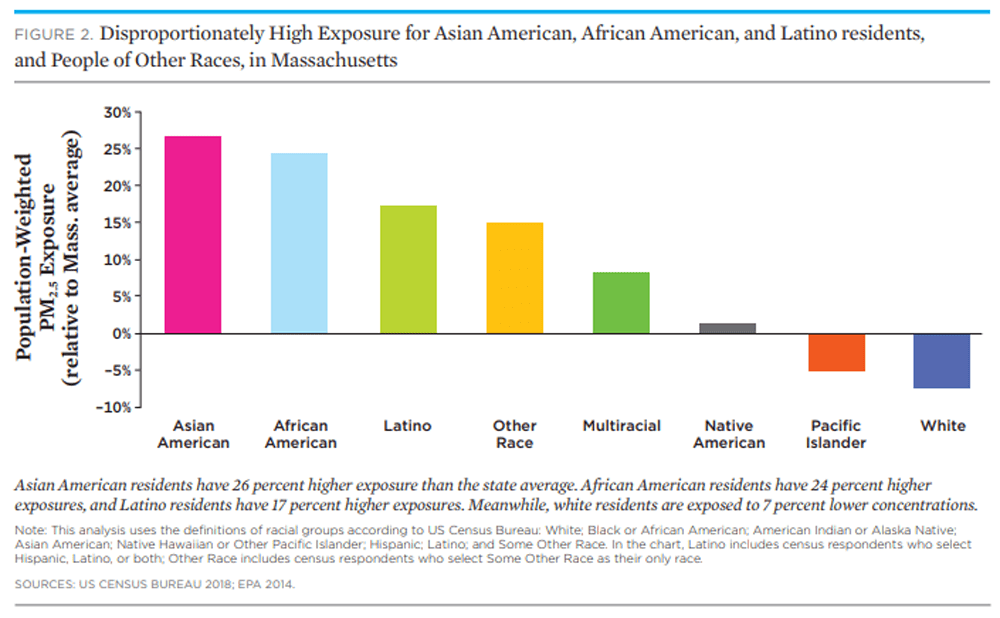 "While transportation impacts all communities in Massachusetts, the fact of the matter is that the people who face the greatest exposure are those who live near highways, along freight corridors and in urban areas," Union of Concerned Scientists President Ken Kimmell says.
Emissions from cars, trucks and buses include a floating mix of solid particles and liquid droplets called particulate matter (PM). Exposure to particles smaller than 2.5 micrometers in diameter — that's 20 times smaller than a human hair — has been linked to lung and heart disease.
The results were presented on the Josiah Quincy School's basketball courts in Chinatown. The court is surrounded by major roads, and in sight of I-93. The site is the most exposed to transportation pollution in the state, according to Kimmell.
"The communities that have the least access to our transportation system are the very same communities facing the highest burdens from our transportation system," Kimmell says.
Boston City Councilor-At-Large Michelle Wu says the harm doesn't end when a highway is finished being built, and Chinatown is an example of that.
"Chinatown is the most vulnerable community in the state to this kind of air pollution," Wu says. "It is the families here, the kids … that we are subjecting to health outcomes that were brought to this community without their wishes."
Wu, along with other policymakers and activists, are calling for improvements to the state's public transportation system and an increase in electric vehicles to counteract the effects of air pollution.
"We need to keep pushing so we're not putting up any additional barriers whatsoever for people get on public transportation," Wu says. "It's a public good, we shouldn't be charging people more for it."
Karen Chen, the executive director of the Chinese Progressive Association, says she's been playing basketball in Chinatown for years, and has always been wary of the air pollution.
"Whatever we have been suspicious of, it's proven now," says Chen.
This article was originally published on June 27, 2019.