Today's Weather: It's A Hot One
Boston still hasn't reached 90 degrees this season and Logan Airport may not this afternoon. This is because a feeble sea breeze keeps temperatures just under that mark. It's been interesting watching the weather the past few days, with temperatures right at the shoreline in the 60s while just a few miles inland it's been in the 80s. It's the power of the ocean in summer.
Today will be warmer than yesterday and places like Cambridge, Newton, Milton, Framingham and Taunton will all get close to or exceed 90 degrees. I don't see any chance of thunderstorms. Humidity levels will be lower and not as high as yesterday.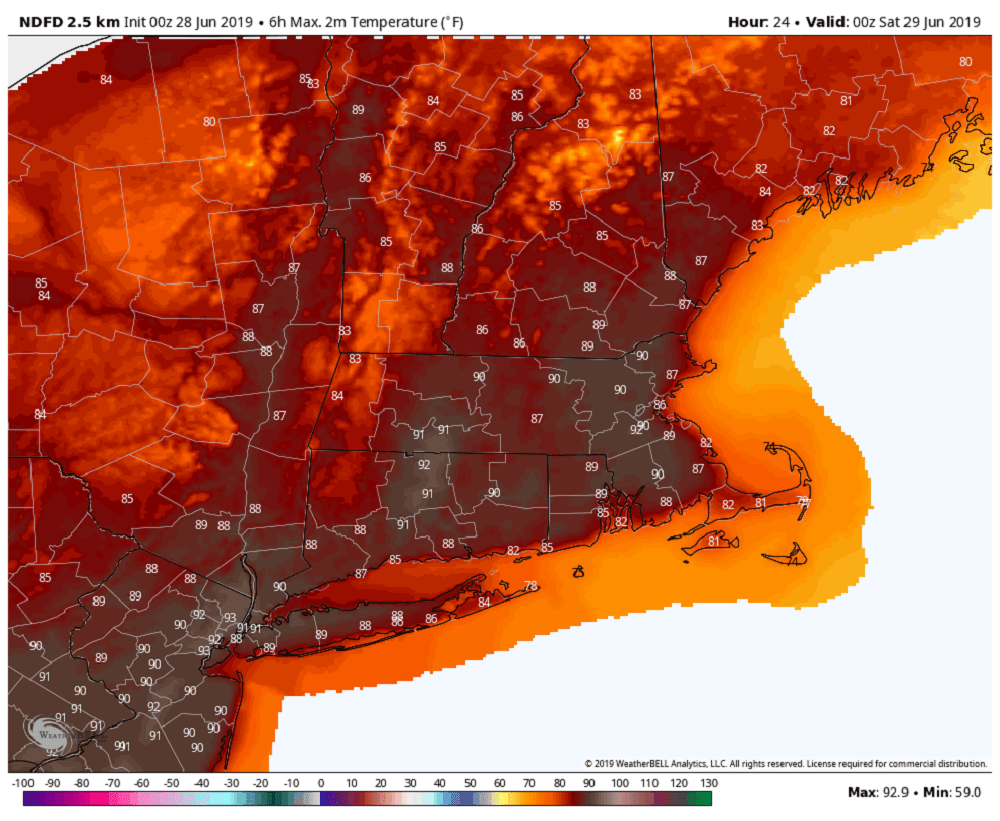 There are some showers in the forecast for Saturday and Sunday. The best chance of those showers and storms on Saturday will be in the afternoon; the highest risk on Sunday will be during the first part of the day. Not everyone will see the storms and those who do won't see the same amount of precipitation.
Some of the storms could become strong to severe. Temperatures Saturday will be well into the 80s, but on Sunday it will turn slightly less humid by the end of the day and temperatures will stay in the 70s. Monday is sunny and dry. Right now, much of next week, including the holiday, looks seasonably warm, with plenty of sunshine and little chance of showers. This could end up being a really nice holiday for all outdoor activities.
You can follow my updates here and on Twitter @growingwisdom.
---
Friday: Sunny and warm. Highs in the mid to upper 80s. A few 90s possible. Cooler 70s on the Cape and the Islands. Less humid.
Friday Night: Warm and muggy. Lows 63-67.
Saturday: Partly to mostly sunny. Afternoon showers and potential thunderstorms. Humidity comes back. 85-90. Cooler on the Cape and the Islands.
Sunday: Sunshine and clouds. Showers possible, maybe thunder. Most of the showers earlier in the day. Highs mid-70s.
Monday: Sunshine and pleasant. Highs in the 70s.
Tuesday: Sunshine and clouds. May shower. Highs 78-83.