Latrell James Was Ready To Drop An Album. Then He Decided To Start Over From Scratch
Play
This article is more than 3 years old.
This story is part of The ARTery's ongoing Sound On series, highlighting rising local musicians.
---
Latrell James still remembers the first beat he ever produced. It was bad. He made it on FruityLoops, a Belgian audio production program that was popular among hip-hop producers in the early aughts. Mercifully, he managed to forget the first rap he ever wrote, though it's still scrawled in one of his old notebooks, tucked away in a box in his closet, an aging relic of creativity's first bloom.
James, an expressive rapper with a taste for dreamy, downtempo soundscapes, started producing beats when he was 12. He'd spend hours working on them at his computer after school. Making things is easy when you're young. It gets harder when you're grown. There are a million distractions. "Responsibility starts to kick in," James told me. "I gotta go do something else to make me some more money, or I have to go do something else that, you know, that — I have a girlfriend. I have to go do these things to make sure I'm good."
We were speaking in a cafe in the Dorchester neighborhood where James grew up. "Since 2015" a sign outside declared — a telltale indicator of the creeping gentrification in Boston's historically black quarters. "There's not a lot of cafes in this area, so I'm cool with it being here," James said. "I'm just not happy with people moving further and further away from the place I grew up."
James now lives in Brockton, about an hour's drive south of the city, around the corner from his parents. In recent years he's taken on the role of caretaker: In 2015, his mother was diagnosed with breast cancer (she's now cancer-free), and soon after his father underwent heart surgery. "I woke up and I drove my mother to chemotherapy every single morning, and I watched something that was supposed to be helping her debilitate her at the same time," James told me afterward over the phone. "And literally six months later my father's in the hospital. ... They told him he was at risk of having another heart attack, and so he had to have open heart surgery. And meanwhile I'm still trying to make sure that my mom's OK. So was it was just a lot, like, piling on at one point."
The timing was less than ideal. In 2015, mere months before his mother's diagnosis, James released his debut album, "Twelve," to a bit of local buzz. The album displayed polish and complexity, and James' natural charisma. But the all-consuming task of caring for his parents made it hard to keep the momentum going. When James releases his followup EP, "Still," on July 9, it will have been four years since "Twelve" came out.
James does not, to be clear, speak of the creative time lost with regret — it's just a fact of life, of family, of responsibility. And the intervening years have not been without fanfare. In 2017, James again became the center of local media attention when he was tapped to sing the jingle for the Cheerios "Good Goes Around" ad campaign. The gig came to him through Gratitude Sound, a licensing company that he frequently works with. (Those early experiments on FruityLoops have paid off — James, who is a prolific producer, makes the bulk of his income licensing and selling his music.) The Cheerios commercial showcased the rapper's chameleonic quality, and his range. "Seed to the oat/ To the o/ To the bowl to the spoon," James intones over bouncy piano chords, infusing the jingle with percussive ebullience. When he sings the chorus — "Good goes around and around and around" — you can hear the smile in his voice.
In early 2018, James' publicist sent me a private link to a new album, "The Sky Might Fall." The album traced, loosely, the ordeal of the past few years, over lush, woozy production, much of it credited to James' brother, Tedd Boyd. Some songs were intensely personal. "I was so confused, waiting for God to interject/ Why my mama, why the f--- you putting cancer in her chest?" James raps on one melancholic number. He released two singles from "The Sky Might Fall" that year: "Okay," a lissome litany of life lessons with a springy hook, and "Today," a portentous accounting of society's ills.
And then — nothing. In November, instead of dropping the album, James released a track on the French electronic music/fashion label Kitsuné. Produced by the Boston beatmaker Lightfoot and titled "Mona Lisa Bonet," the clubby, uptempo number marked a departure from James' previous work. Meanwhile, "The Sky Might Fall" sat dormant, a SoundCloud playlist locked to the world.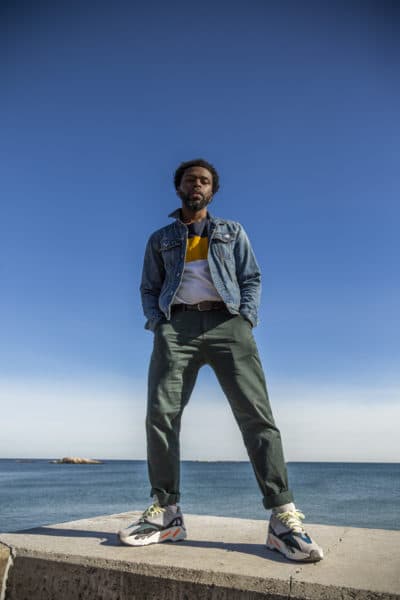 It was during this period that James began experimenting with a new process for writing songs. Previously, he had always written his lyrics down. But he found himself trapped in an obsession with structure. What if he stopped worrying about writing a 16-bar verse and an 8-bar hook? What if he stopped writing the words down altogether?
The idea came to him during a teaching stint in the music department of Charlestown High School. "The kids were going through a creative block," James recalled. "I told them … you can't always just write your thoughts out. Sometimes you have to just let them out, you have to emote them, right?" He made one student sit in front of the mic and freestyle. The tactic worked — he sounded better, more natural. "And I was like, you know what, I need to apply this to myself," James said, laughing. "I went home, and I did it, and I don't write anymore."
The discovery unleashed a flood of productivity. "From March to August, I recorded, like, 62 songs," James said. Sitting in front of a mic, he would improvise the outlines of a song, slowly mapping out its cadences and rhythms. Later, he would fill in the words. When it came time to record, he tried to emote as much as possible. "I really just wanted to make sure that when I said something, it was said the way that I was feeling," James explained. "And that's the biggest difference — like on 'Twelve,' I'm saying these things, but they're not directly connected to the emotions that were attached to them."
On the two singles he's dropped so far this year to tease the release of "Still," James' voice is the most expressive it's ever been. Where before he could sound a little morose, now he allows a grin to trace the edges of certain lines. He's conversational, intimate. He slips easily between rapping and singing; a falsetto occasionally breaks through. "Hit me when you're free," James croons on "One Call," his voice shimmery with autotune. Both songs are midtempo and breezy. Before, when James would rap about the scourge of drug use in his neighborhood or the threat of gentrification, the lines could fall flat; as a rapper, he does not access anger naturally. Now, he injects feeling into his verses with a wry shake of the head. "There'll be 50 squad cars outside for loud music/ Yelling all up in your face, like whatchu doin'?" he chuckles on "Tracphone." Sometimes, laughter is more damning than rage. It suits him.
In the end, James decided not to release "The Sky Might Fall" at all. Something about it just didn't resonate anymore. It was hard to explain why. Those songs were the product of drudgery, of a process that privileged structure over instinct — not to mention a reminder of a painful period in his life. His new songs, by contrast, were written in the flush of a creative awakening, a return to those after-school producing sessions, when making things was easy.
Still, James wanted to give "The Sky Might Fall" a proper send-off. So on an evening late in May, he invited a select group of friends and supporters to do exactly that. The event, savvily packaged with the tantalizing sheen of exclusivity, would double as an homage to the never-released "The Sky Might Fall" and a plug for James' upcoming EP, "Still." Audience members were given a QR code that linked to a secret music video; a limited number of cassette tapes of "The Sky Might Fall" were for sale. James promised to AirDrop the entire album to everyone in the room, cautioning them not to bootleg it.
The happening — he called it an "Unreleased Party" — took place at the Canopy Room, a shabby-chic function space in a slickly-renovated former storage building in Somerville. At the door, each visitor was handed a laminated entry pass attached to a lanyard. Scruffy Victorian-esque furniture ringed the room, which was lit by a forest of Chinese paper lanterns. It was as if someone decided to hold a conference inside an Anthropologie window display.
Standing by a pair of big red speakers, James thanked the audience for coming out. "As artists, we always thinking about perfection, right? Like we work on perfection. That's what we want — when we put out a record, it's always like, 'Yo, I gotta be perfect,' " he said. Perhaps he was thinking of all the times he found himself stymied by the rules he thought his music needed to abide by, distracted from the more important task at hand, which was to create something true. He continued: "I'm not pursuing perfection anymore."
The crowd dutifully hushed as James led them on a listening tour through "The Sky Might Fall," sprinkling the presentation with anecdotes about the songs. As the final strains of the closing track faded away, the audience applauded warmly. "Yeah, I hate that s--- at this point," James said, sounding chagrined. Then: "Y'all wanna hear something off my new project?"
---
Editor's Note: This story was part of a series that was formerly called Up Next. We're now calling it Sound On. Check back for more stories like this throughout the year.