Peregrine Falcons Make A Soaring Comeback In Mass.
Resume
On top of a dorm at Boston University, two adult peregrine falcons circle David Paulson, screeching anxiously. Paulson is a senior biologist at the Massachusetts Division of Fisheries and Wildlife, and he's heading for the babies in the falcons' nest.
"That looks like the female right there, flying overhead," says Paulson, pointing out the mother, as volunteers swing pool noodles to keep her away. "She'll be circling, trying to dive-bomb us, constantly watching our every move."
Every spring, MassWildlife members and other bird enthusiasts travel to peregrine falcon nest boxes across the state to band the chicks. The nest on top of the BU dorm holds three (loud) 5-week-old falcons. The adult birds dive close to Paulson and his team as they gently lift the babies out of their nest, put them into tote bags, and carry them inside. Banding helps the agency gather data about the bird's nesting, eating and migrating patterns.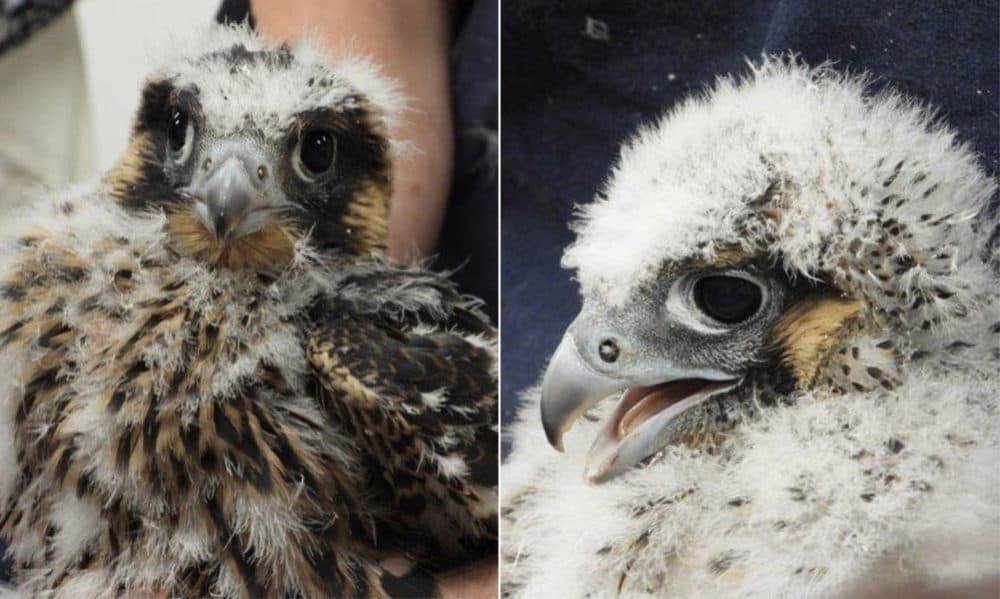 There are now about 46 nesting pairs of peregrine falcons in Massachusetts. But just a few decades ago, there were none. After the pesticide DDT was introduced in the United States in the 1940s, bird populations took a major hit.
"By 1955 we had our last breeding pair and the cause was DDT causing a thin eggshell. So we had all these failed attempts of trying to raise young. So by the 1960s we had no pairs in Massachusetts," Paulson says. "DDT got phased [out] in '72, and from there on the recovery has been a group effort."
MassWildlife has tracked the falcons since they were listed as endangered in the state in 1986. The state downgraded their status to "threatened" in 2017, and they may be downgraded again this year to "special concern." Under that designation, the peregrine falcon would still have some protections under the state's Endangered Species Act, but the change signals that peregrine falcon populations have become much more stable.
These fast-flying birds made a spectacular comeback in a matter of a few decades thanks to recovery work — and the bird's own ability to adapt to urban landscapes.
There are now about 46 nesting pairs of peregrine falcons in Massachusetts. Just a few decades ago, there were none.
"We think of endangered species like grizzly bears and wolves being in the wilderness away from people and requiring lots and lots and lots of natural habitat," says retired MassWildlife biologist Tom French. "These guys live here in the city and do just fine, they're happy as clams."
Once fully developed, these falcons are the fastest animal on the planet, diving over 240 miles per hour. They nest and perch on skyscrapers, bridges and quarries, preying on sparrows, pigeons and even small ducks.
These birds have now exceeded pre-DDT population levels in Massachusetts from about 14 nesting pairs to around 46 today, according to Paulson.
"It's been a great success with the man-made landscape, unlike other species that really decline because of habitat fragmentation or loss," Paulson says.
Peregrine falcons aren't the only animals that have made a comeback in recent years. The state's endangered bald eagles and northern red-bellied cooters (those are turtles) have gone from being almost extinct locally, to much more stable populations. Conservation programs have helped the northern red-bellied cooter come back from around 300 in Massachusetts in the '80s, to more than 4,000 now.
For young peregrine falcons, city life isn't necessarily easy. Their weak wings may cause them to get stuck on ledges or on the ground. But the falcons have loyal birdwatchers, like Medford resident Ursula Goodine, who help when needed. She and her husband made it a hobby to track peregrine falcons when the birds' population levels were still low.
"We have what we call peregrine patrol," says Goodine, who says that young falcons sometimes crash into buildings and fall to the ground. "We're always on the lookout."
Paulson says protecting peregrines doesn't just maintain local biodiversity, but offers a glimpse of our native environment.
"For me it's awesome to see something so rare and unique be so close to the city," Paulson says. "People don't have to go out West to see a really majestic creature ... it's on their dorm room."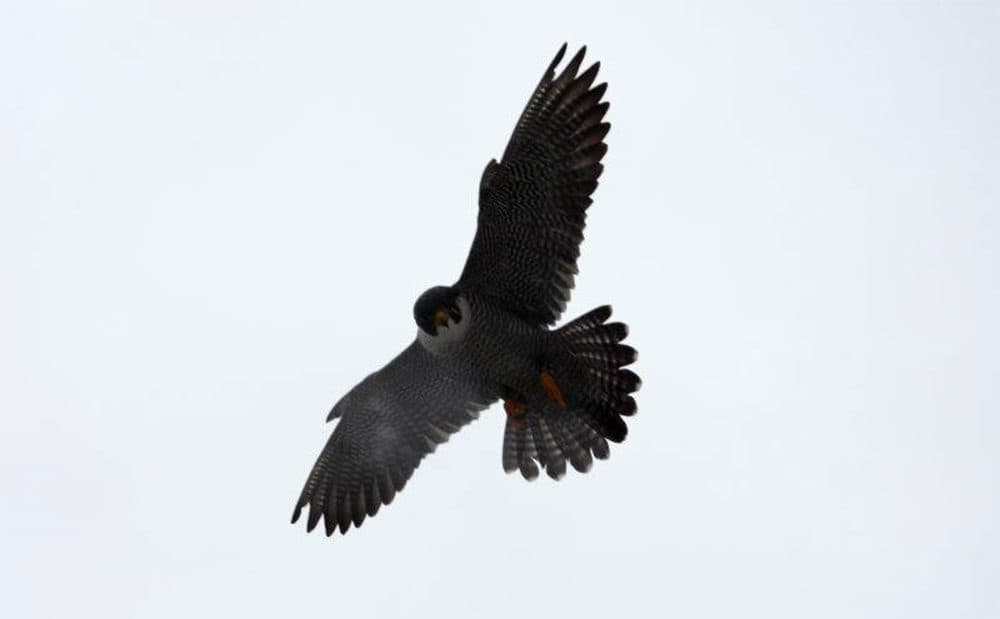 This segment aired on July 3, 2019.