Camp Blood's Unique Industrial Hip-Hop Fights Against Commercialism, Capitalism And Racism
Combine succinct verses written from a place of anger, vents about racism and minimal beats with influences from metal, punk and rap. Oh, and a love of Korn and Nine Inch Nails. That's what fuels Camp Blood.
The Boston-based industrial hip-hop band made up of Haasan Barclay, Shaka Dendy and Matthew Thornton came together a year ago. Barclay and Dendy started talking about collaborating, and Thornton joined later as a DJ and co-producer. With an eponymous EP that was released by Disposable America this month, Camp Blood heralds a new interpretation of hip-hop by critiquing the commercialization of the genre and fusing an aggressive and energetic sound. Each song is performed with the intensity of hardcore punk shows.
With four tracks, "Camp Blood" displays range while adhering to a cohesive theme of fighting back against commercialism, capitalism and racism. The sounds found in "Camp Blood" depart from Barclay's solo work, which employs romantic lyrics and leans toward melodic dream pop and psych rock-inspired R&B. Instead, Barclay trades verses with Dendy. They spit them out forcefully, rapping over precise beats. "Camp Blood" is heavy and noisy, yet doesn't feel overproduced with unnecessary flourishes.
"Camp Blood" encapsulates the band's core identity and mission. The band's noisy sound materialized from Barclay's and Dendy's desire to create authentic and cathartic music that sounds like themselves. It is a manifestation of the music they wish they played when they were younger. "Aerosol," the first track they wrote, is a booming declaration of who they are as a band, with lines like "smell ya later" rapped over a thunderous beat.
"I feel like when I came to Camp Blood, it was like OK, I could just go fully hardcore with this [because] that's a whole side of me I just haven't shown anybody yet, at least since I was a teenager... I get to have a lot of fun with Camp Blood, screaming in people's faces," Barclay said. The second track on their EP, "IDK," charges forward with a frenzied fury and goes even more hardcore than "Aerosol," but also more minimal.
Dendy, who grew up going to hardcore and metal shows in Florida, drew from that experience to create intense music for people like himself. "I was one of maybe two or three, if not the only little black kid running around... This music for me is definitely about creating a space where someone who was like me can have that same experience," he said. "I'm very much talking directly to black people and everyone else can listen in, listen to the music and have a good time together, but for me I'm definitely speaking directly to the black experience."
"Hogweed" tells a story of racial oppression while showing a more maximalist side of Camp Blood, taking the form of a traditional rap song in terms of beat and lyrics. "It's talking about these conditions of oppression in the South, particularly the perspective I'm speaking from and how those things will affect people and make them behave in a certain way," Dendy said.
They also see their music as a contribution of blackness to culture — filling a void left by the rampant commercialization of hip-hop and rap that they say takes away the artistry and craft of the genres. "Rap became rock and a lot of money got pumped into it and now it's just big and bloated and everyone's been making the same song for five years," Dendy pointed out. "How do we deliberately break that down and create something new?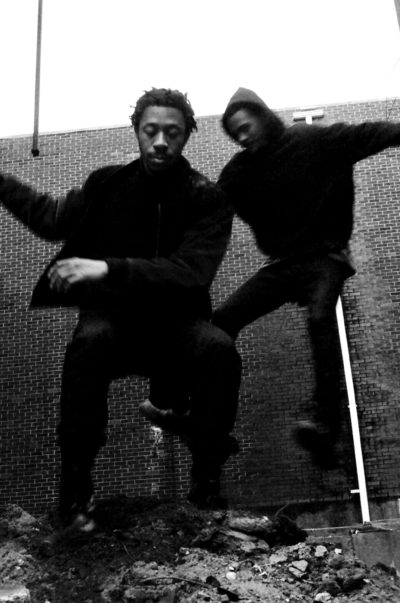 Camp Blood is hellbent on going against the grain of writing formulaic bangers and as a result, they've honed in on their songwriting process, a responsibility Barclay and Dendy share. "There's a good amount of anger there. There's a lot of introspection there. There's a lot of me taking in the influences and experiences in my life and funneling them through my perspectives and just s---ting them out... It's like therapy," Barclay said. Dendy added, "It's just, like, fun for me to try with every line, every half of a line to try to bring in new ideas, new perspectives, and also make it sound good, make it something that people can sing along with me... The aesthetic of it is just aggressive. I wouldn't say that I'm necessarily angrily writing things."
Through writing, their observations and reactions come out. When discussing racism, Barclay said that they want to get to the point where they discuss how it's affecting them internally and how they're processing it. There's "1144," a song with a hook written by Dendy about Southern racism he experienced growing up in Florida, calling out sundown towns. "I wrote the whole verse from the perspective of Bigger Thomas, who's like the main character in this novel 'Native Son.' It's a story that's always resonated with me," Dendy said. He added, " '1144' is almost like the final form of merging those things... It's like the Korn guitars with trap hi hats with AP literature references. [The tracks] all are similar but gives you different impressions of what's going on."
"It's still that spirit of punk and hip-hop of just talking about what you're seeing... Growing up in Florida, there's lines about the school-to-prison pipeline and things I've seen really happen to people that I know. Or the Pulse Nightclub shooting," Dendy continued. "It's more so me taking in things that I'm seeing and then somewhat focusing them for a song topic... It's never so contrived like, 'Damn, did you see that thing in the news last week, we gotta talk about that.' That's corny."
And when they perform live, they can fully realize the spirit of hip-hop and punk that they embody and rally the crowd. "With something like Camp Blood, I look at it like a punk band," Barclay said. "We try to connect with people. I feel like when I'm rapping this s--- or screaming the s--- that I wrote, I'm feeling those feelings that I felt when I was writing it. I feel like that connects with people in the crowd."
---
Camp Blood performs at Great Scott on Aug. 15.