Conservationists Sue To Curb Boston School Bus Idling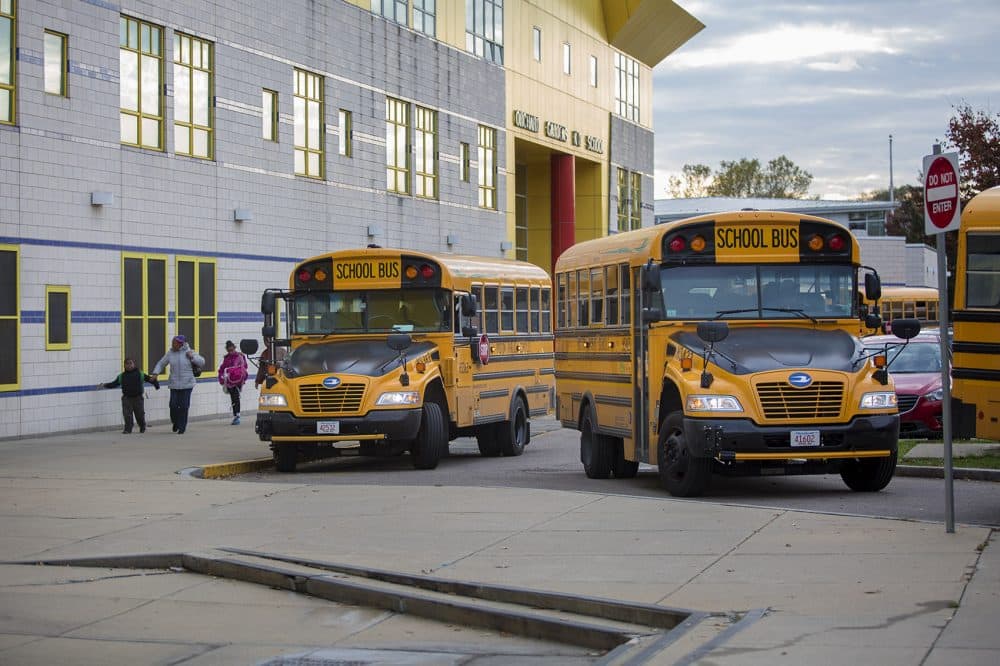 This article is more than 3 years old.
Environmental advocates want school bus drivers in Boston to turn off their engines when they're just sitting around, waiting for kids to hop on.
The Conservation Law Foundation (CLF) has filed a lawsuit over excessive idling against the company that provides school buses for Boston Public Schools.
Current Massachusetts regulation limits idling of motor vehicles to five minutes. CLF claims the company, Transdev, far exceeded that limit. The suit documents 42 instances of excessive idling, totaling 697 minutes over nine days in three Boston locations.
Alyssa Rayman-Read is the vice president and director of CLF Massachusetts, and says the lawsuit is part of a larger project to address air pollution in the state by enforcing current rules.
"Laws are already on the books and meant to protect residents of Massachusetts from the toxic pollution that comes out of tailpipes," Rayman-Read says. "Let's enforce them, let's make them real. Let's make sure that everyone breathes air that doesn't make them sick."
The suit calls for Transdev to stop excessively idling and immediately comply with Massachusetts regulations.
A spokesperson released a statement from Transdev North America in response to the lawsuit, refuting the claims.
"Transdev has been in active discussions with CLF about these claims, and is disappointed that CLF chose to file this lawsuit," the statement said. "We are still reviewing the suit, but we are concerned by significant inaccuracies in the lawsuit, and contest the allegations made by CLF. Transdev remains committed to providing safe, reliable, and environmentally responsible transportation in the city of Boston."
The Boston Public Schools district is not named in the lawsuit. BPS says it can't comment on pending litigation.
Air pollution from motor vehicles can contribute to a host of health problems — asthma attacks, stroke, cardiovascular disease, respiratory conditions and more. According to Madeleine Scammell, an associate professor of environmental health at Boston University, the impact of air pollution is especially severe for children.
"School buses idling is not good for anyone. There are laws," Scammell said. "It's hard to believe this is still an issue. But it still is. … The knowledge is there, the enforcement and the will to act maybe not so much."
Correction: Due to incorrect information provided to WBUR, an earlier version of this story misstated the duration of school bus idling that CLF observed.
This article was originally published on July 10, 2019.