GOP Gov. Baker Calls Trump's Tweet Attacks On Dem Congresswomen 'Shameful, Racist'
Massachusetts Gov. Charlie Baker — a frequent critic of fellow Republican President Trump — has condemned Trump's tweets that suggested four congresswomen of color, including Boston's Ayanna Pressley, "go back and help fix the totally broken and crime infested places from which they came."
Appearing at an event Monday, Baker said he thought "the president's tweets were shameful, they were racist and ... they bring a tremendous amount of, sort of, disgrace to public policy and public life and I condemn them all."
Through midday Monday, national Republicans were largely silent on Trump's racist Sunday morning tweets. In a statement Monday, Maine Sen. Susan Collins said the president's comment was "way over the line." Utah Sen. Mitt Romney, a former Massachusetts governor, said "what was tweeted was destructive, was demeaning, was disunifying, and frankly it was very wrong."
Former Massachusetts Gov. William Weld, who's challenging Trump in the Republican presidential primary, said on Twitter that Trump, "virtually alone among all Americans, thinks it is proper and politically advantageous not just to launch racist attacks, but to double down on them when called to account."
Trump indeed dug in further Monday, accusing the four congresswomen of hating America. All four are American citizens; one was born abroad.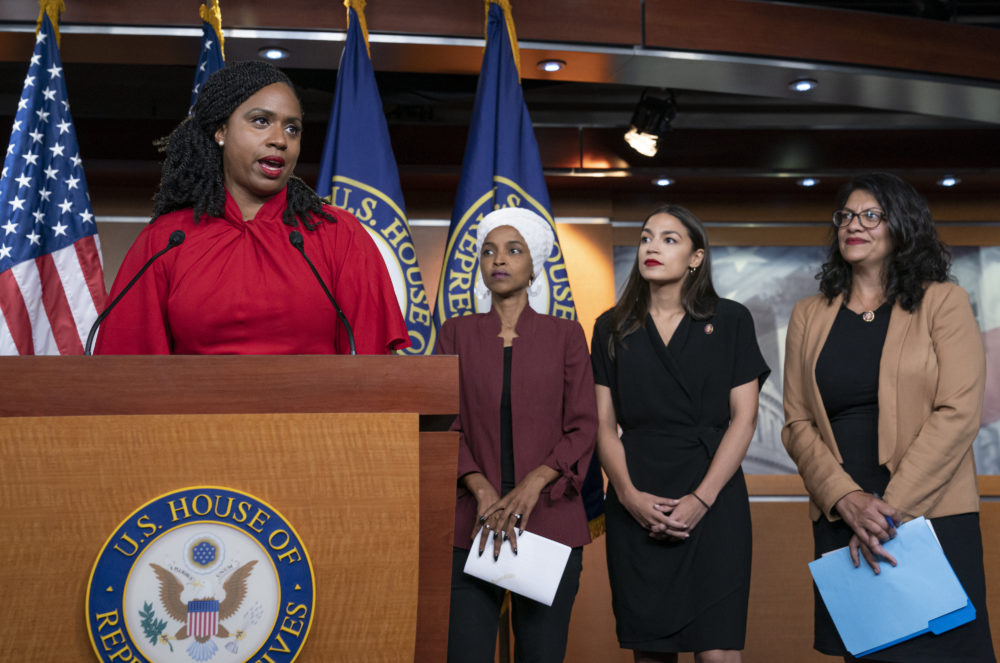 On Sunday, Pressley — who was born in Cincinnati and raised in Chicago, and became the first black woman elected to the U.S. House from Massachusetts — said in a statement that "it should come as no surprise that a man who has made it his goal to dehumanize and rip apart immigrant families would so brazenly display the racism that drives his policies."
Pressley had a closed-press event in Boston Monday morning, and did not speak with a WBUR reporter outside of it.
Later in the day, back in Washington, Pressley and the three other congresswomen — Alexandria Ocasio-Cortez, Ilhan Omar and Rashida Tlaib — held a news conference. There, Pressley said she hopes people won't "take the bait" of the president's words and what she calls a distraction from the issues.
Democratic House Speaker Nancy Pelosi, who has clashed at times with the four congresswomen, announced that the House will take up a resolution to condemn Trump's "xenophobic tweets."
Baker did not vote for Trump for president in 2016; he left his ballot blank.
With reporting by WBUR's Simón Ríos and Kimberly Atkins
This article was originally published on July 15, 2019.