Today's Weather: Drier Air, But Hot Weather All Week
Boston's Logan airport exceeded 90 degrees yesterday, just prior to a dew point front passing through the region. This boundary marked the leading edge of drier air, but it's not going to be much cooler. As a matter of fact, temperatures over the next 10 days will average significantly above normal. When July is over, we will likely be in the top 10 warmest averages for the month on record, indicative of a pattern of a warming climate.
In terms of humidity, today is the most comfortable of the next several days. Tonight may even become comfortable enough late at night for windows to be open. Unfortunately, the humidity is going to increase tomorrow and rise further Wednesday and Thursday.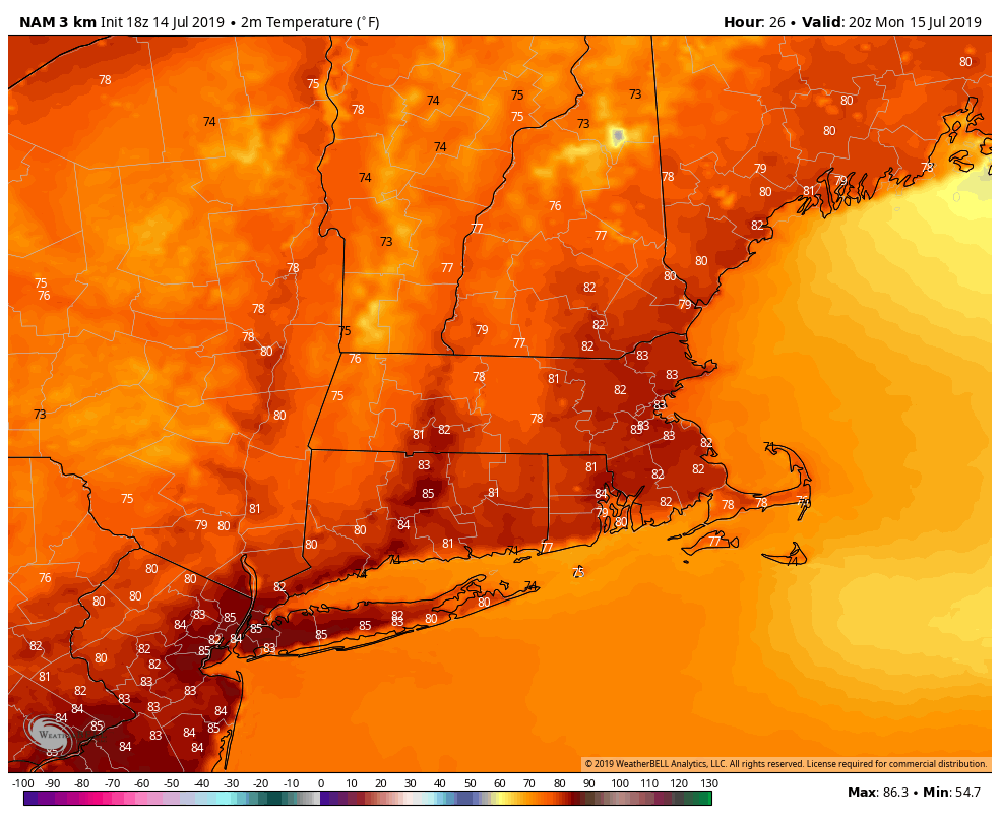 Temperatures will approach record levels Wednesday. This time of the year, record high temperatures are in the upper 90s or even triple digits. Although Logan Airport has only seen three 90-degree days this year, many inland areas have seen twice that amount.
The hottest days this week look to be Wednesday and Friday. On Thursday, there will be showers and a few thunderstorms — part of the remnants of tropical storm Barry. As such, there could be some heavy rain or downpours.
The upcoming weekend looks very hot as well. Actually, I don't see much of a break in the heat for the next 10 days. July is being July.
You can follow my updates here and on Twitter @growingwisdom.
---
Monday: Generally sunny and warm. Highs 84-89.
Monday Night: Comfortable and dry. Temperature 60-68.
Tuesday: More sunshine and very warm. Highs 84-89.
Wednesday: Sunshine and hot. May storm late in the day. Highs 90-95.
Thursday: Humid with showers. Highs in the mid-80s.
Friday: Partly sunny, quite humid. Hot. Highs 89-93. 80s Cape Cod.
Saturday: Partly to mostly sunny. Highs 88-94. 80s Cape Cod.
Sunday: Hot and sunny. Highs in the lower 90s. 80s Cape Cod.