This 'Juvenile Lifer' Was Paroled In 2015. Now He's Back Behind Bars
03:20
Play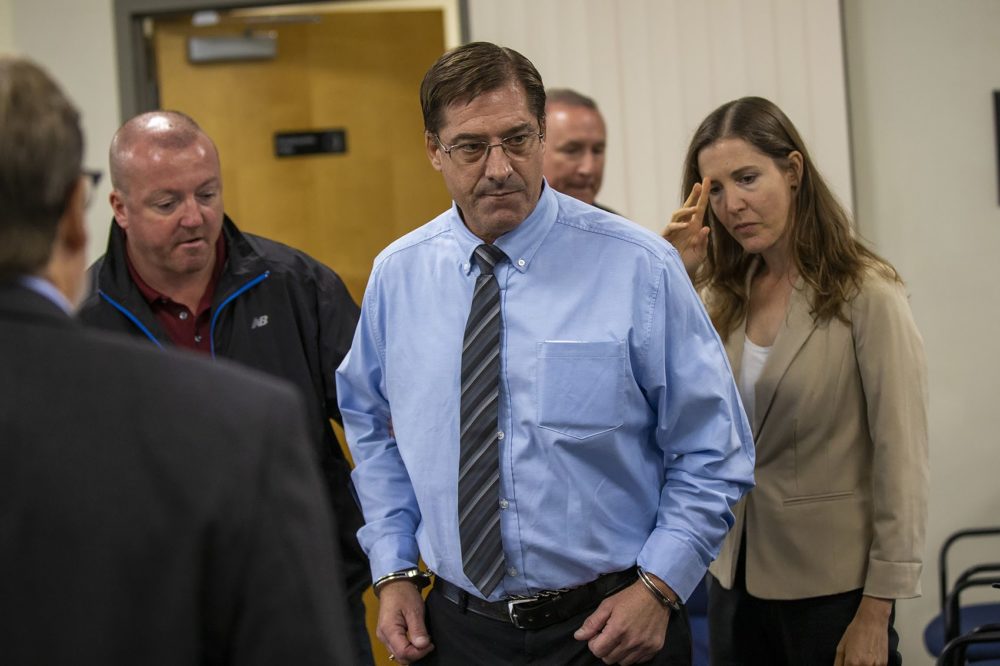 This article is more than 2 years old.
A case that changed the way the state handles serious juvenile criminal offenders is back before the Massachusetts Parole Board.
During an emotional hearing Tuesday, Greg Diatchenko spent about three hours before the board asking to be re-paroled.
Diatchenko's case was the basis of a 2013 state Supreme Judicial Court ruling that said that mandatory life-in-prison sentences for juveniles are unconstitutional.
The ruling said that under age 18, a person's brain is not fully developed, so a judge cannot find with confidence that an offender, at that point in time, is "irretrievably depraved." The 2013 SJC ruling allowed Diatchenko — and other so called  "juvenile lifers" — to become eligible for parole.
He spent 34 years in prison, having been sentenced at age 17 for fatally stabbing 55-year-old Thomas Wharf during a 1981 robbery attempt in Boston. Diatchenko was paroled in late 2015, but ended up back behind bars last year. He was taken into custody last May after a positive breathalyzer test at his home.
Diatchenko apologized several times during the hearing.
"I recognize that my name is synonymous with the change in the law that allows juvenile lifers an opportunity  to serve parole," he said. "I fear that my missteps have consequences that could hurt others working so hard to get parole, and I'm constantly reminded of that by the guys inside. I apologize for letting you down. I apologize for letting down my family and friends and the community for which I am grateful for having the opportunity to spend two and one half years."
Diatcheko told the board about the life he established since 2015, including living in a basement apartment at his mother's Roslindale home. He proudly talked about his social activism and his talks at local colleges about criminal justice reform.
The board asked several questions about a rally Diatchenko attended shortly before he was taken into custody. He admitted he was part of the prisoner advocacy group Deeper Than Water and had been among protesters at MCI-Norfolk demanding improved water quality at the prison where Diatchenko had served most of prison time.
"Isn't going to prisons something your parole officer should have approved?" asked board member Tonomey Coleman.
"I thought that it was just if I was visiting a prison, not standing outside," Diatchenko replied. "When I look back, I probably shouldn't have been there."
Most of the hearing was spent discussing what Diatchenko tried to hide — that he had started drinking again and, he said, that he didn't know how to ask for help.
Diatchenko told the board the drinking started amid several difficulties, including health issues, a contentious relationship with his mother, job loss, deaths of those close to him and learning to adjust to life outside of prison. Repeatedly, board members asked Diatchenko why he didn't seek help from his parole officer.
"I'm not surprised you're back here," said board member Sheila Dupre. "You were living two lives. How can I trust you?"
"You said that not a day goes by that you don't think about the murder of Thomas Wharf," said new parole board member Karen McCarthy. "Did the night of the murder cross your mind the night you bought alcohol?"
"Not that night while I was at the liquor store," Diatchenko replied. He said he has graduated from a recovery program since his re-arrest, and while he was out he feared that asking for help would jeopardize his parole and send him back behind bars.
"When I grew up in my 34 years in prison, I never asked anybody for help," Diatchenko said, his voice cracking with emotion. "I never went to mental health counseling, ever. You all know that, you can see my history in front of you. I grew up with the idea in my mind that I was going to die in prison."
The only opposition to Diatchenko's parole came from the Suffolk County district attorney's office.
Assistant DA Paul Linn expressed concerns about relapse. "What alarmed me about what he said today in the hearing is how casually he made those decisions, just saying, 'Oh, what the heck, I'll have a beer.' That's a very strong concern for the commonwealth. He needs help, he needs more counseling."
The board also questioned Diatchenko about a verbal altercation with a correction officer after his re-arrest. Diatchenko said he was under stress while in the prison mental health unit and admitted that he engaged in "childish behavior" when the officer taunted him and tightly handcuffed him.
The hearing was crowded with Diatchenko supporters. Five people testified on his behalf, including family members, a neighbor and members of the the First Baptist Church in Jamaica Plain, where Diatchenko worked part-time.
"Parole was a time of learning for our whole family," said Diatchenko's stepmother, Jean Montgomery. "Probably the most difficult was asking him to make a life where he could leave his past behind and carry it forward at the same time."
Two people offered Diatchenko a place to live if he's paroled, and one offered a painting job. Social worker Anne Atwater testified that she has visited Diatchenko since his re-arrest and would help provide emotional support if he's paroled.
"Greg is an essential part of our church community and a close friend," Atwater told the board.
Diatchenko's attorney, Lisa Newman-Polk, says the support for Diatchenko is encouraging.
"The show of support was really phenomenal," she said. "The fact that a human being can amass this kind of friendship and community in two and a half years says a lot about who Greg Diatchenko is. I found the whole experience to be incredibly moving."
Newman-Polk outlined a plan for Diatchenko's possible parole that includes residential treatment and more intensive counseling with a professional familiar with the effects of incarceration.
The board will take public comments for another two weeks and does not have a timeline by which to issue its decision.
This article was originally published on July 23, 2019.
This segment aired on July 24, 2019.