What It Took To Finish A Late, Great Composer's Not-Quite Completed Final Work
Resume
When the renowned composer André Previn died in February at the age of 89, he left dozens of Hollywood scores and a hefty discography of jazz and classical recordings. But he also left a not-quite finished commission.
The piece, "Penelope," was inspired by Homer's epic Greek poem "The Odyssey." It brought together a dream team that includes playwright Tom Stoppard and soprano Renee Fleming. Previn had been working on it for the Boston Symphony Orchestra to premiere at Tanglewood this Wednesday.
"The last we talked about 'Penelope' was in early January, when it was about the time that he — by contract — should have been delivering the completed score to us," recalled Tony Fogg, Tanglewood's director.
Fogg was surprised when the historically prolific Previn asked for more time.
"The old composer of Hollywood times could turn out 20 minutes of score overnight almost," Fogg explained, "and so for André to say he needed another two weeks meant there was still a fair bit of work to be done."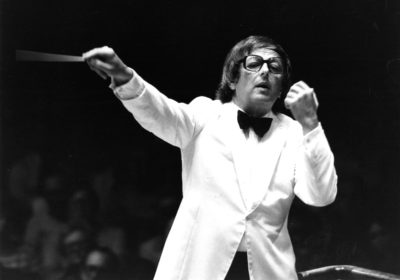 Previn would be gone just weeks later. He died on Feb. 28. But Fogg felt it was imperative to press ahead.
He wanted to finish "Penelope" for its scheduled performance at Tanglewood to celebrate what would have been Previn's 90th birthday — while the composer's spirit still felt so alive. However, Fogg grappled with questions about how to handle a posthumous commission.
"Do we just perform the piece in a fragmented form? Do we ask another composer to come and complete it using the language that André developed?" he wondered.
Turns out they didn't have to resort to either. They turned to David Fetherolf, the composer's longtime editor at the music publisher G. Schirmer. He's been making sense of Previn's tricky, handwritten scores for 22 years.
"David knows, or knew, André's shorthand better than anyone," Fogg explained, "and could decipher things that on the page to me just look like squiggles."
When Fetherolf read Previn's piece, he discovered some important — but not surprising — omissions. "No page numbers, no bar numbers," he said, "and they were certainly not in order." What was in order, though, were the words that went with the music.
The libretto was written by British playwright Tom Stoppard. He and the composer have been friends since the 1970s.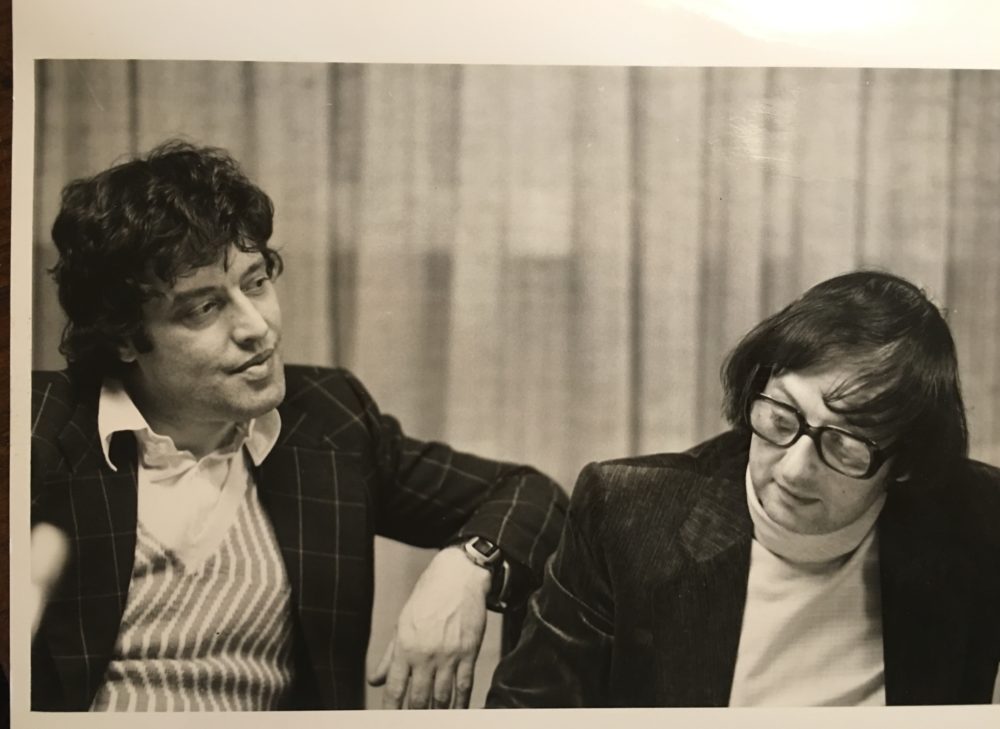 Stoppard says Previn wanted to write a piece for Renee Fleming, and kept asking Stoppard to collaborate.
"André would call me about once a year and say, 'Look, would you like to do something like a mono-drama for Renee to sing?,' " Stoppard recalled, "and I kept saying, 'I don't know how to do that.' "
Stoppard eventually relented. "In the end, André persuaded me to think of it as a long speech in a play and to let him worry about how to make it singable."
The libretto became something of a roadmap for Fetherolf that helped him pull "Penelope" together. Rather than call the work "unfinished" Fetherolf prefers the phrase "not fully realized." All the music was there — it just needed honing.
"There was way too much of it," he said, laughing. But after years of getting to know Previn's idiosyncrasies, the music editor said he felt comfortable whittling down the composer's score.
"We speak a different language than a lot of other people do when we're talking about music," Fetherolf explained, "to have the language is important — especially with a composer like André who would often not write tempos in his pieces, or dynamics, because he just figured the players would figure it out."
From the myriad notes on "Penelope's" pages Fetherolf could hear the composer's musical voice.
"Well, it's very André," he said. "There's some parts that are almost show tune-like writing. There are some kind of thorny harmonic writing in parts. There's a lot of love at the end, there's a lot of angst in the middle and anger at the beginning."
Tanglewood's Tony Fogg said the work's intricate passages alternate between string quartet and piano in a way that defines different dramatic moods and characters. He's observed Previn's sound over the decades and points to the film score, "Four Horsemen of the Apocalypse," and the composer's Concerto for Violin and Orchestra. "The style of 'Penelope' is very much consistent with other works that we've heard and that we love so much," Fogg said.
The world premiere is a major work — about 40 minutes in length. The Emerson String Quartet and pianist Simone Dinnerstein play Previn's score. Fleming portrays Odysseus's wife, who famously fended off suitors — with a ruse about needing to finish her weaving — after her husband went off to war.
"The crux of the story is that she was faithful to him, and wise, and also courageous and clever," Fleming said.
Stoppard sees his libretto as a tribute to the endurance of love and marriage. But it's also rather long. Fleming fondly remembers some of the last sessions she and Stoppard had with Previn, huddling over the piano in the composer's New York City apartment. The way it was written would've been grueling for one person to sing (that one person being her.)
So, she proposed a solution. Now when Penelope sings the audience will hear Fleming's sublime voice, but when the character speaks, accomplished actor and Boston native Uma Thurman will take over.
Fleming and Previn worked together for more than 20 years. The first time was for the composer's 1998 opera, "A Streetcar Named Desire." The soprano feels confident Previn would be fine with the way the team helped shape his final work. In life, she said, he was never possessive with his creations.
Still, Fleming thinks "Penelope" would've been even better if the composer could've been in control of the final result. "But barring that," Fleming said, "this is the next best thing."
This premiere was supposed to be Previn's 90th birthday gift. All of his collaborators will be at Tanglewood Wednesday as "Penelope" rings out across the campus's rolling lawns. Stoppard predicts the culmination of their labors of love will be bittersweet.
"It's a birthday celebration without the birthday boy," the playwright said.
But André Previn's dear friends suspect he'll be present at the premiere — and they know for sure that he will definitely be missed.
---
"Penelope" premieres at Tanglewood on Wednesday, June 24. It will be performed later this summer at the Ravinia Festival in Illinois on July 28 and the Aspen Music Festival on Aug. 1.