Today's Forecast: Heat Wave Becomes Official
Monday was the second day in a row where temperatures at Boston Logan Airport reached 90 degrees or higher — and we're going to do it again today. There were a few showers and storms yesterday afternoon, a couple of which briefly reached severe levels.
The air is more stable today, which means that we have a smaller chance of showers and thunderstorms. As a matter of fact, I think it's almost zero.
Humidity will continue to be quite high with dew points in the upper 60s and lower 70s. Once again, it will feel between 95 and 100 degrees. This has prompted the National Weather Service to issue a heat advisory, which continues through the evening.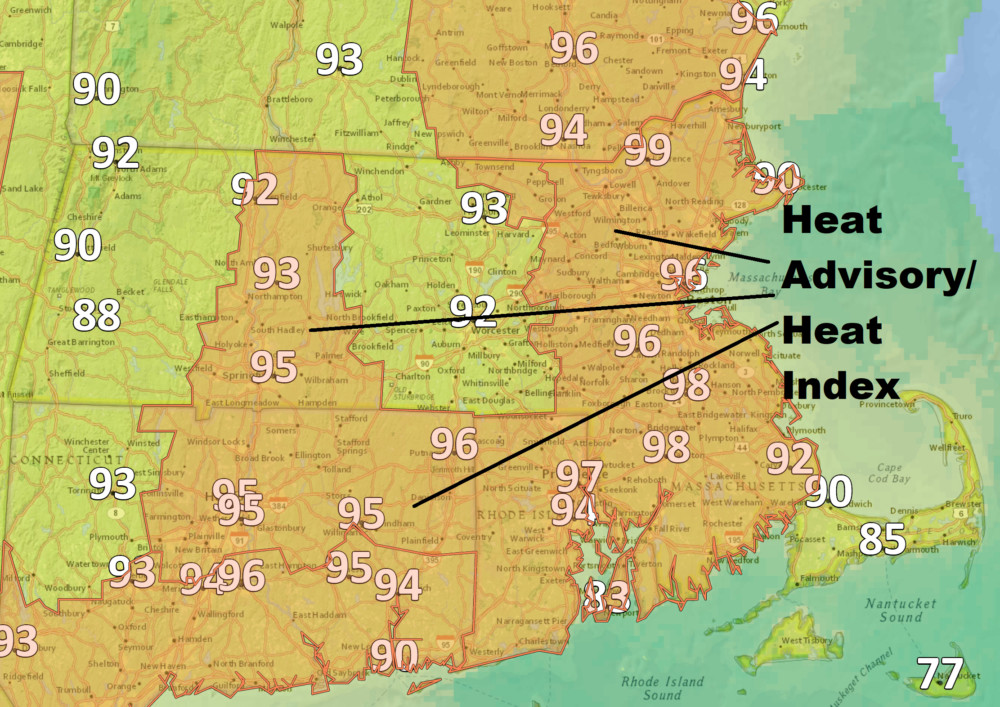 A very slow-moving cold front will approach from the west on Wednesday. If you are hoping for showers for the lawns and gardens, this is your only chance for precipitation this week.
I mentioned that things would turn drier after our last rain event, and indeed the pattern has become somewhat different with less frequent shower activity.
What time the clouds filter in tomorrow will determine whether or not we hit 90 for a fourth day in a row or remain just under that mark. Either way, it will be an official heat wave.
Skies clear for Thursday, and the humidity will slowly start to lower. Look for it to be somewhat more comfortable on Friday, before temperatures start to creep up again along with higher humidity. This is especially true the second part of the weekend.
You can follow my updates here and on Twitter @growingwisdom.
---
Tuesday: Hot and humid. Plenty of sunshine. Highs around 92. Cooler 81-88 Cape Cod. It will feel 95-100 degrees in the afternoon.
Tuesday night: Warm and muggy. Lows 65-72.
Wednesday: Humid with sunshine and some clouds. A shower or storm in a few towns in the afternoon. Highs within a few degrees of 89. Cooler Cape.
Thursday: Partly sunny, turning less humid at night. Highs 82-86.
Friday: Warm and dry. Sunshine and clouds. Highs 80-86.
Saturday: Sunshine and some clouds. Highs in the mid-80s.
Sunday: Continued summer pattern. Highs in the upper 80s.