Sooner Or Later, We Have To Talk About That Twist In 'Once Upon A Time ... In Hollywood'
If you haven't seen Quentin Tarantino's "Once Upon a Time... In Hollywood" do not read this. Seriously. Move on. This whole piece is a spoiler — and a defense of a shocking twist at the end of the film — and this paragraph is a big red-light spoiler alert.
So, go see the movie. Please come back here later.
"Once Upon a Time … in Hollywood" has gotten overwhelmingly positive reviews (our critic said it was Tarantino's warmest and most humane film since "Jackie Brown,") — an 84% favorable critics score on Rotten Tomatoes. Though there's also been an undercurrent of feminist backlash of late, owing (once again) Tarantino's treatment of women, this time for underplaying Margot Robbie's portrayal of Sharon Tate.
Critics have been circumspect about not giving away the goods, though before the movie opened, Tarantino was on "Jimmy Kimmel Live!" and discussed with the host how he came to radically alter history with his World War II revenge fantasy "Inglourious Basterds." (Hitler was killed in a Paris movie theater.) The inference was clear that Tarantino had done some of the same with this film.
I didn't see the Kimmel episode until after I saw the movie and punched it up on the DVR. I cannot stress how much I'm glad I knew nothing about how the film plays out when I went into a critics' pre-release screening.
What I knew — and what I'm sure you know — is that Leonardo DiCaprio's character (Rick Dalton), a fading TV western star, and Brad Pitt's character (Cliff Booth), his best friend and stuntman, are caught up in a cataclysmic shift in the movie-making culture of 1969.
And lurking on the outskirts of all this glamour is the Manson Family, whose Helter Skelter world, we're pretty certain, will collide in a very ugly way with Rick's next-door neighbors on Cielo Drive: Sharon Tate and her friends Abigail Folger, Jay Sebring and Voytek Fykowski.
We figure Rick and Cliff will be involved somehow. Earlier in the movie, Cliff gives one of the Manson girls, Pussycat (Margaret Qualley) a lift to the Spahn Ranch and surveys that run-down old movie set and the creepy almost-feral male and (mostly) female hippies who live there under Charlie Manson's sway. Manson himself (Damon Herriman) makes a very brief appearance, pretty much a cameo. (You'll probably see much more of Herriman as Manson when the second season of "Mindhunter" drops Aug. 16 on Netflix.)
If you think about it, Tarantino's title suggests the twist. When I first heard about "Once Upon a Time … in Hollywood," I thought Tarantino, massive film buff that he is, was paying homage to Sergio Leone's classic spaghetti western "Once Upon a Time in the West." Which he is. But if you parse the title again — and this hit me like a gong at the movie's close — you realize the title has a double implication: "Once upon a time…" is how fairy tales begin.
And this movie is that. Because Tate and her pals do not meet a heinous fate at the hands and knives of Charlie's devils. It's the inept would-be murderers — Tex Watson (Austin Butler), Susan Atkins/Sadie Mae Glutz (Mikey Madison) and Patricia Krenwinkel (Madison Beaty) — who have the tables turned. It's done quite spectacularly and graphically, which is to say very Tarantino-esque.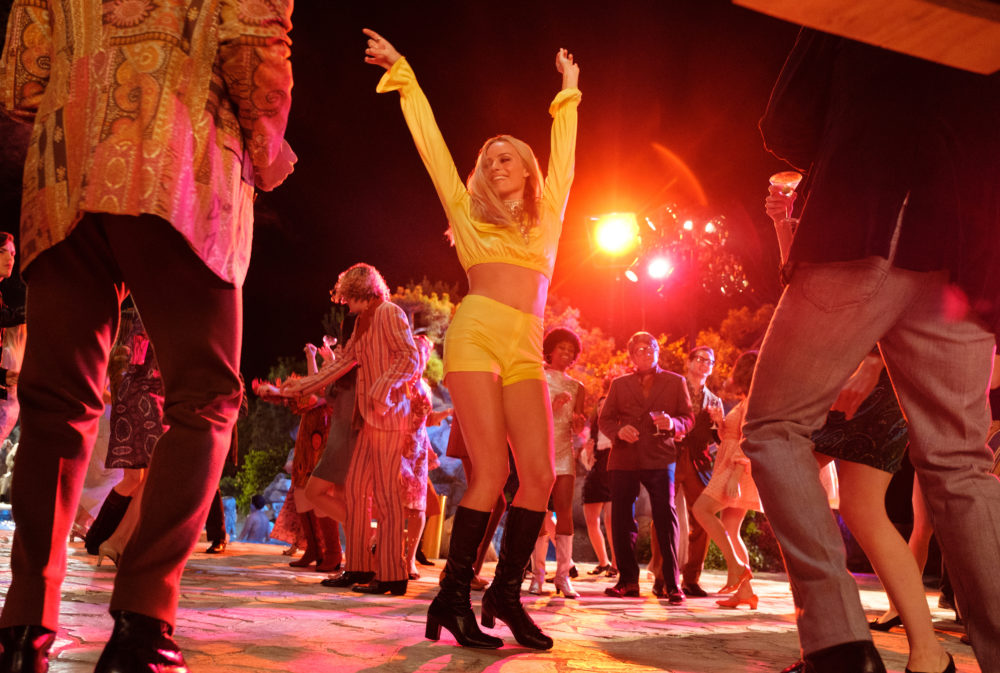 Tex and his girls are making a commotion on Cielo Drive. Rick comes out, tells them to simmer down, then returns to float in his swimming pool, headphones on. Tex and company can't find Tate's party and decide to make Rick, who he recognizes from Rick's old TV show "Bounty Law," and whoever else is around the victims.
Wrong call. Cliff, we've already seen, knows a bit about enacting violence and he's particularly adept at smashing heads. Earlier, we saw Rick use a flame-thrower in the movie-within-the-movie. He's still got it and he knows how to use it for real. The fantasy fates of Tex, Sadie and Patricia rival what we know to be the real-life fates of Tate and company.
This cinematic revisionism is jaw-dropping at first — wait! we know what really happened! — and then magical. The fairy tale lets us see the beautiful, innocent Tate go on to stardom, riding the Hollywood wave with (creepy in his own right) director-husband Roman Polanski (Rafal Zawlerucha). After the carnage, Rick meets with Tate and Sebring (Emile Hersch) outside and they have a friendly chat, poo-pooing the ultra-violence Tate and company escaped and even missed seeing. New Hollywood and old Hollywood meet.
Crucially, this ending leaves us with no half-century-long slog of Manson gore-lore. No Nixon proclaiming "Manson guilty!" No books, movies, documentaries and websites focused on his evil ways. No debates about whether he was crazy or crazy like a fox. No big deal about his failed music career and eerie Beach Boys connection. After three of his minions are killed, maybe Charlie and his remaining pack rats just recede into the desert, his plot foiled, both fame and infamy out of his grasp.
Charlie is barely a footnote in the annals of crime.
And you'd be listening to the Beatles' "Helter Skelter" just thinking of the wild amusement park ride Paul McCartney wrote about.