What Impact Do We Have On Our Environment? An Arlington Art Installation Makes Us Think About Our Presence
Growing up in the northern reaches of Manhattan, artist and sculptor Freedom Baird spent much of her youth clambering up the trees at Inwood Hill and Fort Tryon parks. Perched on trees' upper branches, Baird would read books and savor the quiet. There, enveloped by lush greenery, a respect for nature was kindled.
Though the Cambridge-based creative has left the winding paths of those beloved parks behind, her reverence for and commitment to the environment remains and consistently cuts through her body of work. She's spent her career creating objects, outdoor installations and sculptures that often focus on the intersection of humans and nature.
Baird is Arlington Public Art's summer artist-in-residence. Her newest art installation, "Room To Grow," is part of the art commission's "Pathways" series that includes Christopher Frost's bird-scale houses and Resa Blatman's vibrant postcards that animate the Minuteman Commuter Bikeway.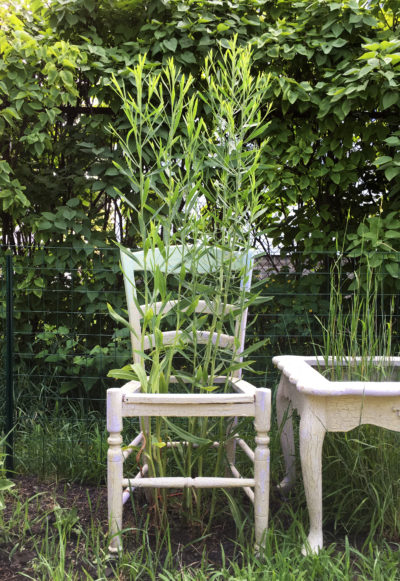 "Room To Grow" juxtaposes salvaged furniture pieces — a bedframe, lamp, table, chair and dresser frame — with native plants. The work invites viewers to contemplate and discuss how humans and nature intertwine and aims to raise questions around sustainability, consumption and environmental impact using the furniture as an entry point. Baird hopes people might think about where the wood or paint on the pieces comes from.
In this consumer culture, Baird says, "We are not given the opportunity to consider the journey that materials take when they end up in our hand." For example, "If I go buy a pack of pens at Staples, there is no information about where the plastic was sourced, where the pigment was sourced. And I think that's a mistake," she explains. Armed with that information, consumers can make better purchasing decisions, and maybe do less harm.
The MIT- and MassArt-educated Baird takes a meticulous approach to "Room To Grow" that combines research, collaboration and experience. The plants, including boltonia asteroides (false aster) weaving though the chair and helianthus salicifolius (a kind of sunflower) flourishing alongside the lamp, were chosen with the help of her cousin Judy Otto, a plant expert and author.
"She talked to me a lot about what native plants would do well on the site. Then, I researched each type of plant and thought about its habit," Baird says. In "the language of botany," she explains, the habit of a plant "is sort of like talking about the posture of a person. So, the plant habit is how it stands up and how its leaves and stem spread."
Additionally, Baird counts systems theory and the research of scholar and sociologist Niklas Luhmann, as part of the foundation for "Room To Grow" and her other work. The theory talks of "viewing a culture, a civilization, as a system," Baird tells me. That system has a border that interacts with its environment, she says, with sensors to perceive what's going on around us and tools to access the resources that we need to survive. We can think of the human species that way, she offers. The theory also notes that we have blind spots that prevent us from seeing certain things, like the effects of our actions, Baird says. That's what she hopes to make clear.
Baird's part of a crop of environmentally-focused creatives whose work pushes us to pay attention in this way. Take for instance, local artist Michelle Lougee's "Timber!" series features sculptures made from plastic bags and photographer Chris Jordan's "Intolerable Beauty: Portraits of American Mass Consumption" highlights staggering amounts of e-waste.
Last year, Baird tackled low-lying areas during Boston Harbor's [Re]Creation Artist-in-Residency Program, developed "Intention Port" for the "Art on the Trails: Finding Solace in the Woods" exhibition in Southborough, and built a plant prosthetic for an amputated pine in Worcester.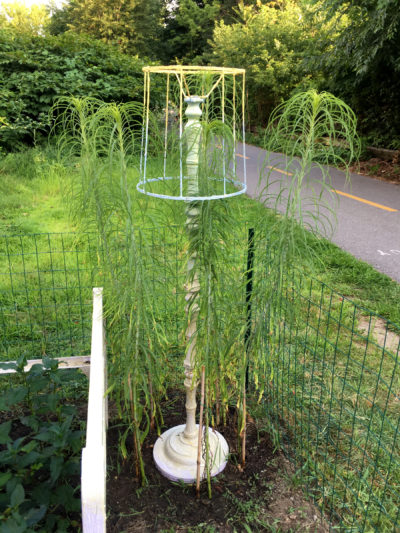 When visiting "Room To Grow," you might notice the items in the outdoor "room" are a little close together. The cramped feeling, Baird says, is intentional. A relative of hers struggles with homelessness and the layout nods to single room occupancy units. Her description of the small area urges me to ponder land loss due to rising sea levels.
Whatever the art evokes in audiences, Baird — onsite most Sundays now through most of September — is eager to discuss it. Part of the work is "creating something that's maybe a visual spectacle but that also engenders conversation," Baird says. "One of the really nice things about it is that everyone who walks over to talk about it has their own lens and their own frame."
That's the function of public art according to Cecily Miller, Arlington Public Art's curator. She thinks it "should reflect the character of a place, should embody it, reflect it and provoke dialogue about it." In Arlington, she says, valuing, advocating for and stewarding the environment is part of the town's character.
As the sited plants at "Room To Grow" surge toward the sun and engulf the man-made furniture, nature's ability to reclaim space forces us to contend with our presence and habits.
---
"Room To Grow" is on display now through Sept. 22 at the Minuteman Bikeway in Arlington, east side of the path, between the Linwood Street parking circle and the Spy Pond Playground.