What We Know About EEE As Mass. Sees 1st Fatality This Year
Play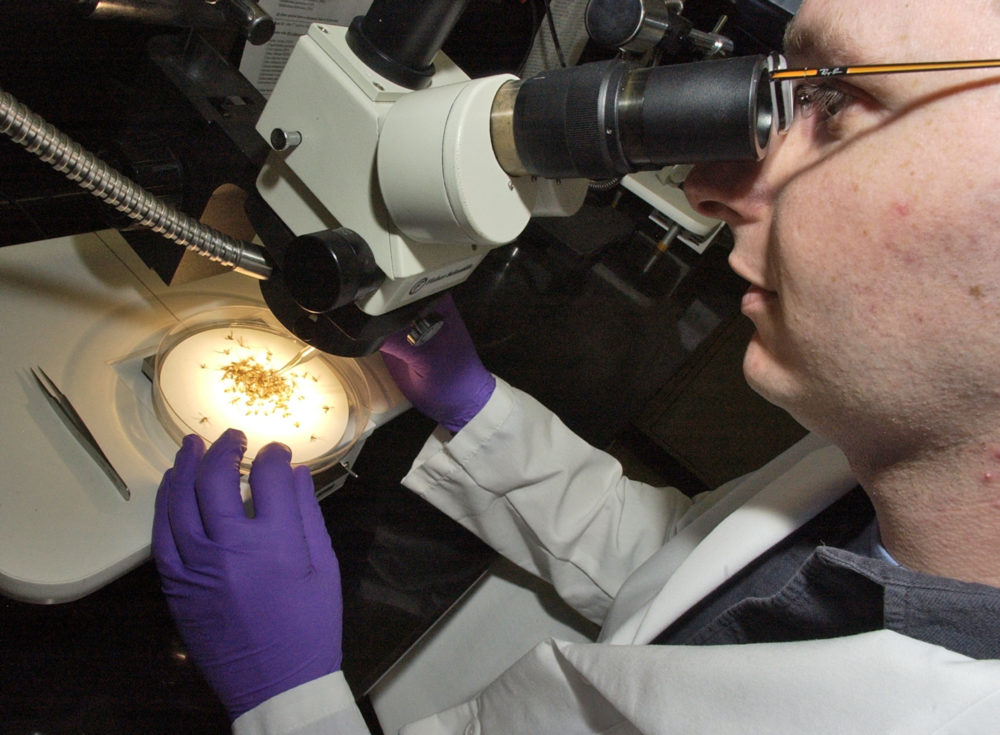 This article is more than 3 years old.
According to family, a Massachusetts woman — the fourth person in the state to contract the mosquito-borne illness Eastern Equine Encephalitis, or EEE — has died.
Dr. Catherine Brown, state epidemiologist for the Department of Public Health, says Massachusetts has a long history with the "extremely serious disease." On average in this state, approximately 40% of people who contract the disease die, she says.
"In addition, many survivors are left permanently neurologically disabled," Brown says.
The disease originated from birds, Brown says, though birds are just carriers and cannot get sick from the disease. Common pets, like cats and dogs, are also not susceptible, she added.
The disease can be hard to spot because its initial symptoms are common to many illnesses: high fever, headache and chills.
Brown explains that "because this is a disease that invades the central nervous system, that can progress relatively rapidly to changes in level of consciousness, leading to seizures, coma and about a 40% fatality rate."
And, EEE is a virus without known treatment, so Brown says public health officials are focused on preventing mosquito bites.
"What we want to do and what we're trying to help people understand is that taking steps to avoid mosquito bites is really the way to avoid EEE," she says. Namely, she recommends rescheduling outdoor events planned between dusk and dawn for places with highest risk.

Historically, the most EEE cases have been diagnosed in Bristol and Plymouth counties, Brown says, but the state can see "intense activity" outside of that — currently in Middlesex and Worcester counties, as well as an area of northern Franklin County.
The state has done or plans to do in aerial spraying in those areas, but that's a "last ditch effort," she says, and it's "not appropriate or necessary everywhere."
Correction: Due to an editing error, an earlier version of this post said DPH confirmed the woman's death. DPH confirmed the case of EEE, and her family and a local union confirmed her death. We regret the error.
This article was originally published on August 26, 2019.