Controversial 'Straight Pride' Parade In Boston Met By Larger Counter-Protests
A controversial event in Boston Saturday dubbed the "Straight Pride Parade" drew a small nucleus of paraders — and far larger crowds of counter-protesters — whose route was overseen by a heavy police presence.
Organizers from the group Super Happy Fun America (SHFA) staged a march from Copley Square to City Hall Plaza to draw attention to the straight or heterosexual community. The parade loosely followed the route of the Pride Parade. As WBUR previously reported, the group claimed the event was welcoming to people of all sexual orientations. However, parade organizers and some of its featured speakers have ties to far-right organizations like Resist Marxism and the Proud Boys, two groups that have been associated with violence at similar events.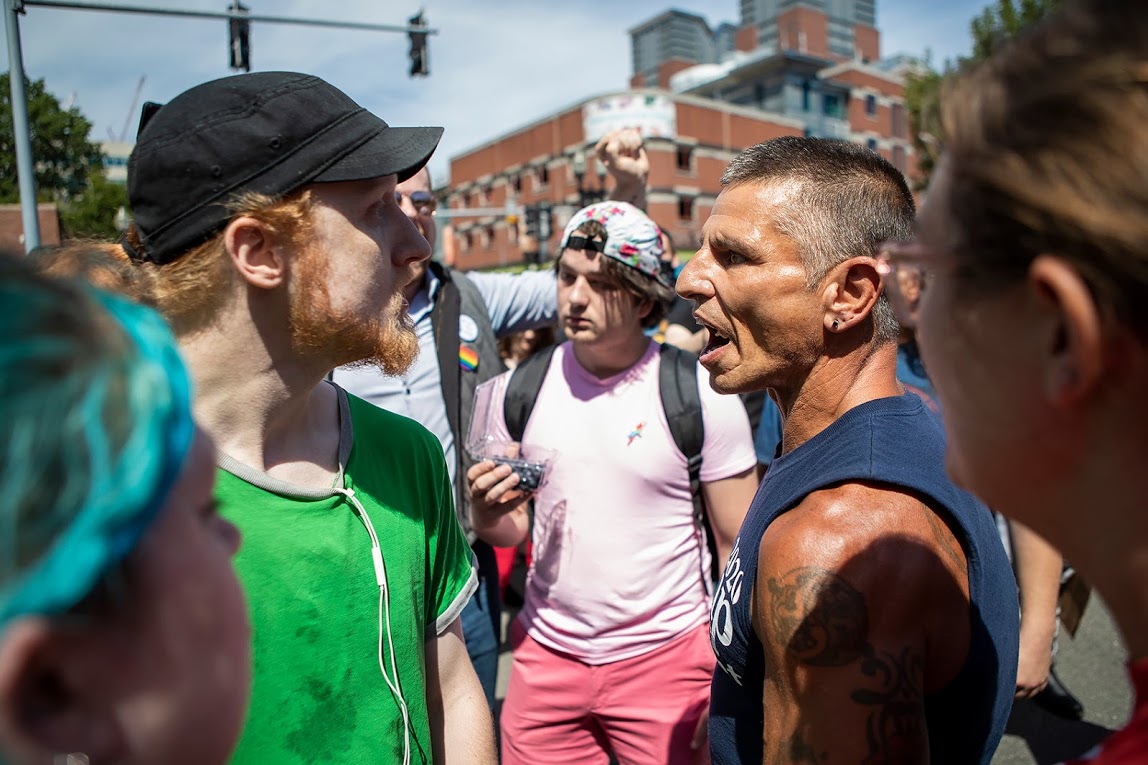 Boston police told WBUR Tuesday morning that officers had arrested 36 people. Four officers were injured, and none of those injuries were considered serious, according to the department Saturday evening. Many of the hundreds of officers monitoring the event were dressed in riot gear.
Boston Emergency Medical Services said it transported nine people from the parade to Boston-area hospitals.
WBUR reporters observed the arrests of at least a handful of counter-protesters and at least one marcher along the route:
Since the parade was announced, organizers have been heavily criticized for what many believe is a shrouded attempt to promote bigotry, particularly against the LGBTQ community, through a public rally. Discussion around the event also often centered on the idea that it had the quality of a "troll" — an organized effort to bait outrage.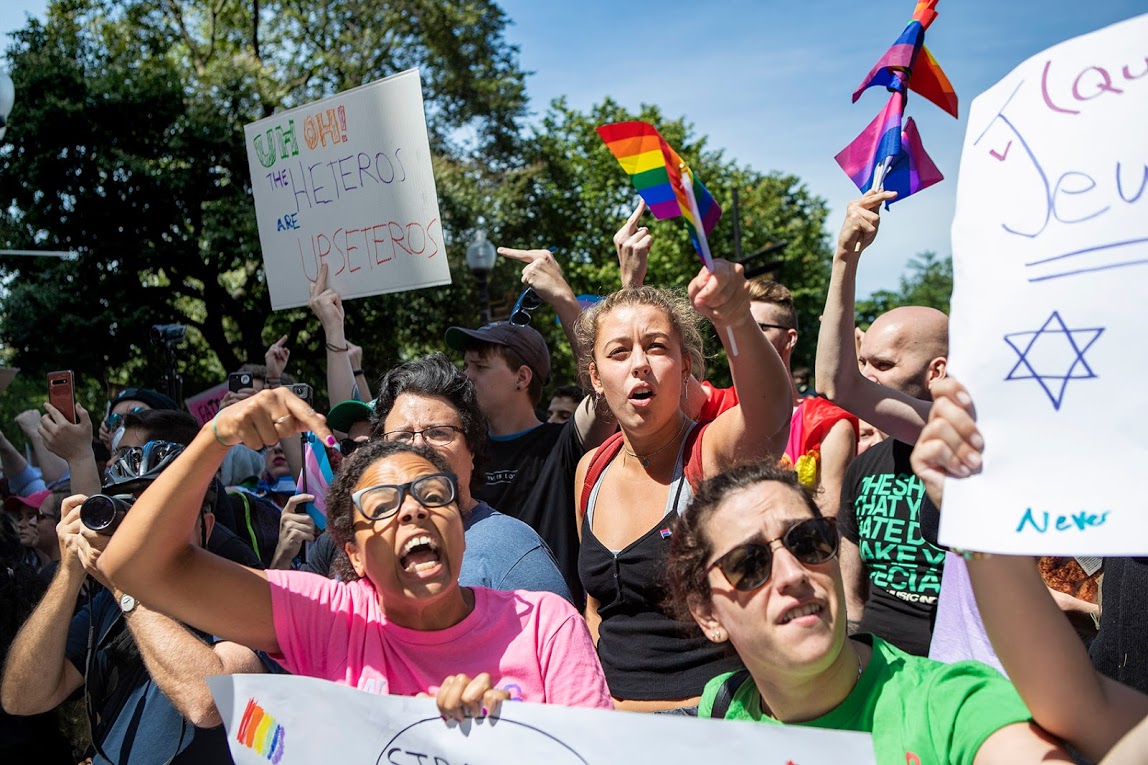 Ralph Anker, who drove five hours from New Jersey to participate in the parade, was among several paraders who insisted they are not homophobic.
"It's like we're second-class citizens for being straight these days. We really are. I feel that way. I feel in the current political situation, straight white men are the devil," Anker said when asked why he attended the parade.
As the marchers gathered at Copley before they started walking their route, hundreds of counter-protesters set up at City Hall Plaza.
Monica Cannon-Grant, a Black Lives Matter activist from Cambridge, helped organize that demonstration.
"We don't want the story to be about 'straight pride,' because there's no such thing," she said. "We want the story to be [that] we showed up in numbers and we supported each other, and we uplift the voices of people who are most affected by this hatred."
SHFA parade organizer John Hugo told WBUR at the event he was hopeful the Boston police would keep the marchers protected and able to exercise their First Amendment rights.
"This is a celebration of heterosexual rights, which we think is just great," he said. "We think it's fine to be straight."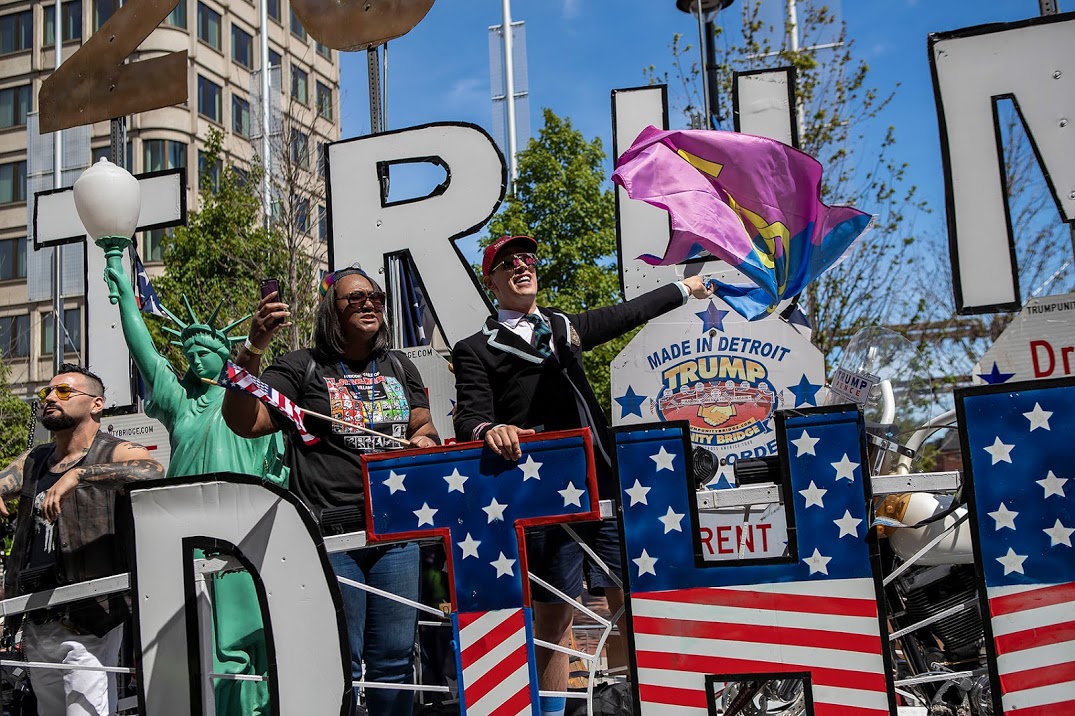 When speeches were due to begin at the plaza, organizers complained that police barricades made it difficult for some of the featured speakers to take the stage. Eventually, it appeared the group's speeches — largely too far away from where most counter-protesters were assembled to be heard by them — continued without any significant interruptions.
Compared to the so-called "free speech" rally held in Boston in 2017 — which people had drawn some parallels to ahead of this parade — confrontations between ralliers and those who came to protest appeared to be relatively low. But, there were similar arrest numbers during that rally.
The SHFA march officially began at noon, and there appeared to be fewer than 200 marchers. Surrounded by state and city police, some paraders stood atop the most well-known of the floats called the "Trump Unity Bridge." As they marched, counter-protesters shouted at them from sidewalks, holding signs decrying the parade and promoting the LGBTQ community.
WBUR's Laney Ruckstuhl, Hannah Chanatry, Bruce Gellerman, Quincy Walters, Max Larkin, Jesse Costa, Meghan B. Kelly and Lisa Creamer contributed reporting to this post.
This article was originally published on August 31, 2019.