'Free Speech' Rally Is Ended Early As Protesters Descend On The Common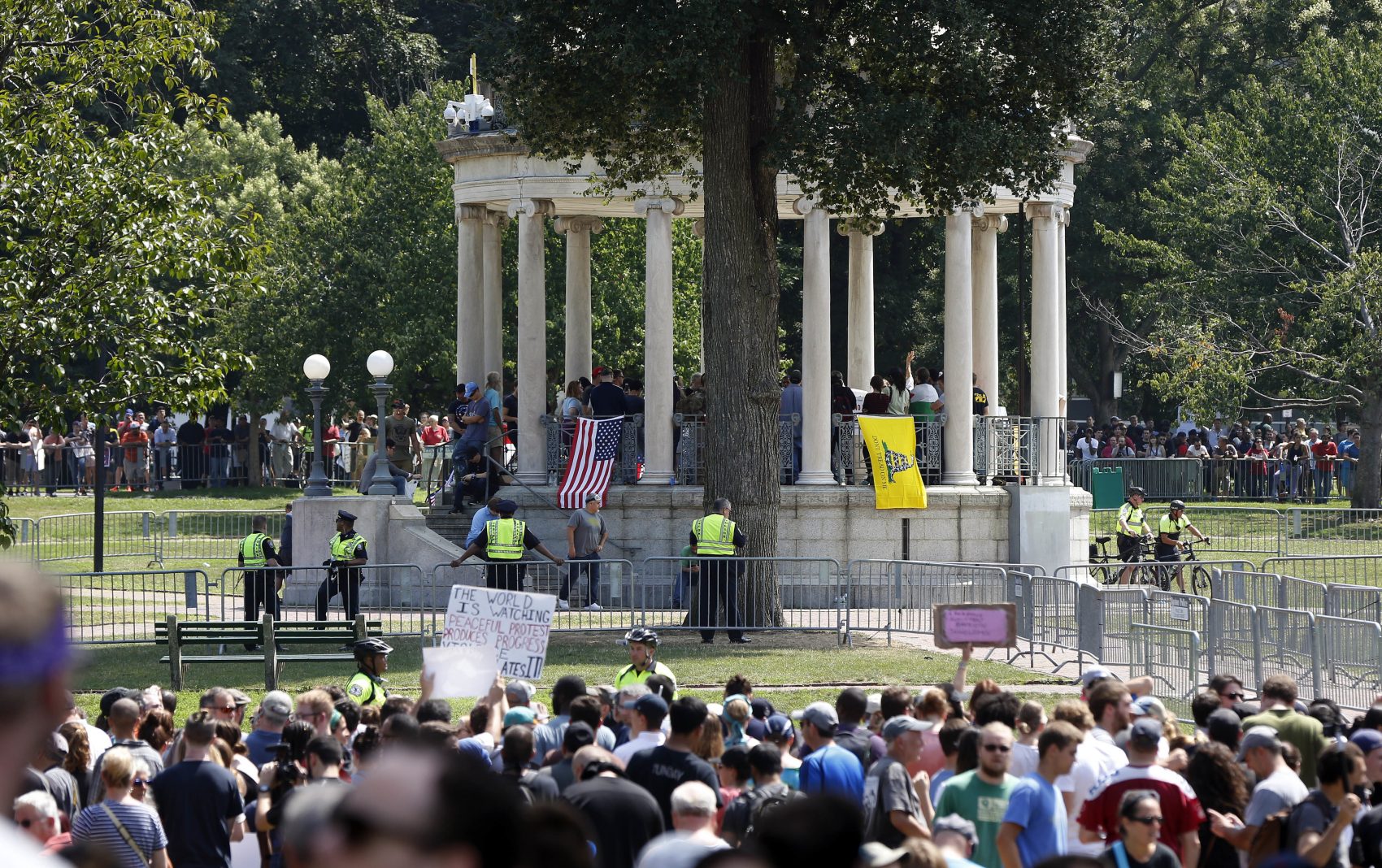 This article is more than 5 years old.
A controversial rally was met with vast numbers of counter-demonstrators and a heavy police presence on a tense Saturday in Boston.
Tens of thousands of counter-protesters, denouncing hatred and carrying signs, marched to the Boston Common, where a much smaller, self-described free speech rally was ended early.
The free speech rally, for which organizers had obtained a permit, was scheduled to conclude at 2 p.m., but police led attendees away from the Common's Parkman Bandstand, where they were congregating, before 1 p.m.
The state's public safety secretary, Daniel Bennett, told WBUR that the few dozen rally attendees were escorted away and into police vehicles for their own safety. Boston Police Commissioner William Evans said later that it was "mutually agreed" between police and rally-goers that they would be moved off the premises.
Riot police then moved in to the area to disperse protesters.
Boston police said a total of 33 people were arrested Saturday, most for disorderly conduct, some for assault and battery on police officers. Evans said some people were throwing rocks and bottles of urine at officers.
John Medlar, an organizer of the Boston Free Speech Coalition, told WBUR that supporters were blocked by counter-protesters and by police from getting to their cordoned-off area, and that the group had planned to rally until 2 p.m.
Evans, who lauded the job done by his officers, said, "If they [people who want to talk about hate] didn't get in, that's a good thing, because their message isn't what we want to hear."
A frustrated Medlar said Saturday's shortened event is "not going to be the last rally."

City officials had been concerned with the free speech rally, after a gathering last weekend of white supremacists in Charlottesville, Virginia, turned deadly.
Medlar said his coalition is not connected to people involved with the rally in Charlottesville and blamed "media hysteria" for making the link. He said his group's message for Saturday was "anti-hate and pro-peace."
Police had cordoned off a large area around the Parkman Bandstand, and were conducting security checks on people who wanted to get inside. Boston police also installed security cameras on the bandstand itself.
Media members were not allowed inside the cordoned-off area.

After the rallies concluded, President Trump tweeted that it "looks like [there were] many anti-police agitators in Boston." He added that police officers and Boston Mayor Marty Walsh did a "great job." Later, Trump also applauded protesters "who are speaking out against bigotry and hate."
Counter-protesters vastly outnumbered the attendees to the free speech rally. Evans estimated that all the crowds on Saturday totaled between 40,000 and 45,000. Many of the demonstrators chanted as they marched and carried anti-white supremacy, anti-racism and anti-Trump signs.
City officials had said 500 police officers would be deployed Saturday, and Mayor Walsh thanked police officers for what he called a "very successful day."
Fencing and concrete barriers were set up on and surrounding the Common.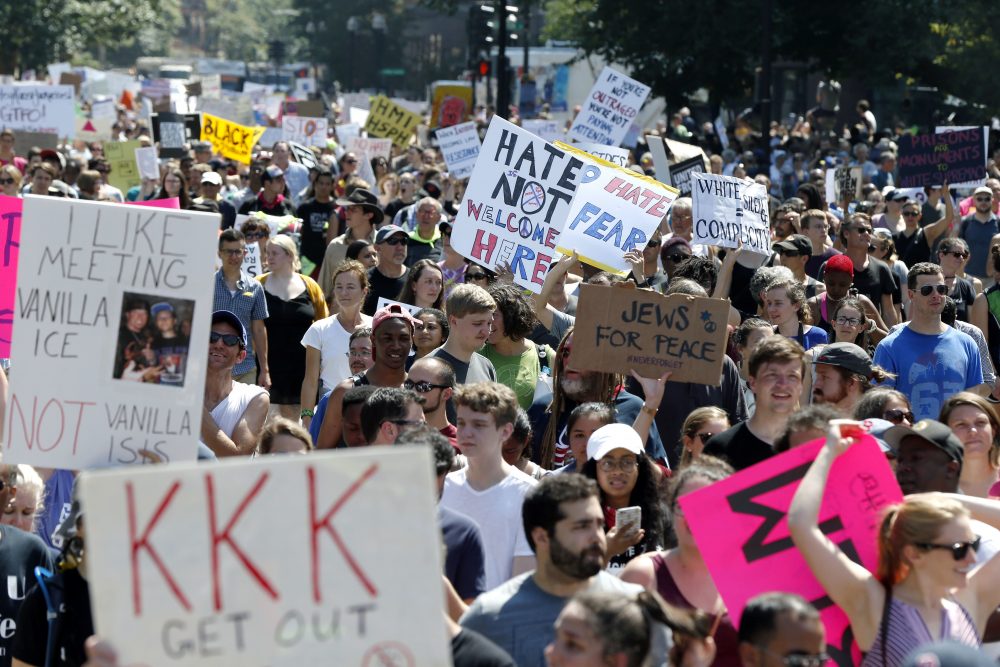 The primary group of counter-protesters gathered at the Reggie Lewis Track and Athletic Center in Roxbury before marching two miles to the Common.
"You've always learned if you see something wrong, say something," said protester Arman Ahrabinejad, of Northborough. "And since a year ago, maybe about a year ago, you're seeing a lot of wrong things. So if you don't say anything, you're giving them more power."
City officials instituted rolling closures of a number of streets, as well as parking restrictions, around the Common. Streets were reopened at 3 p.m. At noon, the MBTA closed Boylston and Park Street stations by the Common.

Police also issued a list of prohibited items for protesters, including weapons and signs attached to sticks. Backpacks and bags were also discouraged.
Saturday was actually the second rally on the Common for the free speech coalition this year. One in May was a smaller affair, held under different circumstances.
With reporting by WBUR's Deborah Becker and Martha Bebinger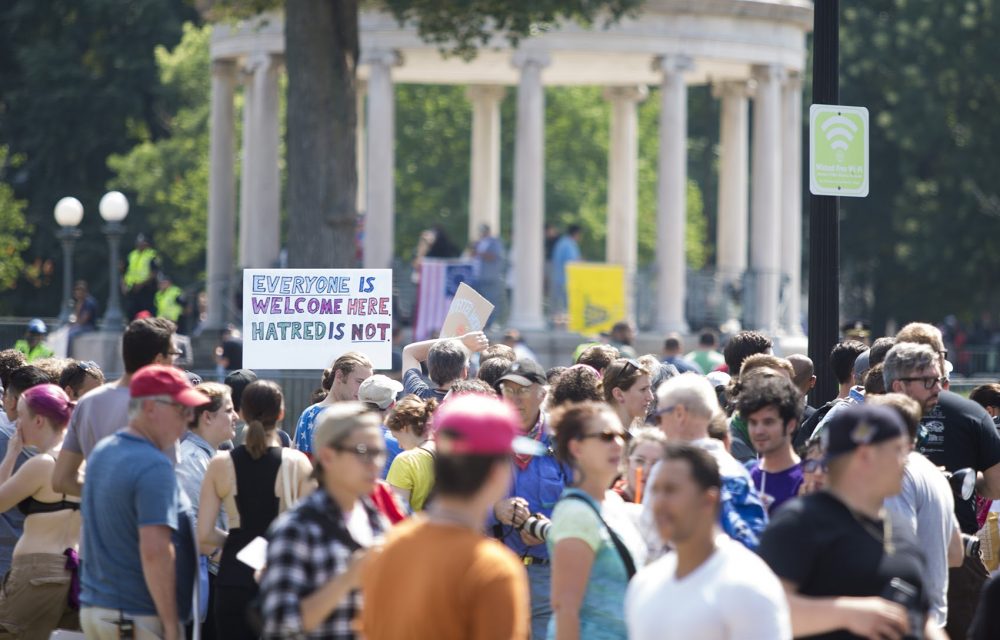 This article was originally published on August 19, 2017.