'It Chapter Two' Is Both Skimpy And Overstuffed, But At Least It Has Bill Hader
One of the more pleasant surprises in recent genre films was director Andy Muschietti's 2017 adaptation of Stephen King's "It." The 1,138-page doorstop was originally published in 1986, a good couple years after anybody had the clout to edit King anymore, and the story served as something of a Grand Guignol bouillabaisse of the writer's pet preoccupations: childhood friendships, rural life, ancient evils, schoolyard bullies and overelaborate profanity. In 1990, the book was adapted into a television miniseries for ABC, which most folks remember as being better than it was thanks to Tim Curry's chilling, nightmare-fuel performance as Pennywise the killer clown. (Try watching it again and you'll be disappointed by how little he's in it, and how much screen time is instead devoted to stuff like sitcom stars John Ritter and Harry Anderson fighting a fake spider.)
Muschietti's 2017 film stripped away the novel's cumbersome, time-jumping structure to focus exclusively on the childhood exploits of the Losers' Club — cleverly updated from the '50s to 1989 — as these misfits and class cutups come together to confront their deepest fears and fight Pennywise on his own turf beneath the drains of Derry, Maine. "It" was a terrific coming-of-age adventure in the guise of a splattery supernatural thriller, the period setting calling back to Steven Spielberg's Amblin Entertainment efforts of the era like an R-rated version of "The Goonies," except unlike "The Goonies" it was actually good.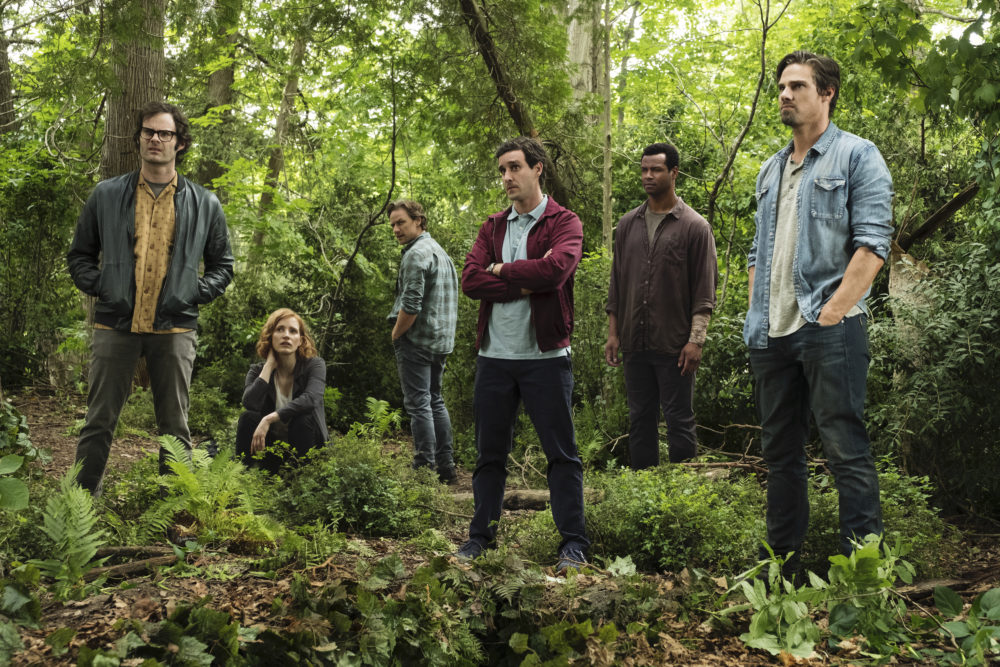 "It Chapter Two" picks up 27 years later, with the Losers' Club now in their 40s and in depressive funks. They've spread out all over the country save for Isaiah Mustafa's Mike, who stuck around to keep watch at Derry's local library and calls his old crew with news that the clown has come back. So the sequel sends our heroes home to relive their most harrowing, formative traumas, asking questions about the childhood scars that define us as adults, but mostly making you wonder what a filmmaker's supposed to do after he's already used up all the best parts of the book in his previous picture?
Clocking in at a gargantuan 169 minutes, the movie somehow manages to be both skimpy and overstuffed, settling into a monotonously repetitive structure for its middle hour-and-a-half that feels like you hit "Play All" on the DVD's deleted scenes menu. One of my few complaints about that first film is that seven kids is at least two or three too many, and "It Chapter Two" compounds the problem by splitting up the group — sending each character on an individual journey through the past to be terrorized by Pennywise-induced hallucinations.
These sequences are full of evocative visuals and yet do nothing to further the story or deepen the characterizations already established in the first film. A sinking feeling comes with the realization that every cast member is going to get their own set piece before we can get back to the plot that already isn't moving in any particular hurry, so we have to sit and watch what is for all intents and purposes the same scene six times in a row. It's a massive structural miscalculation.
One of the first picture's particular pleasures was its winning ensemble cast — a group of mostly unknown kids plucky enough to earn our affections, and their brief appearances in "It Chapter Two" only underscore the shockingly poor performances — with one big exception — of the adult actors. It's hard to figure how a feisty little firebrand like Sophia Lillis' Beverly Marsh could grow up into dull, dour Jessica Chastain, and don't even get me started on James McAvoy's cardboard Bill Denbrough — a hunky, super-successful novelist who's a transparent fantasy stand-in for his author, right down to an oft-remarked-upon difficulty writing satisfying endings.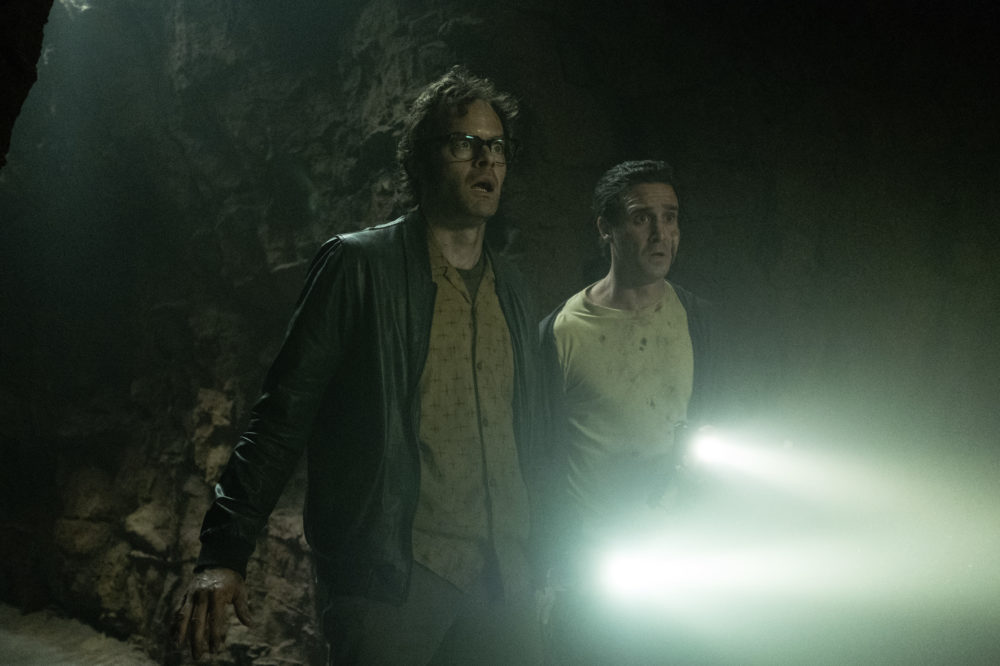 "It" was all but stolen outright by Finn Wolfhard's Richie "Trashmouth" Tozier, so it's only fitting that the sequel belongs to the character as well, now played by Bill Hader in a monstrously funny, disarmingly vulnerable turn that sets a new screen standard for potty-mouthed, wisenheimer sidekicks. Hader could always be counted on to bring a fully rounded pathos to even his most absurd "Saturday Night Live" characters, and here, he grabs onto the role of Richie like it's his golden ticket to the A-list, investing him with a complexity barely earned by the film surrounding him. Muschietti and screenwriter Gary Dauberman have invented some surprising shadings beyond King's conception of the character, as if they saw what Hader was capable of and couldn't resist giving him more to do. This is one of those breakout performances people will be talking about for some time.
If only it were in a better movie! I dug the far-out, phantasmagoric imagery of Muschietti's more outré scare sequences, and Checco Varese's cinematography lends a deep, burnished fullness to the colors that's sadly missing from the plasticized look of today's digital cinema. But too much of the picture feels as arbitrary as that dead-zone middle segment, with Pennywise's powers constantly fluctuating according to the needs of the screenplay. A large portion of the distended climax is characters running around explaining arcane rules of what can or cannot happen next seemingly because that's what needs to happen for the movie to be able to end. Just because King makes fun of himself for not being able to write a decent finish doesn't mean we should let him off the hook for this one.