Boston Celtics' Danny Ainge On Last Year's Disappointing Season And Team Chemistry
On Friday night, Danny Ainge, Celtics president of basketball operations, joined me for a conversation at WBUR's CitySpace.
We talked about Ainge's nearly 40 years in the NBA as a player, coach, broadcaster and executive. We also discussed the disappointment of last season, the addition of Kemba Walker, the upcoming season, and the recent hiring of two women — Kara Lawson as assistant coach and Allison Feaster as director of player development.
Here are some highlights from that conversation:
Springer: "Kyrie Irving was very outspoken about the difficulties the team had getting on the same page [last year]. He felt the younger players weren't showing maturity and there were other players questioning the number of minutes they had and the roles they play."
Ainge: "I think that last year was very difficult mostly for my coach, Coach [Brad] Stevens, because he had a difficult hand dealt to him. Kyrie was wonderful the year before, his first year with us, and last year you know on his own initiative he announced to the world that he was going to be a Boston Celtic forever.
"But things do change and it and it did change for Kyrie. He was feeling a lot of love for a year and a half or so. … I had many conversations with Kyrie and I like Kyrie. I'm grateful for what he brought to our team. But it certainly wasn't his fault what happened last year. He was just one of 12 guys. I think that the difficulty was that the team had so much success the year before without Kyrie and Gordon Hayward. … All these young players got so much attention for their success and it hurt Gordon and Kyrie. I don't know if they would both admit it. I know Gordon has admitted it. But [for] players, that's a hard thing ... so all these young guys [like] Jaylen [Brown] and Jayson [Tatum] want to be all stars.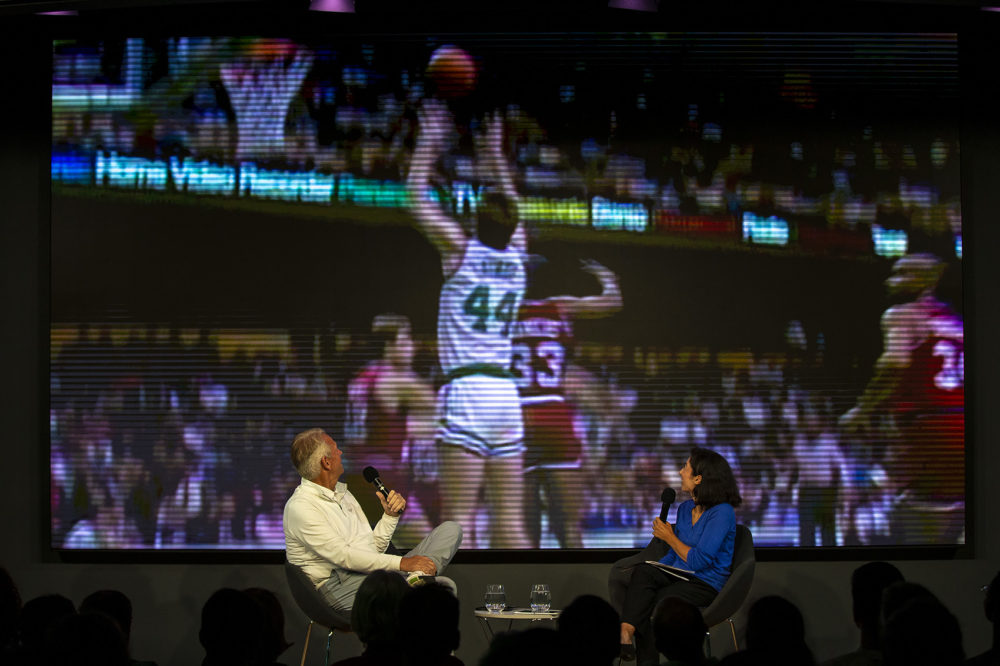 "I remember Jaylen Brown coming up to me in the lunchroom and he says, 'You know, how does this team this year compare to the 1986 team?' So, that just tells you … they did have some hope."
"What did you say when you were asked how last year's team compares to 1986?"
"I asked him, 'What do you think?' And I was like, 'Seriously?'"
"Well, wait, what did he think?"
"He started going [over] match-ups like, 'I'm better than you. And Kyrie's close to [Larry] Bird.' It's like, 'OK, let's just stop right there.' But I think that's just where their [heads were at.] ... They thought they were good, and they were going to be great, it was all gonna work ... we all did. But I knew going into the year, I mean [Assistant GM] Mike Zarren and I talked … Mike and I talked all the time and with Coach Stevens, and we knew that it was going to be a challenge…
"We'd have these discussions about how it's going to be difficult because you know Kyrie wants to be MVP. Gordon wants to make the best comeback ever. He's worked so hard in the off-season after a devastating injury. We have two young kids that you know who now want to be All-Stars. We have Terry Rozier and Marcus Morris that want contracts because they've both been, you know, underpaid for many years, in Morris' case. And so there were so many of these individual agendas that it was difficult.
"You go into training camp and you fight for jobs and often times things work themselves out. Like players just take the job, they play so well, they win it, and makes it easier on the coach to decide who is the guy that gets those minutes. But last year it was difficult."
"Did what happened last year influence the way you approached team building this year? The big off-season addition was Kemba Walker to replace Kyrie at point guard, but did what happened with the chemistry issues last year make you think more about acquiring players high character players? It's been said your draft class is very high character."
"We always think about drafting character. I mean drafting is a hard process because you're picking between 23-year-olds sometimes and 19-year-olds that have great upside, and some guys that are just great character but have limited physical skills, and some guys that have amazing upside and that are a little more immature, and everywhere in between. And so it's a very complex process. … But I think that we didn't have the top echelon players to pick from this year so, you know, we often look for really high character players. We're able to get some that that happened to be very good players that fill a need and fill a role. ... We were very fortunate to come away with Kemba through this free agent process. He's a class act. And my biggest concern, honestly, through all of this was I want my coach to be happy [with] who he's coaching. That's the hardest job. I've been at this business a long time. … You gotta have fun.
"We were very fortunate to come away with Kemba through this free agent process. He's a class act."

- Danny Ainge
"Like you really have to have joy. That doesn't mean that every minute is going to be happy. And everybody's going to face adversity and challenges and trials through a course of a season, but it still has to be fun. You still have to be excited about getting up and trying to figure out what we can get better at, and that's very important to me."
"Do you think that Brad is happy with who he's got?"
"Yeah I think that Brad's really excited for the year. I mean there's still some uncertainty as to what's going to happen. We have a new group, but I think he really likes them. He really likes the spirit of the team. He likes how many people have come to off-season workouts, much more than we've ever had in my 17 years here in Boston. We have a lot more players in the gym, and we probably have a lot more if we didn't have six of them playing in the World Cup."
"You have four players on Team USA and two of them are now injured. How do you feel with players competing in international tournaments with the injury potential there, especially so close to training camp?"
"First of all, I think it's an amazing opportunity. I had a chance to play against the USA teams when I was a player. I wasn't on any USA team but scrimmaging against them and playing against them was a highlight. It was it was a lot of fun just in preparing those guys to go, in those days, just destroy the rest of the world. It's a great opportunity and I prefer my players playing basketball in the summertime as opposed to not playing basketball. … I think that we should take advantage of it every summer if we can.
"One story I have about that is: I played with Charles Barkley for three years and Charles was MVP in 1993. ... That was the year, coincidentally, he was in the best shape of his life. He had played for the Dream Team in [the] 1992 [Barcelona Olympics] and he came out and he beat out Michael Jordan for the MVP of the league … and I saw that difference in the conditioning after being on the Dream Team.
"So working hard, playing hard, getting in good shape, playing basketball the right way, all those things are, to me ... much greater than keeping guys away from getting injured."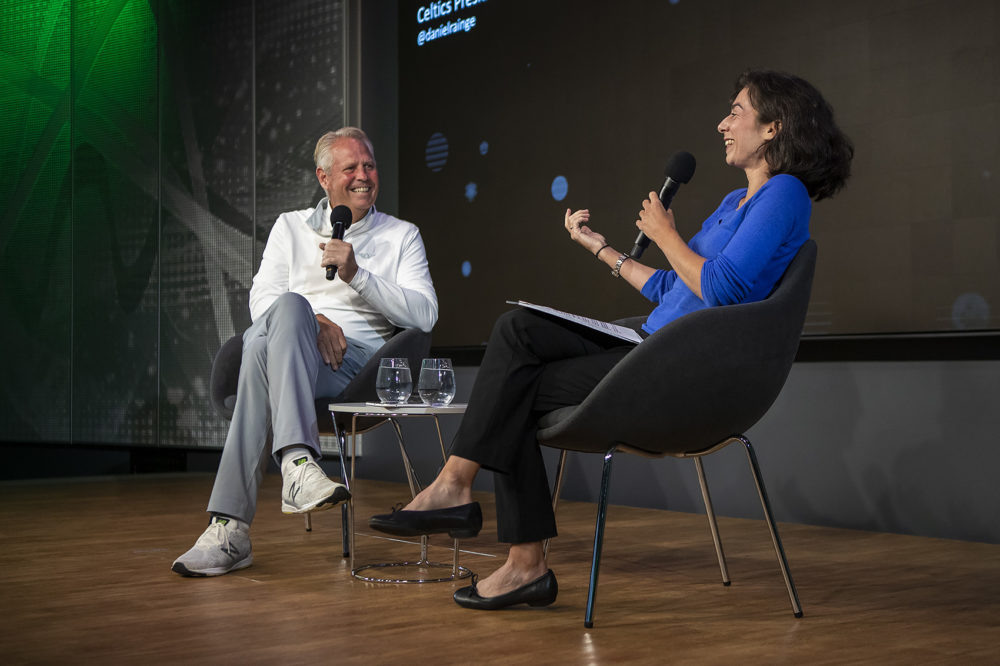 "This summer the Celtics join the ranks of NBA teams that have female assistant coaches. You hired Kara Lawson. Little news here: You also made a hire in your player development department. Allison Feaster, former WNBA star, former Harvard star, will be joining the player development staff. What do these two women bring to your organization?"
"Brad and I have talked a lot about this, and Mike [Zarren] and I have talked a lot about it. I believe that women bring a different perspective in any sort of business. If I had a board of 15 people, I would want probably 14 women and me. But at least 50/50. ... Brad feels the same way.
"My wife counsels me all the time and Brad's wife is actually his agent… I feel like there's a different perspective. And we have a lot of players also that are raised by single mothers. But I think that the biggest thing, I believe men and women are different. And they bring a different perspective. … These two women that we brought in are very, very well educated and experienced in the world of basketball. And I think they're going to bring great perspective to our coaching staff and to our entire organization."