ArtsEmerson Kicks Off 10th Season With Tightropes And Trains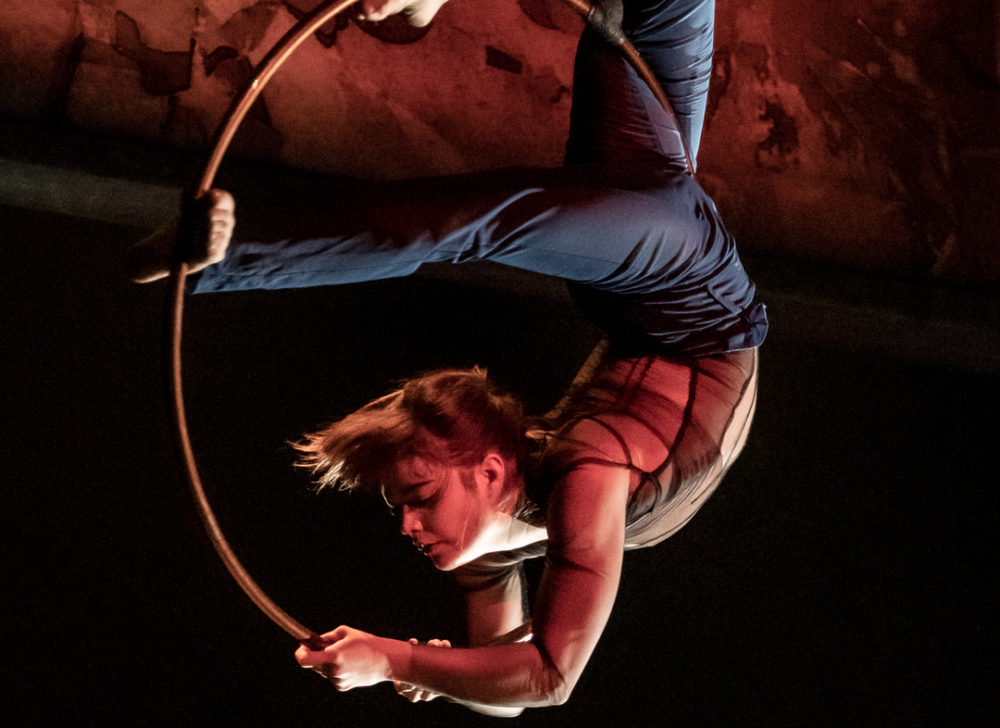 This article is more than 3 years old.
When Sabine Van Rensburg was 17 years old, she left her home in South Africa to study acrobatics in Montreal, the circus capital of the world. She grew up in a circus family and had been touring since she was 6 years old. Still, leaving home to pursue her career at such a young age conjured conflicting emotions: sad to go away, excited to arrive, worried about leaving her lifestyle and starting new.
"It was so far away, and the culture was so different. But all of us in the circus know what that feels like to say goodbye to our families to pursue this life," says Van Rensburg. She is in Boston with her circus troupe, The 7 Fingers, for the U.S. premiere of their show "Passengers." The production will open ArtsEmerson's 10th season with the troupe's signature blend of acrobatics, theater, music and dance used to explore train travel as a mirror for how people navigate life's unexpected turns — something they all have a lot of personal experience with.
"We explore the different reasons for traveling. Are you running away from something? Are you going towards a better life?" says Van Rensburg.
The show doesn't follow one linear narrative. Scenes unfold like a dream, popping up in sets designed to evoke old-world nostalgia. In one, a character freezes time to redefine the passengers' stories. In another, travelers peer through their reflections onto the passing world.
"We play with our reflection in the train window," says Van Rensburg. "It's one of my favorite scenes because I do this so much when I travel. I superimpose my reflection with the moving landscape."

"Passengers" director and co-founder of The 7 Fingers Shana Carroll encouraged the cast of eight to bring their own experiences to the stage. She says she created the show as an homage to her own memories of train travel from her youth. The actors worked with Carroll for four and a half months, and would spend an hour every day sharing their personal travel stories. As circus performers, they have many. Van Rensburg recalled leaving South Africa.
"During creation I remember what it felt like to say goodbye and to arrive at this new place. It's these universal but individual experiences like saying goodbye to loved ones or meeting people on the train or at your new destination," says Van Rensburg. "It's a metaphor for life."
Tight wire performer Brin Schoellkopf says that those months of creation helped him reflect on his life on the road. He started performing with Vermont's Circus Smirkus when he was 13, before attending the National Circus School in Montreal with Van Rensburg at a time when many teenagers are planning for college. "Passengers" is their first time performing together professionally.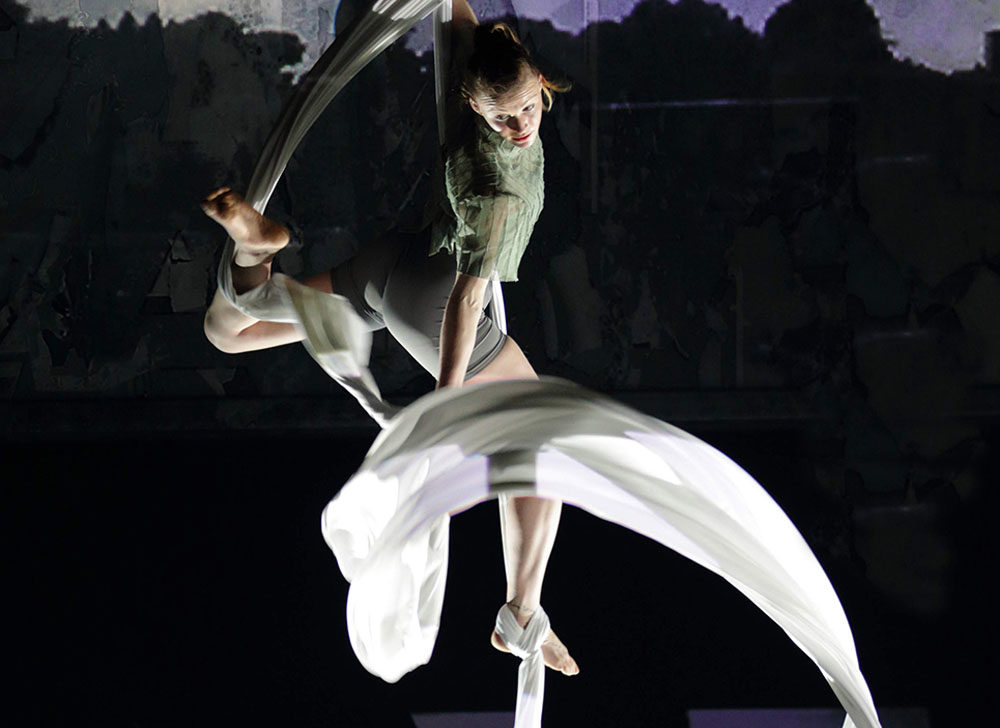 "We kept diving further and further into our own experiences and what it meant," says Schoellkopf. "In our lifestyle, you're often just going and you keep going. This was a moment for us to step back and process where we are now in our lives and what we've experienced."
He says the process helped them access Carroll's vision and begin to feel comfortable as an ensemble. When Carroll and others founded The 7 Fingers in 2002, their aim was to redefine circus by removing the spectacle and distilling it to its essence. The company strives to tell human, life-affirming stories using death-defying acrobatics, and that takes a lot of trust — and rehearsal.
"There's a trick that I do where the whole group catches me, so of course I had a safety line at first," says Van Rensburg. "But then you do it enough times and build the trust you say, 'OK, think I can take the lines off' and I knew that the group was going to be there."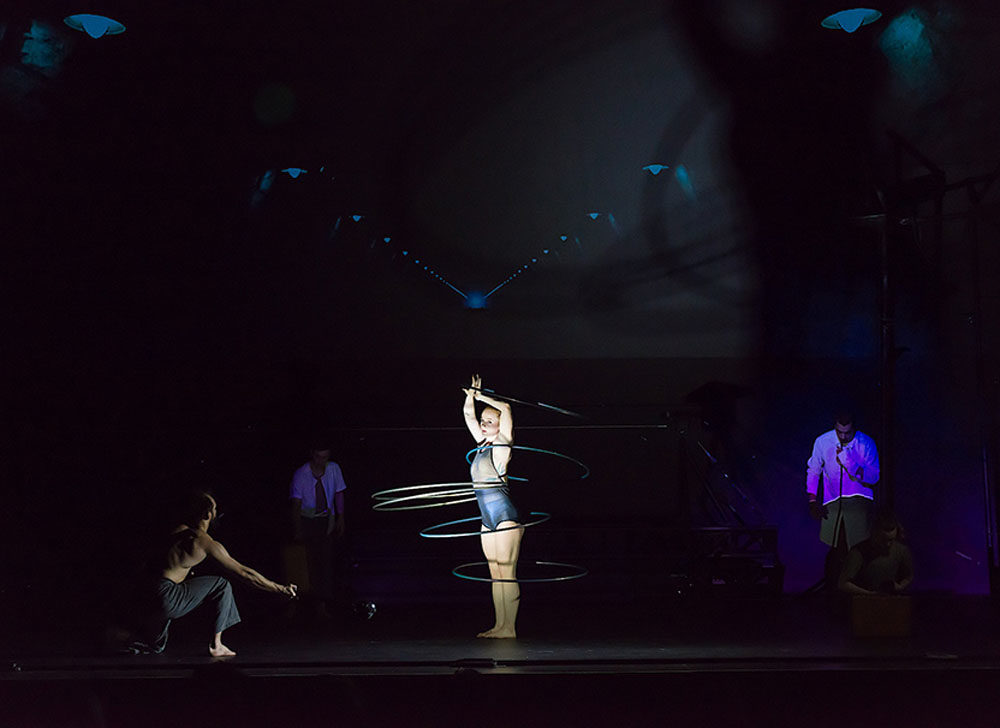 Schoellkopf says trust is naturally part of the work that they do. They have to learn to trust themselves and each other. "I think that describes travel as well. You have to have a sense of trust and letting go."
"Passengers" premiered in Montreal last fall and has since traveled to Russia, Chile, France, Scotland and Germany. Schoellkopf says it's been interesting to see how each culture experiences the show differently.
"The theme is very relatable, but in each place people have these different relationships to traveling — to leaving and returning," says Schoellkopf.
This is a return to ArtsEmerson for Carroll, the show's creator, where she has also directed "Cuisine & Confessions," "Séquence 8," "Traces" and "Psy."
"As one of our earliest supporters and programmers, ArtsEmerson has been critical in launching our American tours," Carroll said in a statement. "Returning to Boston each time is like a home away from home; we are lucky to now have circus-educated audiences who have followed our trajectory and embrace our hybrid form of acrobatic theatre."
---
"Passengers" runs from Sept. 25 to Oct. 13 at the Emerson Cutler Majestic Theatre.