In 'The Purists,' A Disparate Group Finds Common Ground — And We Get A Lot Of Laughs
If further proof were needed that standards change over time, "The Purists" is a play full of oral sex jokes, F-bombs and accusations about racism, homophobia and cultural appropriation. And yet the world premiere at the Huntington Theatre Company is far more charming than transgressive.
It helps that the Huntington has teamed a gifted young playwright, Dan McCabe, and director extraordinaire Billy Porter ("Kinky Boots," the Huntington's "Topdog/Underdog") with a superb quintet of actors. McCabe is white and Porter black. John Scurti plays Gerry, a gay white version of Jackie Gleason's Ralph Kramden, who loves musicals and loathes hip-hop. Morocco Omari is Lamont Born Cipher, a first-class black rapper who wants hip-hop to reflect black pride, but is turned back by producers who want sex and violence to dominate the genre. Mr. Bugz and Val Kano are also dedicated hip-hoppers while Nancy Reinstein lives in both Gerry's and the rappers' worlds.
They all congregate around the stoop of an apartment building in Queens and if convening these disparate folks seems forced, it never plays that way, with credit going to all of the above for navigating the path so dextrously. Porter, perhaps better known for his acting chops in FX's "Pose," and McCabe are interested in presenting a world in which the five characters can stay true to their selves — keep it real, as they prefer to say — while finding common ground and affection.
That sounds a little kumbaya, but with insults — very clever insults — flying and take-no-prisoners cultural stances planted, the sparks are maximal, the hugs are minimal. We're urged to enjoy these characters, not to empathize with them.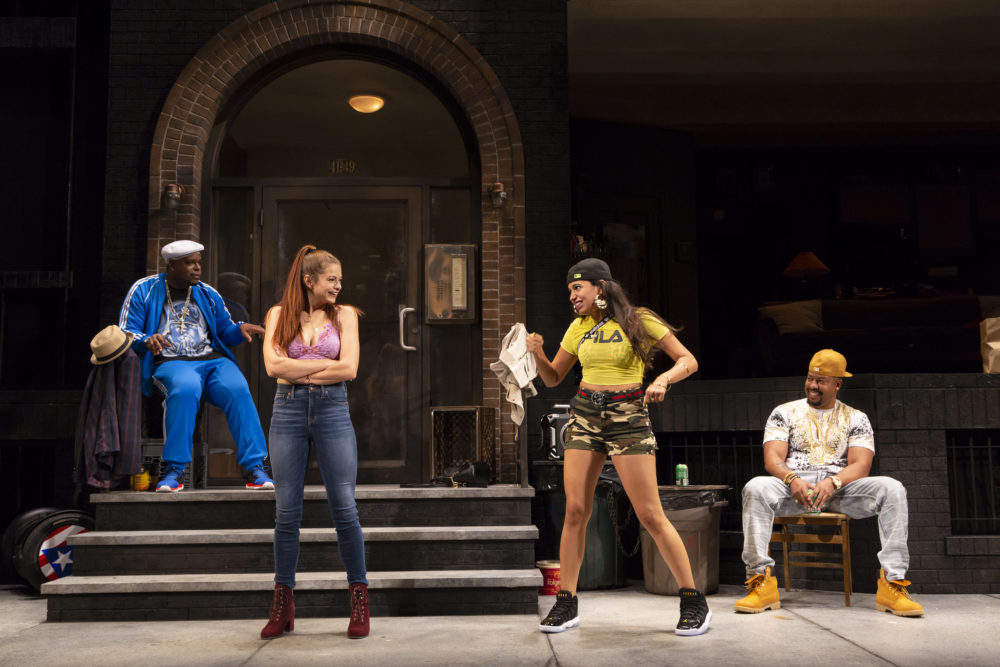 And I dare you not to enjoy them. Their timing, particularly Scurti's, is impeccable. Analisa Velez as the Puerto Rican rapper, Val, has as many moves on the dance floor as Michael Jordan did on the basketball court. Even when she's standing still she moves.
Oh right, the story. Gerry is a former millionaire who threw it all away and is now a telemarketing director prone to walking around in his underwear. Clint Ramos' set cuts ingeniously from his slovenly apartment to the stoop outside, where DJ Mr. Bugz (J. Bernard Calloway) and rapper Lamont trade rhymes and recriminations, all seemingly in good fun. The high-spirited Val finds easy acceptance in their midst and curmudgeon Gerry is along for the ride despite his distaste for the music.
One of his workers, Nancy, cajoles a meeting with her rap idols, even though she's equally at home talking musical theater with Gerry. There's a fun scene where they're debating Cole Porter vs. Stephen Sondheim while Lamont and Mr. Bugz are doing the same with Run-D.M.C., Public Enemy and their contemporaries. The big showdown, though, is the hip-hop battle between the two women. Nancy has come up with a hip-hop musical about Amelia Earhart and Val tears her ideas down with rap abandon.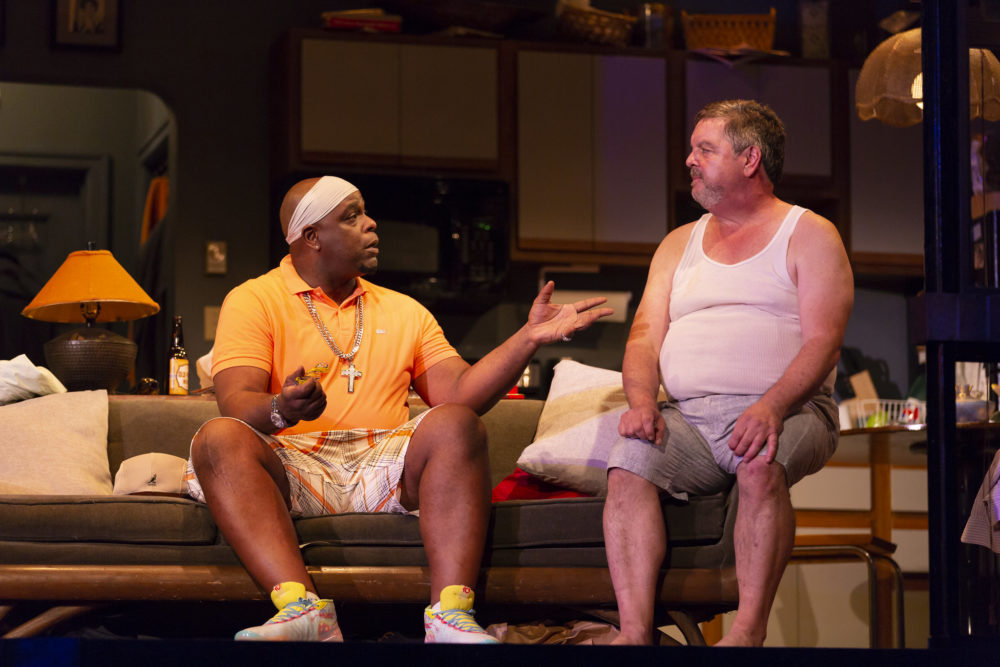 Along the way issues are thrown into the mix — Lamont laments the appropriation of black, alpha-male hip-hop by everyone from Nancy to Eminem; he, in turn is accused of homophobia and sexism; Gerry recalls the AIDS epidemic and asks Lamont if he knows what it's like to be constantly fearful of death, to which he replies, "I'm a black man in America."
For all that, McCabe doesn't go anywhere that feels particularly deep or dangerous. "The Purists" can sometimes seem like a network sitcom with naughty words. It's reminiscent of plays by Stephen Adly Guirgis, such as the recent "Between Riverside and Crazy," which also brings together disparate social misfits who approach common ground. Guirgis, though, has a more transgressive, less moralistic strut to his writing. As a result there seems more at stake for characters and audiences alike.
That said, "The Purists" succeeds at what it tries to do -- bringing its characters together in a way that they can stay true to themselves but nevertheless respect each other. And it does so with considerable humor and grace. There's not a boring moment or a false note in it. Despite their uncommon backgrounds, the quintet mix easily onstage, with McCabe giving them terrific lines and Porter choreographing their delivery. The production begins with the most rousing curtain speech you're likely to hear this year and ends with a fist bump. It would be disingenuous to say that in between is a guidepost for laughing our differences away in a time when ideological purists are holding sway. But let's take our laughs, and our commonality, where we can find it, and there's plenty of both at the Huntington's world premiere of "The Purists."
---
"The Purists" continues at the Huntington Theatre Company through Oct. 6.