Stephen Adly Guirgis Returns To SpeakEasy — Hilarity Ensues. So Does Great Theater.
Stephen Adly Guirgis makes you almost wish you were living on the edge with his characters. It isn't that they are having the time of their lives. They're often pretty desperate, less in search of the American Dream than lurching to escape the American Nightmare.
Yet without sentimentalizing them, Guirgis makes them feel like you'd want to be in their company — the schemers and the schmoes, the bad cops and the church ladies, sharing a joint with them or having an otherworldly visit from said church lady. (Talk about making a blind man see.) This isn't slumming; it's simply being open to Guirgis' new American, darkly comic melting pot where people speak their minds in ways that would make David Mamet blush while finding a sense of community that would make August Wilson or Annie Baker smile.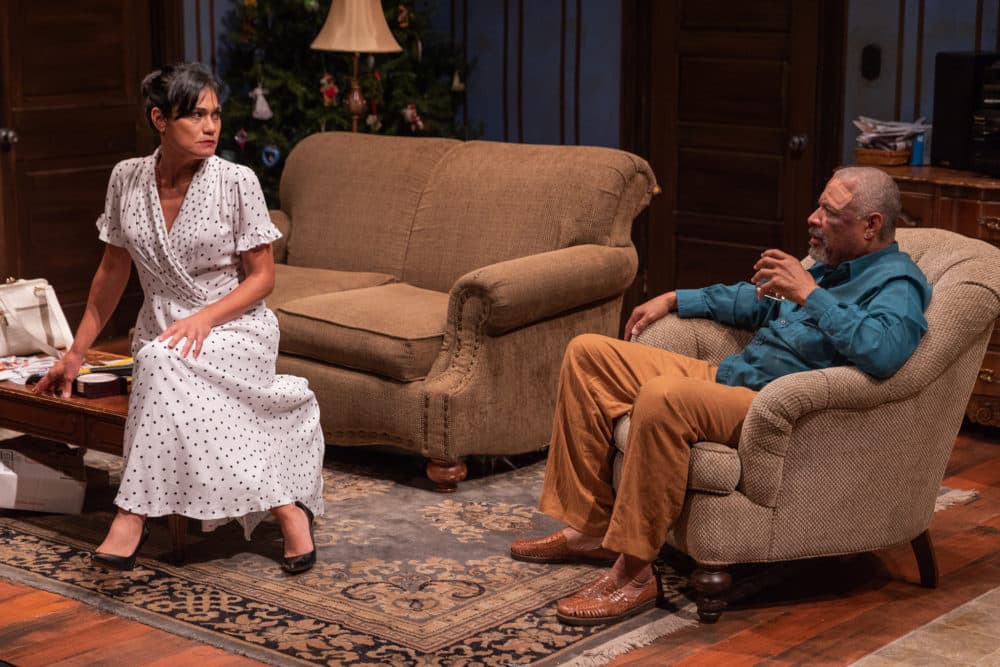 When Guirgis brings his people together, though, you know that it's going to be a rocky, often uproarious road to redemption. You can get that just from the titles – "Jesus Hopped the 'A' Train," "Our Lady of 121st Street" and, of course, "The Motherf---er with the Hat" – all of which received highly-acclaimed productions in Boston.
Ditto his latest, the 2015 Pulitzer-Prize winning "Between Riverside and Crazy" (through Oct. 13) receiving a very strong production from SpeakEasy Stage Company, the same folks who brought Mr. Motherf---er to town with such skill and sharp humor.
Both are in ample supply in the new play, the "Riverside" referring to a rent-stabilized apartment in New York presided over by Walter "Pops" Washington, a black cop who was immobilized by a white rookie who years ago shot him six times while he was off-duty in an after-hours bar. Pops holds court in a rent-stabilized apartment filled with his son, Junior; the son's fiancée, Lulu: and the son's friend, Oswaldo, who's trying to get clean.
If the opening scene seems like an HBO version of the old sitcom, "Sanford and Son," with a great Tyrees Allen in the Redd Foxx role, rest assured that we are in Guirgis' America, not Norman Lear's. With the arrival of Pops' son, Junior, who appears to be selling stolen goods, tensions and accusations begin to multiply. Two white cops, Pops' ex-partner and her fiancé, enter in an ensuing scene, seemingly with tidings and joy — until the fiancé begins trying to bribe/threaten him into leaving the apartment, which would endear him to his bosses and the moneyed interests who would love to redevelop the real estate.
This isn't good guys vs. bad, though. These are nuanced characters who all get nuanced performances from a terrific cast under the guidance of director Tiffany Nichole Greene. I thought the opposite was true of Greene's last effort in Massachusetts, "Well Intentioned White People" last summer at Barrington Stage Company.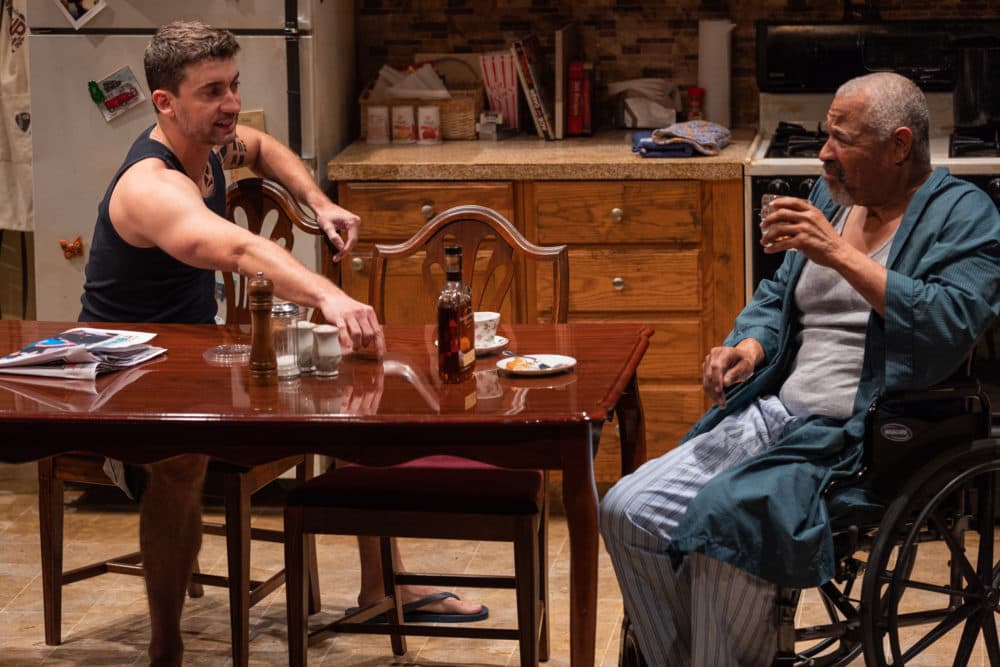 But here she gets to show her stuff when she has something to work with. The pace is slower than I've often seen with Guirgis' plays, but the better to luxuriate in the interplay. Allen's Pops is the star, but there's wonderful stuff from just about everyone in the cast, all of whom show two distinct sides of the human condition. I was particularly struck by both the compassion and the menace in Simoes' Oswaldo, but SpeakEasy hopped the A game with the entire cast.
In the end, the play could have been called "Between Riverside and Redemption," though they all do go through "Crazy" to get there. Here's Pops explaining to Lulu, why he took a perp with a knife in his head to get a beer:
"See, the man, Lulu, was in shock from his injury — and the second they pulled that knife out from his head, he was only going to hemorrhage and be immediately dead. Couldn't happen any other way. That's just the luck of the draw when you got a big knife in your head — or any foreign object when it's embedded that deep for that matter. So I had a beer with him. The man was gonna die alone — I figured he didn't have to drink alone too. Ya know?"
There was one act of forgiveness I found hard to buy, but if Guirgis wants to be a better man than I, I'm not complaining. Not after all he's done to get there. And the next time I see a man with a big knife in his head, I'm gonna buy that guy a Guinness.