2nd Human EEE Death Reported In Mass.
A Freetown man in his 70s has died after contracting Eastern equine encephalitis, the town's board of health confirmed Friday. His death marks this year's second fatality linked to the virus in Massachusetts.
The Bristol County man was also the 10th Massachusetts resident infected with EEE this year, according to the state's Department of Public Health.
"We continue to emphasize the need for people to protect themselves from mosquito bites," Public Health Commissioner Monica Bharel said in a statement. "The unusually warm weather expected this weekend will increase outdoor activity among people and mosquitoes. It is absolutely essential that people take steps to avoid being bitten by a mosquito."
The state now lists 35 cities and towns at critical risk for EEE, with 40 at high risk and another 128 at moderate risk.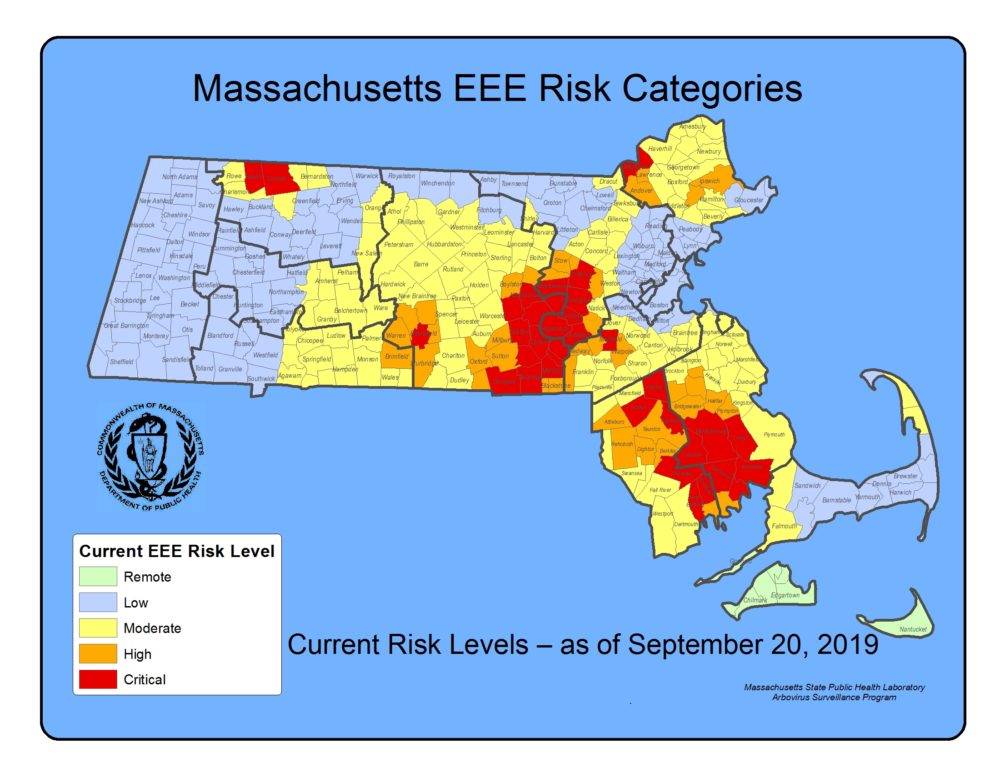 The Mass. Department of Agricultural Resources will begin aerial spraying of insecticides over Bristol and Plymouth counties Friday night and continue through the weekend.
Usually found in "veterinary animals," like horses and goats, EEE is a virus that attacks the central nervous system and can cause permanent damage.
In August, Fairhaven resident Laurie Sylvia died after contracting EEE.
The 10 human cases confirmed this year are the first reported in Massachusetts since 2013. Outbreaks occur sporadically, according to public health officials. There were 22 confirmed human cases of EEE during the last two outbreaks, from 2004-2006 and 2010-2012.
This year has been particularly active for the virus, according to Massachusetts state epidemiologist Catherine Brown.
"We have to go back to the 1950s to find a year where we had more cases in one year than we had recently," she said.
Brown said the higher-than-normal rainfall this year could be a contributing factor to the strength of this year's outbreak.
"Whenever you have extra water, it means you will have larger mosquito populations because they use water to breed," she said.
While human cases of EEE have spiked this year, it's been a mild season for West Nile virus. The state on Friday reported the year's second human case.