Scenes From The Youth Climate Strike In Boston
Resume
Thousands of young people from Massachusetts joined their counterparts across the world to stage a "climate strike" on Friday, demanding politicians and other adults in their lives take bold and immediate action on climate change.
The crowd, which filled much of Boston City Hall Plaza, was youthful, diverse and full of optimism. Officials estimate that 7,000 people were in attendance.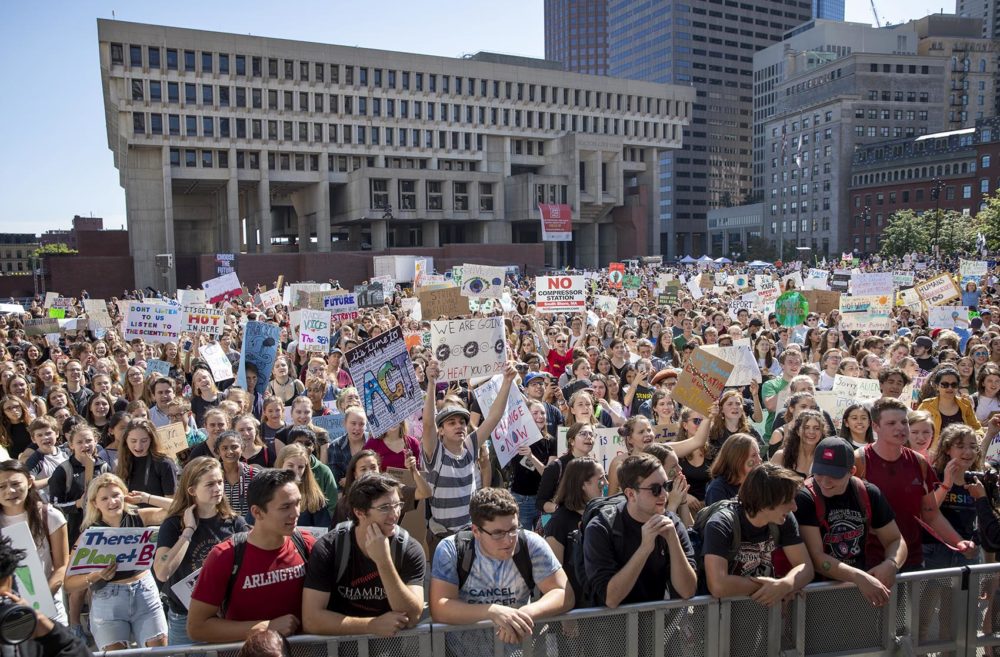 "We are striking for the era of the Green New Deal," organizer Saya Ameli Hajebi, of the youth-run climate activist group the Sunrise Movement, said to a cheering crowd. "And nothing, I mean nothing, can stand in the way of the power of all of our voices combined."
Many in attendance said they had grown tired of adult naysayers challenging their convictions.
"They say youth can't do much," 19-year-old UMass student Maria Rodriguez said. "But look at what we did, how many people are here. A ton of people showed up. And it's amazing."
Among the first orders of business was poster-decorating and chalking. Beginning around 10 a.m., young climate activists put into words why they came to protest:
"There's no planet B"
"Climate denial is not a policy"
"The seas are rising. So are we."
Formal speeches began at 11:30 a.m. and lasted about two hours. In addition to youth organizers with Massachusetts Climate Strike, speakers included former EPA Administrator Gina McCarthy, Boston City Councilor Michelle Wu, Mayor Marty Walsh and Hartman Deetz of the Mashpee-Wampanog tribe.
"We cannot afford to lose because this is not a matter of who is rich or who is poor. It's a matter of who's alive and who's not," Deetz said.
Around 1:30 p.m., Boston police temporarily closed Tremont and Park Street as thousands of chanting people — many pumping colorfully decorated signs high into the air — made their way to the State House to formally request their three demands:
That Gov. Charlie Baker declare a statewide climate emergency.
That lawmakers pass policies that help people who live in already poor and polluted areas.
And that Massachusetts stop using fossil fuels, and stop building infrastructure to support it.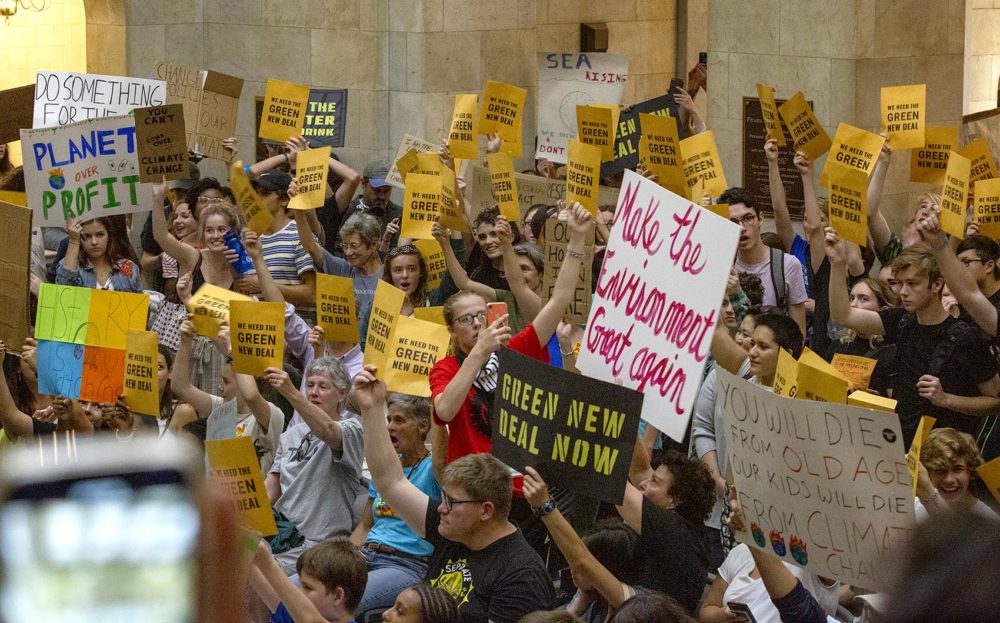 Once at the State House, about 100 activists marched inside to hold another mini-rally, while the majority stood outside the front gates and kept protesting.
"I'm here because these government people think that we can put oil in the ocean and destroy the planet just because they're rich and we're not," 9-year-old Charlie Berg, of Dorchester said. He proudly showed off the sign he made.
"My sign has two Earths. One of them is what will happen if we don't act — it's basically dead, it's on fire, caution signs, toxic stuff. And the other one is what we want it to be. It's happy with the snakes and tigers, and the Earth is smiling.
"[My sign] says, 'Pick a side.' "
The youth climate strike in Boston is just one of the thousands of similar rallies organized around the world ahead of next week's United Nations climate summit in New York.
More photos and scenes from the demonstration: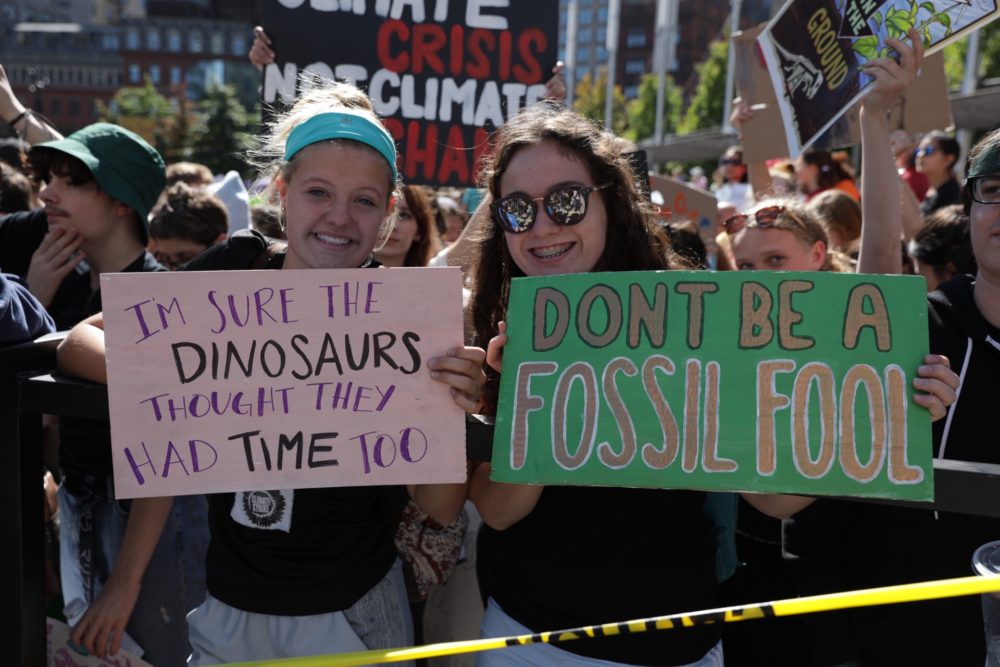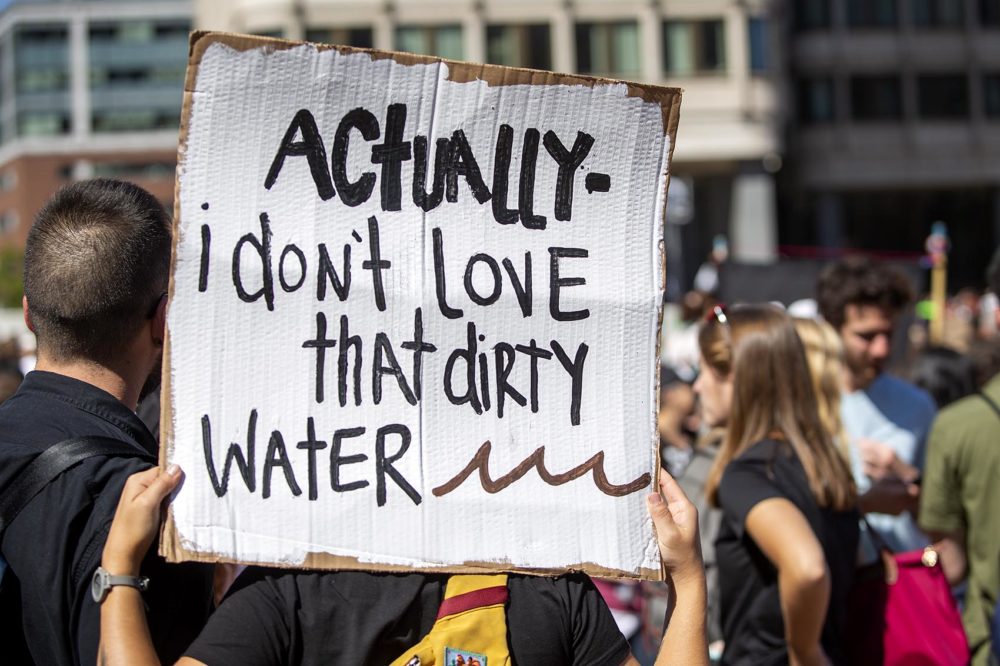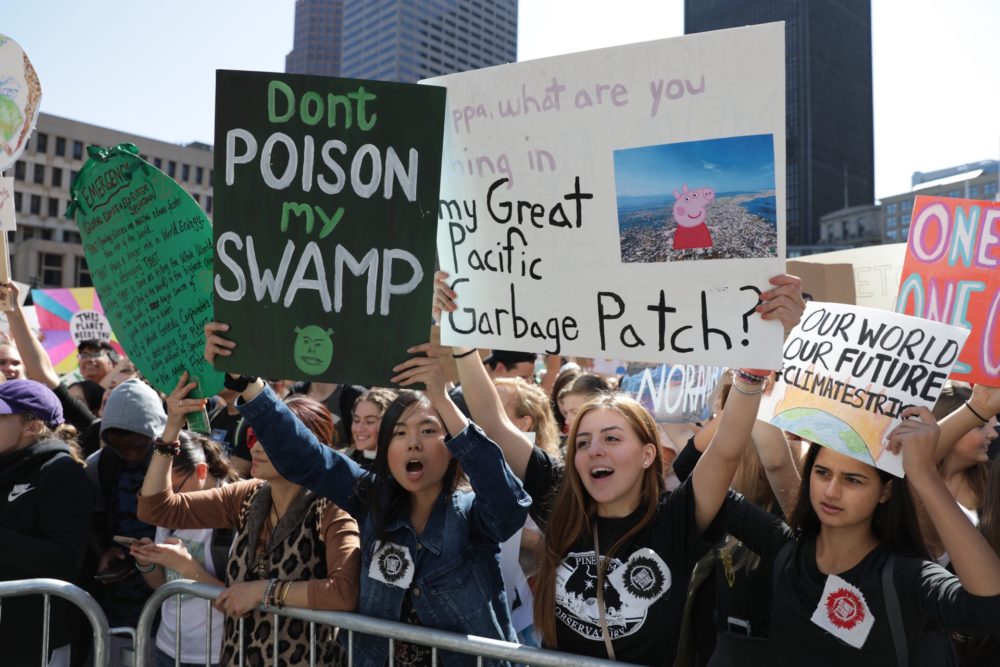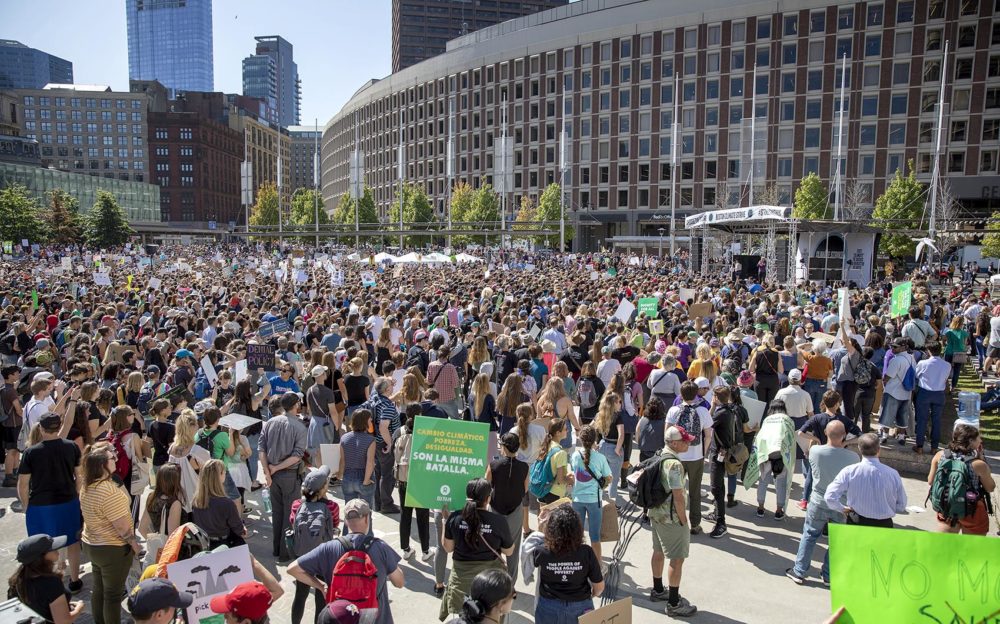 This story is part of "Covering Climate Now," a week-long global initiative of over 250 news outlets.
This article was originally published on September 20, 2019.
This segment aired on September 20, 2019.