Mass. Members Of Congress Cheer Pelosi's Decision To Move Forward With Impeachment Inquiry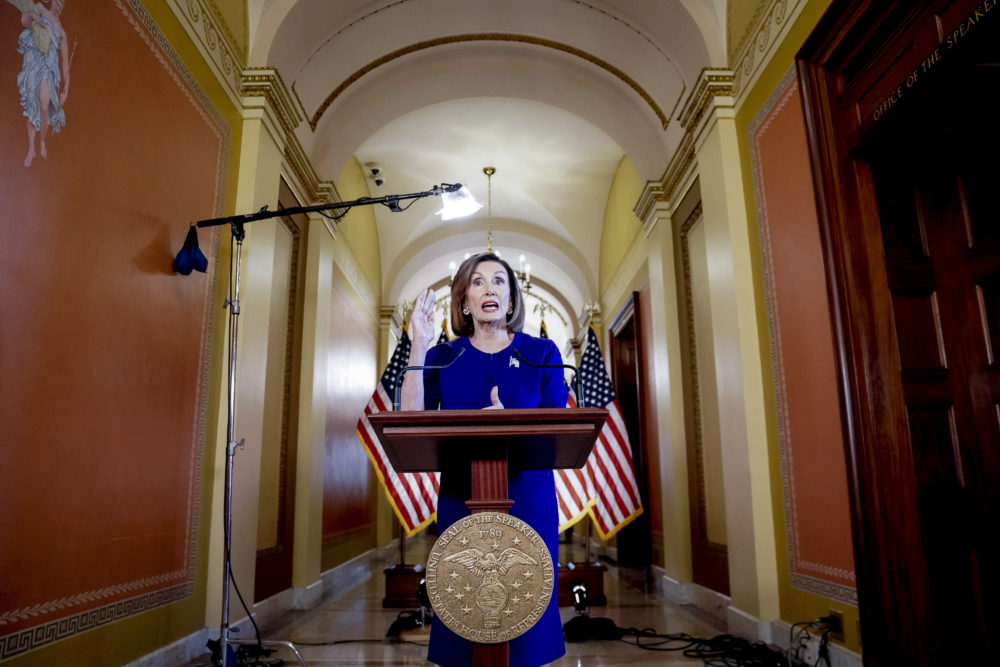 This article is more than 1 year old.
"No one is above the law," Speaker Nancy Pelosi said Tuesday, after announcing that the House will begin a formal impeachment inquiry into President Trump.
Massachusetts Democrats cheered the decision.
As NPR reports:
The landmark move comes after controversy over a phone call Trump had with the newly elected Ukranian leader in July and reporting that the president pressured him to investigate [his] political rival, Joe Biden.
Trump has maintained that he did nothing wrong. "PRESIDENTIAL HARASSMENT," the Republican said in one of several tweets following Pelosi's announcement.
Trump's campaign manager said Democrats' move will "embolden and energize" the president's supporters.
Most members of Massachusetts' all-Democratic congressional delegation had already backed the start of an impeachment probe — even before the news of Trump's Ukraine call.
And after the speaker's decision Tuesday, the two holdouts — Reps. Richard Neal and Stephen Lynch — joined their Massachusetts colleagues in supporting the inquiry.
Here's a sampling of the delegation's reactions:
Rep. Neal:
I strongly back Speaker of the House Nancy Pelosi's call today for a formal impeachment inquiry into President Donald Trump. While I acknowledge the separate impeachment investigations being conducted in Congress have done critically important work of following the facts, I believe we have now reached a tipping point. The extraordinary reports this week that President Trump encouraged the Ukrainian president to investigate the son of Vice President Joe Biden, and withheld nearly $400 million in military aid in the process, has taken us to a new stage. It is time that President Trump be held accountable for his actions. I will also vote for a resolution in the House tomorrow expressing disapproval of the Trump administration's continuing effort to withhold urgent national security information from Congress. The American people expect truth and transparency from their government.
Rep. Lynch: 
Sen. Warren (and presidential candidate):
Sen. Ed Markey:
It is an ignominious moment in our history that Donald Trump has provided evidence in droves that he should be impeached. Even before the latest wrongdoing involving Ukraine, Donald Trump welcomed foreign interference in our elections to serve his personal and political interests. He obstructed Special Counsel Robert Mueller's investigation. He engaged in unprecedented obstruction of Congressional efforts to engage in constitutionally authorized oversight of his administration, including refusing to comply with duly issued subpoenas. Emboldened by his stonewalling, Donald Trump doubled down, acknowledging that he withheld foreign aid from Ukraine as he threatened that country's president into investigating and smearing his political opponent, resulting in the unlawful withholding of a whistleblower complaint that brought the matter to light.

Donald Trump, by his words and deeds, has left Congress with no choice but to begin an impeachment proceeding in order to protect our national security, our election security, our rule of law, indeed, our very democracy. There is no place for Donald Trump to hide."
Rep. Katherine Clark:
The President has, once again, trampled on our constitution and now our national security hangs in the balance. He solicited help from a foreign government for his personal political gain. This corruption cannot be allowed to continue.

Today, House Democrats are opening a formal impeachment inquiry to protect the integrity of our democracy. We will be relentless in exposing the truth, protecting our national security, and ensuring that every American vote is counted.
Rep. Seth Moulton: 
This morning, the freshmen members of Congress who served our nation in defense and national security roles demonstrated moral courage and lived by their oaths to protect and defend the Constitution by calling for impeachment. I swore this same oath when I joined the Marines, and it is because of this oath that I have been calling for impeachment proceedings to begin since 2017. I am glad the House's leaders took the next step today. This is about national security, the rule of law, and patriotism, and it comes down to doing what's right. By his own admission, the president used foreign aid to bribe the leaders of Ukraine to attempt to get the upper hand in the 2020 election. That fits the definition of an impeachable offense in every sense. Congress must now hold President Trump accountable, and if members of his administration stall these proceedings, Congress should hold them in contempt.
Rep. Bill Keating: 
The President has acted to coerce a foreign power to undercut our country's national security and democracy, an action declared to be an 'urgent matter' by the Inspector General. The Constitution and our rule of law are at stake right now. We have a Constitutional obligation as a Congress to protect our country. We must move forward on a formal impeachment inquiry.
Rep. Lori Trahan:
Earlier this year, I called for an impeachment inquiry because of the President's disregard for the rule of law. President Trump's recent actions further underscore that he will always place his personal interests above the national security of the United States. The President has admitted to pressuring the Ukrainian government to investigate his political opponent and thus interfere with our democratic election. He did this while delaying over $400 million in military aid to that country. I strongly support Speaker Pelosi's decision to initiate a formal impeachment inquiry.
Rep. Joe Kennedy III:
Rep. Ayanna Pressley (from Tuesday morning):
This article was originally published on September 24, 2019.