Balla Kouyaté's Family Has Been Playing This Ancient Instrument For 800 Years
Resume
As a boy in Mali, Balla Kouyaté remembers playing the balafon to motivate workers on a farm. He was so small, he had to stand on a large rock to be seen by the crowd. An opportunity like that would often provide his family with enough food for at least six months, if not a year. The bubbling, penetrating sound of this African ancestor of the xylophone was an essential part of his upbringing, as consistent as laughter, an extension of himself.
"This is a constant sound in the family," Kouyaté said during a recent interview, "a constant sound. Like as long as we're not sleeping, you would hear this instrument."
Eight hundred years ago, emperor Sundiata Keita, who founded the Mali empire, appointed Kouyaté's family as guardians of the balafon. Since then, every male relative has learned to play what is considered a sacred instrument. They're oral historians, musicians and performers that hold the history of the Mandé people of Mali, Guinea and other nations. Thus, to play the balafon is Kouyaté's inheritance, a sacred rite.
As soon as Kouyaté could sit up, a mallet was placed in his hand. In the Mandinka language, the tradition Kouyaté was raised in is known as "djeli." The roots of this word means blood. Those who play the balafon are the bards of their people.
Last Wednesday, the National Endowment for the Arts honored Kouyaté as a 2019 NEA National Heritage Fellow, the nation's highest honor in folk and traditional arts.
"That's my goal, to put the balafon on the map," Kouyaté said. "When you talk about violin or piano or trumpet, no one would tell you, 'Oh what's that?' "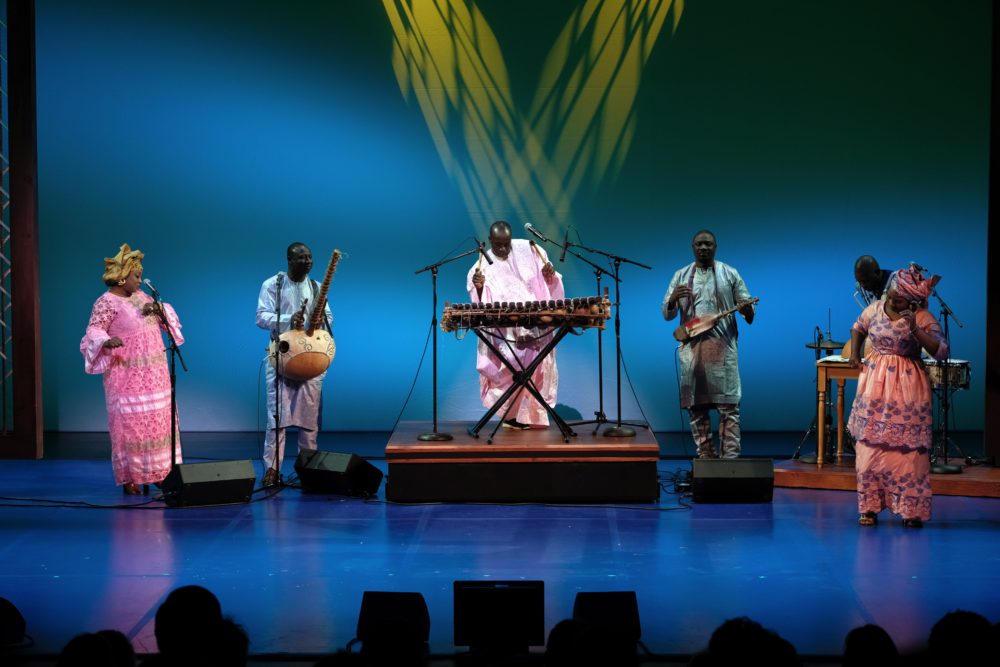 On a recent Monday, Balla Kouyaté plays the balafon in his mother-in-law's living room in Quincy. We met here because there was construction in his nearby Medford home. Kouyaté has been in the United States for about 20 years since emigrating from Bamako, the capital of Mali.
Here, in this home of dark wood furniture and beige and blue hues, eastern and western musical tastes blend together. During Christmas holidays, Kouyaté plays the balafon for his family, while his brother-in-law plays the piano. They trade off playing ancient African songs and oldies by Neil Diamond.
"For me, I would say there's nothing in this world that would make me happy more than playing this instrument," Kouyaté said. "I hope I can be a millionaire or billionaire one day but even if I have a billion [dollars], it won't make me happy more than playing this balafon."
A balafon consists of 21 slats made of rosewood. These slats, which serve as the keys, are tied together with nylon strings, or sometimes antelope or goat skin. Bamboo trees make up the thin base and underneath each key are gourds to amplify the sound.
Kouyaté said he only intended to stay in this country for two months when he first visited with his sister, but he fell in love with his wife, Kris, and ended up staying two decades. Now the father of two teaches at the New England Conservatory.
"I want to talk about the art [of playing the balafon] because a lot of people think it is only about discipline in music. It's also about the beauty," Kouyaté said. "That's why getting this award is not just for me ... this is about my family, my legacy, my nation, the whole continent. It's not just being a great player, but the history behind it."
As soon as his son could sit up, Kouyaté put a mallet in the boy's hand and began teaching him the balafon in their Medford home. After all, there's still a lineage to preserve. The world's oldest balafon is known as the Sosso-Bala. It resides in Kouyaté's father's home village of Niagassola on the Mali-Guinea border.
In 2001, the Sosso-Bala was named a masterpiece of the oral and intangible heritage of humanity by UNESCO. Brought out of its hut once a year for ceremonial playing, the 13th-century instrument cannot leave the village unless it is carried on the back of its keeper.
When Kouyaté's 98-year-old father eventually passes, the Sosso-Bala is passed on to the next oldest man in the family, which could one day be Balla Kouyaté.
"A lot of those songs we're playing are not just entertaining people, it's songs related to war, and songs related to happiness and celebrating the victory," Kouyaté said. "We are like the healers in our society."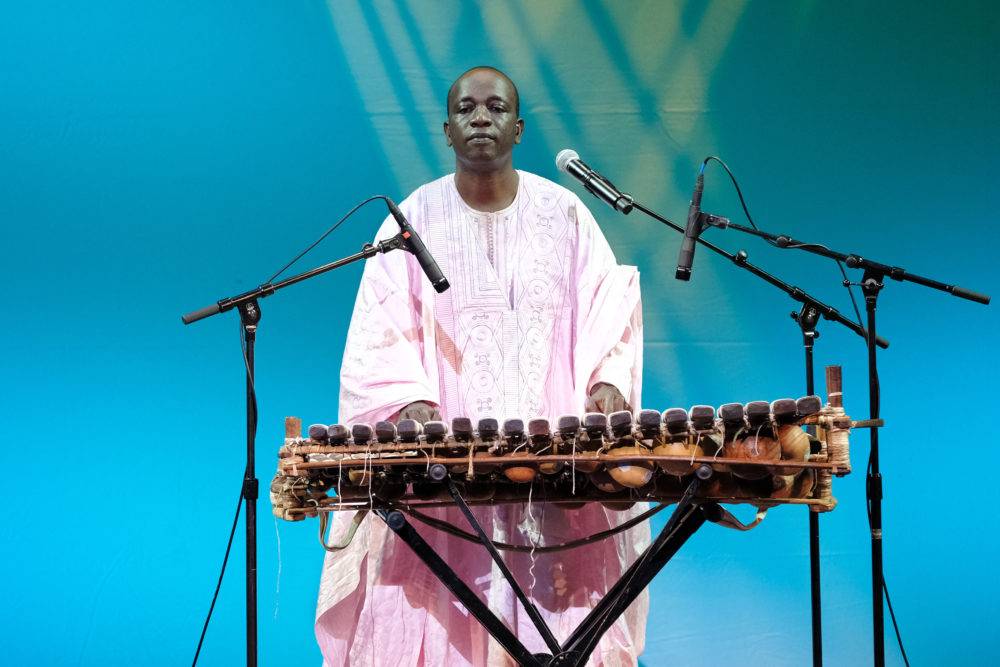 Kouyaté has added a second balafon when he plays, which provides the notes that the traditional instrument lacks and gives him a much wider range.
He's collaborated with the likes of Yo-Yo Ma and Angélique Kidjo. This day, he plays western scales and ends with the first portion of Beethoven's "Moonlight Sonata."
"I want to keep my tradition but at the same time I want to extend just to be able to play with other artists," Kouyaté said.
Maggie Holtzberg, folk arts and heritage program manager at the Mass Cultural Council, nominated Kouyaté for the award.
"You're competing with artists from all across the United States and not just musicians," Holtzberg said. "You're competing with crafts people, dancers, people carrying on traditions that are rooted in their ethnic heritage or their work heritage such as maritime. We were thrilled to learn that Balla was one of the nine recipients this year."
Kouyaté's cousin, Diemory Kouyaté, traveled from Germany for the ceremony. He said Balla's skills always stood out.
"He's an exception in our family because he's very talented," Diemory Kouyaté said. "I can play balafon. We have many players in the family. No one can play as he is doing ... today he's a real ambassador to us, a real ambassador of the family."
The djeli are there to soothe the senses. They are sometimes brought into mediate between husbands and wives or counsel the president. They serve as peacemakers.
This is Kouyaté's legacy, his heritage. The balafon is the soundtrack of his life.
This segment aired on September 27, 2019.