The Classical Music Events Not To Miss This Fall In Boston
This article is more than 3 years old.
Dear Readers,
Here's a short list of what are to me the most indispensable (or at least the most interesting) classical music events this fall. Some of these I wouldn't dream of missing. Some of these I'll be forced to miss because of scheduling conflicts. All of these I'll be eager to hear about from you.
Happy listening!
Orchestral Excitement
Last April, Gustavo Dudamel, music and artistic director of the Los Angeles Philharmonic and one of the world's most beloved conductors, was a guest of the Boston Symphony Orchestra and led the single most exciting concert I'd heard in years. It was an overwhelming and ravishing performance of Stravinsky's "Sacre du Printemps" ("The Rite of Spring"), the most thrilling version I've heard of this piece except for the ones conducted by the late Pierre Boulez. Unfortunately, he had to cancel the latter half of his scheduled performances because an old arm injury had begun acting up. But thanks to the Celebrity Series of Boston, Dudamel will be back, this time with his own orchestra, and they'll be playing the Stravinsky! It's on a program with superstar pianist Yuja Wang, in the Boston premiere of John Adams' piano concerto, "Must the Devil Have All the Good Tunes?" Pray there are still some tickets left. (Symphony Hall; Nov. 23, at 2 p.m. — note the unusual time)

Andris Nelsons, music director of the BSO, will, of course, be leading a bunch of BSO programs, including several with members of the Leipzig Gewandhaus Orchestra, the distinguished group Nelsons also directs. But the BSO program I'm especially looking forward to is the one led by the Finnish conductor Susanna Mälkki — a superb musician making her long overdue return and a musician especially admired for her performances of challenging contemporary music. Her program here includes music by Fauré (the exquisite "Pavane"), Messiaen (a movement from an early symphony), Debussy's "La Mer" (a BSO signature piece since its American premiere in 1907 — I can't wait to hear Mälkki's take on this hypnotic masterpiece), and the American premiere of a piano concerto by the Swiss composer Dieter Ammann, with the refined Swiss pianist Andreas Haefliger (son of the refined and greatly esteemed tenor Ernst Haefliger). (Symphony Hall; Oct. 24 to 26)
Benjamin Zander's Boston Philharmonic has been going strong for some 40 years. Zander has never tired of re-exploring familiar classics. The first concert of the season is very appealing: Mozart's Overture to the "The Magic Flute," Brahms's great Second Piano Concerto with young Italian pianist Alessandro Deljavan, and Bartok's ever fresh Concerto for Orchestra. (Jordan Hall and Sanders Theatre; Oct. 17, 19, and 20)
Zander is also the conductor of the phenomenal Boston Philharmonic Youth Orchestra. Their fall concert features the extraordinary young Boston violinist Stefan Jackiw in the irresistible Mendelssohn Violin Concerto, on a program that also includes Verdi's stirring Overture to "La Forza del Destino" and, a Zander specialty, Mahler's haunting (and haunted) Symphony No. 1. (Symphony Hall; Nov. 24)

---
Intimate Chamber Music
Surely the season's most unusual concert will be the Celebrity Series' tribute to the great (the greatest?) cellist Pablo Casals. Nine stellar cellists (try saying that fast seven times) will be playing, as a group and individually, a program of music by Bach (a solo cello suite, of course!), Fauré, Saint-Saëns, Mendelssohn, an original piece by one of the cellists, Mike Block of the Silkroad Ensemble, and two pieces by Casals himself, one a Boston premiere. Among the cellists are the chair of the New England Conservatory's string department, Lluís Claret (who happens to be Casals' godson); BSO principal cellist Blaise Désjardin; the Borromeo Quartet's Yeesun Kim; Triple Helix's Rhonda Rider, and four other notable players, some with an interest in jazz and improvisation. Pei-shan Lee is the piano accompanist. (Union United Methodist Church; Oct. 18) The tribute will continue with an all-cello orchestra, some 50 cellists, some of the all-stars returning with a number of student payers for a varied program. (Wimberly Theatre; Oct. 20)
That same Sunday, the Boston Symphony Chamber Players offer a sensational program of modern masterpieces by Stravinsky, Virgil Thomson, Elliott Carter, Sofia Gubaidulina, and an all too rare performance of Manuel de Falla's Harpsichord Concerto (with harpsichordist Paolo Bordignon). (Jordan Hall; Oct. 20)

The extraordinary Borromeo Quartet will be completing its Mendelssohn quartet series with two concerts at the Isabella Stewart Gardner Museum. As they're wrapping up their series, what a delicious way for the rest of us to begin the season. (Calderwood Hall; Sept. 14 and 15)
Violist Marcus Thompson's Boston Chamber Music Society offers monthly chamber concerts with programs of wonderful music you really want to hear. The season opens with a program of a Haydn Trio (these marvelously inventive piece never get played often enough), the powerful and moving (and gorgeous!) Shostakovich Quintet (I'd argue his greatest work in any genre), and one of Mozart's sublime masterpieces, his C-major String Quintet. The appearance of so many violas guarantees the appearance of Thompson in his performing mode, one of the great pleasures of the Boston music scene. (Sanders Theatre; Sept. 22)
---
Singing Out Loud
Odyssey Opera with music director Gil Rose return with another one of their thoughtful and unusual seasons, this time a series of five rarely performed operas and a world premiere all devoted to the Tudors. In the fall, the operas are a concert performance of Saint-Saëns' "Henry VIII" and a fully staged version of an even greater rarity, "Maria, Regina d'Inghilterra" ("Mary, Queen of England") by Giovanni Pacini, an Italian composer who overlaps with Rossini at the beginning of the 19th-century and Verdi in the middle of the century. "Maria" is the 53rd of Pacini's 80-odd operas, and dates from 1843, after Verdi's first success but before any of his great work, and was based on a Victor Hugo play about Mary Tudor, almost complete fiction. Chances are you, like me, have never seen a Pacini opera. How could any real opera lover pass up this opportunity? (Huntington Avenue Theatre; Nov. 1 and 3)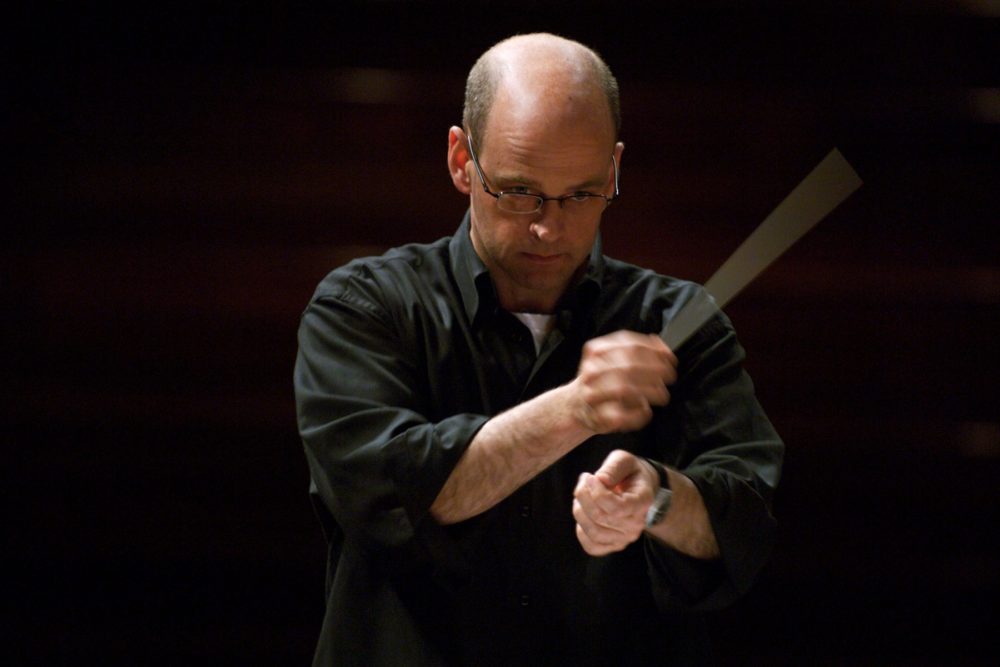 I've gained new respect for the Boston Lyric Opera after last spring's powerful production of Poul Ruders' "The Handmaid's Tale." It's rare for the BLO to have as important and imaginative a stage director as Anne Bogart, and she had to work in Harvard's basketball court. If I were reviewing it, my headline would have been "BLO Grows Up." The new season sounds promising, beginning with the company's very first production of one of the most popular operas in the repertoire, Leoncavallo's tuneful and colorful melodrama "Pagliacci" ("Clowns"), sung in both Italian and English, with supertitles (if there are supertitles, why does the opera need to be sung in English?). We're promised "a carnival-style installation that mirrors the 'play within a play' of the opera and invites audiences to step into the drama." Let's hope this is more than just hype. (DCR Steriti Memorial Rink; Sept. 27, 28, and Oct. 2, 4, and 6)
BLO's other opera this fall adds to its list of contemporary works. Gregory Spears' "Fellow Travelers," with a libretto by Greg Pierce, which premiered in 2016, tells of a dangerous gay liaison in the McCarthy era. Major New York critics found much to be admired. (Emerson Paramount Center; Nov. 13, 14, 16 and 17)
Cerise Lim Jacobs must be the director of the first opera company to center on a librettist. She has written librettos for a handful of operas, all of which have been produced, with music by some distinguished composers (I didn't much like her first attempt, "Madame White Snake," but it won composer Zhou Long the 2011 Pulitzer Prize in music). Jacobs was born to a Chinese family in Singapore and worked as a lawyer specializing in criminal defense and patent issues. Her White Snake Projects website describes the enterprise as "an activist opera company founded and led by an immigrant woman of color." Her latest opera, "I Am a Dreamer Who No Longer Dreams," "an immigration opera on the plight of dreamers," is about the opposite experiences of two girls from completely different backgrounds. (Emerson Paramount Theatre; Sept. 20-22)
---
Early Birds
The Boston Early Music Festival is presenting an enticing evening of Baroque vocal music. And they're betting that this event will be so popular, they're scheduling two performances. I'd predict that they're being too cautious. Boston's endearing Baroque soprano Amanda Forsythe will be joined by her co-star in BEMF's sensational 2011 production of Steffani's "Niobe," the celebrated French countertenor Philippe Jaroussky, one of the true artists of Baroque singing.
The concert is the last leg of Jaroussky's North American tour this fall and is related to his 2017 CD "La Storia di Orfeo," a narrative made up of a selection of vocal and instrumental music culled from three 17th-century operas about the Orpheus and Eurydice myth — by Claudio Monteverdi, Luigi Rossi and Antonio Sartorio. The BEMF Chamber Ensemble is, happily as always, led by Paul O'Dette and Stephen Stubbs. (Jordan Hall; Nov. 29, Dec. 1)
Amanda Forsythe also headlines the first concert in Boston Baroque's 2019-2020 season, an evening of Mozart and Haydn, with Boston Baroque director Martin Pearlman leading the oldest established period instrument orchestra in America. Forsythe will be singing Mozart and Haydn arias, including the sublime "Ruhe sanft" ("Rest gently") from Mozart's unfinished comic opera "Zaide," and the orchestra will play two symphonic masterpieces, Mozart's "Linz" Symphony and Haydn's Symphony in B-flat, No. 102. (Jordan Hall; Oct. 25 and 27)
Emmanuel Music begins its new season with Bach, the composer at the heart of its entire enterprise, in one of the master's most staggering masterpieces, the compendious Mass in B-minor. Music director Ryan Turner conducts. (Emmanuel Church; Oct. 26)
The Cantata Singers begins its 56th season with music director David Hoose conducting a rare performance of what was once one of Handel's most popular oratorios, "Solomon" — a work short on plot (the second act is devoted to the story of the wise king's threat to cut a baby in half; the third act focuses on the Queen of Sheba) but bubbling over with some of Handel's most brilliant music, for example, the so-called "Nightingale Chorus" and the dazzling orchestral piece known as "The Arrival of the Queen of Sheba." (Jordan Hall; Nov. 2)
The Handel & Haydn Society is the oldest choral group in this country. But the concert that intrigues me most is one without any choral music, led by the much admired Canadian conductor Bernard Labadie, on a return visit. It should be fascinating to hear Beethoven's heroic "Coriolan" Overture on early instruments, followed by H&H principal cellist Guy Fishman in C.P.E. Bach's Cello Concerto in A, and ending with Mozart's last and most viscerally exciting symphony, the magnificent "Jupiter." (Symphony Hall; Nov. 8 and 10)
Anne Azéma and the Boston Camerata are presenting a program called "Free America! Songs of Revolt and Rebellion" (1790-1860), music they call "the vital and life-affirming sounds of the young Republic" and "the rough-hewn sounds of citizen-composers," which "still ring true and strong today." (Boston's Faneuil Hall; Nov. 8)
---
Who Wants Yesterday's Papers?
Conductor David Hoose is as admired for his performances of modern music as he is for his older choral music. He opens the Collage New Music season with a fascinating program called "Distinguishing the Aesthetic(s)" with works by four modern masters. The writer Donato Mancini describes the percussive quality in Italian composer Giacinto Scelsi's "Okanagan" (1968), for amplified harp, tam-tam, and double bass, as sounding like "it's alternately being played on Dracula's casket and the hardwood leg of an out-of-service guillotine." Scelsi himself described it as "like grasping the heartbeat of the Earth." This will be followed by two seriocomic pieces, Tobias Picker's Octet (1978), Steve Mackay's "Five Animated Shorts" (2006). In a late change from Pierre Boulez's "Dérive 2," Collage will present one of the most intricately colorful and moving song-cycles of the 20th century, Elliott Carter's "A Mirror on Which to Dwell" (1975). This unique conjunction of two great figures —  Carter and Elizabeth Bishop — is the composer's setting of six Bishop poems, which alternate the intensely personal ("that world inverted… where the heavens are shallow as the sea/is now deep, and you love me") and the publicly, satirically political ("The gathered brasses want to go/boom — boom"). The intrepid soprano is Sharon Harms. (Pickman Hall; Oct. 20)
Conductor Richard Pittman founded Boston Musica Viva, our oldest ensemble devoted to new music, back in 1969. Pittman opens the fall season with a program of recent works called "Small Steps & Giant Leaps." The oldest piece on the program is Missy Mazzoli's 2012 "Set That On Fire." Patrick Greene's "Machine Language for Beginners" is a 2015 BMV commission, and Sebastian Currier's "Eleven Moons" (soprano Zorana Sadiq guest artist) was commissioned for BMV by Chamber Music America in 2018. All of these seem old compared to the newest piece, another BMV commission, an as yet unnamed world premiere by Kathryn Salfelder. (Pickman Hall; Oct. 5)
---
Ivory Tickling
The superb Russian-born pianist Sergey Schepkin started a series last year evocatively called Glissando. Last year he focused on Bach, and it was a big hit. This year Schepkin returns with a program celebrating the 250th birthday of Beethoven, which he's calling Beethoven+. The first two concerts will each focus on sonatas in more or less the same keys. The opening concert will be devoted to sonatas in F and F minor, including the famous "Appassionata." The sonatas at the second concert will be in either A or A flat, including the sublime late Sonata Opus 110. (First Church in Boston; Sept. 15 and Oct. 20)
---
Editor's Note: This post has been updated with an update to the program for Collage New Music. 
This article was originally published on August 30, 2019.