Here Are 12 Reasons To Put Theater On Your Fall Calendar
This article is more than 3 years old.
The purpose of theater, Hamlet says, is "to hold, as 'twere, the mirror up to nature." He might have added that the mirror swivels also toward the zeitgeist. So, this not being the dawn of the Kennedy era, you will not be seeing "Camelot." As many question what our nation is, where it's been and where it's headed, so too will autumn offerings on area stages.
They won't all be "American Utopia" — though David Byrne will bring the unique theater experience based on his 2018 album of the same name to town on its way to Broadway. There will also be a feel-good musical based on actual altruistic events in the wake of 9/11. But elsewhere, theaters will cast scathing eyes on our sometimes-spurious American mythology. Issues of race, class, sexual fluidity, diversity and immigration will be addressed. Music will be delivered via a gospel choir, street rappers and a Cambodian rock band. And a world premiere will center on a melting pot stirred up by a megalomaniac. Not this melting pot, not that megalomaniac. We're talking "Moby-Dick."
'The Purists'
Huntington Theatre Company at the Calderwood Pavilion
Aug. 30-Sept. 29
Tony- and Grammy-winning performer (for "Kinky Boots") Billy Porter, who helmed a memorable "Topdog/Underdog" for the Huntington, is once again in the director's chair for this world-premiere production of a play with music by newcomer Dan McCabe. It starts with three older guys on a stoop in Queens and then explodes into a rap battle between two young female emcees. When the dust settles, there are questions, among them "What is friendship? How can we embrace new ideas? And what does it mean to be wholly yourself?" Tony winner Clint Ramos supplies the scenic design. Broadway vet J. Bernard Calloway, Morocco Omari (Fox's "Empire") and John Scurti (Amazon's "The Marvelous Mrs. Maisel") are among the cast.
---
David Byrne's 'American Utopia'
Emerson Colonial Theater
Sept. 11-28
The head Talking Head headlines this show, which heads into Boston between a world tour and a Broadway engagement. We don't know what it is exactly, but Billboard says it's "an experience like no other," featuring 12 be-suited but barefoot musicians from around the globe. With staging and choreography by Annie-B Parson (and "Moulin Rouge!" director Alex Timbers as a consultant), the show is built on songs by pop/rock icon Byrne (including the Talking Heads hit "Don't Worry About the Government," as well as "Every Day is a Miracle" and "Dog's Mind" from the titular album) and Brian Eno. The entertainment may even have global healing powers: according to the publication The Scotsman, "Mass exposure to this show alone would make the world a better place."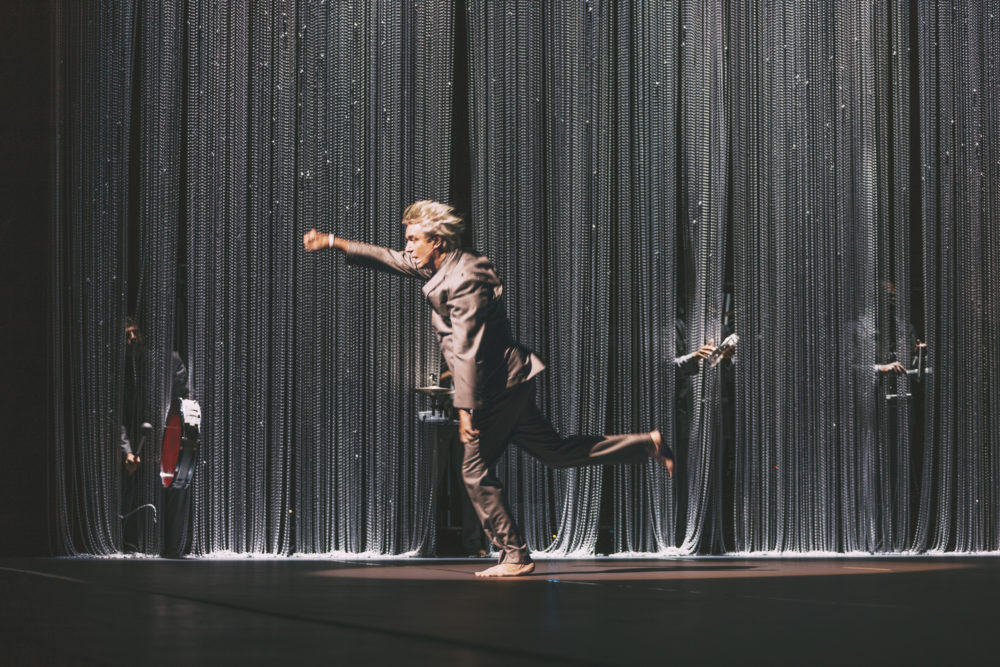 ---
Sept. 12-Oct. 13
New York-based Bedlam, in association with Cambridge's Nora Theatre Company, unveils its stripped-down staging of Arthur Miller's 1953 play, in which the Salem witch trials of 1692 frame a thinly-veiled attack on McCarthyism. Having previously brought to town intense if whittled-down productions of "Sense and Sensibility," "Saint Joan," "Twelfth Night," "Hamlet" and "Pygmalion," Bedlam turns "The Crucible" into "an actor-driven tour de force" that "examines the similarities between the Salem witch trials, McCarthyism and our current political state." The production will travel from Cambridge to New York, rather than, as with previous Bedlam offerings, the other way around.
---
'Choir Boy'
SpeakEasy Stage Company
Sept. 13-Oct. 12
Maurice Emmanuel Parent, executive director of The Front Porch Arts Collective, is at the helm of the Boston premiere of this 2019 Tony Award nominee for Best Play. Written by the Oscar-winning screenwriter of "Moonlight," Tarell Alvin McCraney (who is also the author of Yoruba-steeped "The Brother/Sister Plays"), this less mystical work is set in a fictional prep school "dedicated to the education of strong, ethical black men" but best known for its rocking gospel choir. When "an effeminate young man of color" shows up armed with a powerful talent, a sense of entitlement and a singular song, conflicts ensue. As does musical energy: the play's scenes are punctuated by the powerhouse performances of the choir. Musical direction is by New England-based choral music specialist David Freeman Coleman, who has directed gospel choirs at venues ranging from Symphony Hall to the House of Blues.
---
'Passengers'
Emerson Cutler Majestic Theatre
Sept. 25-Oct. 13
This will make almost as many Boston engagements as there are hand digits for those deft purveyors of existential circus, The 7 Fingers. Here, ArtsEmerson presents the Montreal-based arts collective in a sixth Boston-area bedazzlement. The new show, which is in its U.S. premiere, puts an eight-person cadre of acrobats, aerialists, jugglers, musicians and dancers at the service of an idea — namely that, whatever trip you're on, "the journey is the destination." Deemed "thought-provoking and brilliantly executed" by the Huffington Post, "Passengers," directed and choreographed by Shana Carroll, with music, lyrics and sound by Colin Gagné, beckons us aboard a ride that will encourage us "to find wonder and beauty in all situations." If past experience of "PSY," "Sequence 8," "Traces," "Cuisine & Confessions" and "Reversible" is any indication, the wonder and beauty will extend to the situation on stage.

---
'Trayf'
New Repertory Theatre
Oct. 12-Nov. 3
Under the new artistic leadership of Michael J. Bobbitt, New Repertory Theatre follows its staging of Russell Lees' "Nixon's Nixon" (a dark night of the soul that will showcase the excellent Jeremiah Kissel as Tricky Dick) with this New England premiere. Written by Lindsay Joelle and unveiled in Washington, D.C. in 2018, the comedy takes its title from the Yiddish word for "non-Kosher" or "forbidden." At its center are a pair of 19-year-old Orthodox Jews who ride around 1990s New York in a "mitzvah tank" — an RV that blasts Jewish tunes while operating as a mobile outreach center — recruiting non-observant Jews to perform mitzvahs, or good deeds. When a young, hip non-Jew arrives on the scene, apparently interested in converting, issues of friendship, faith and assimilation come to the fore. And when Washington Post theater critic Nelson Pressley compares the show, in its buddy element, to both "Waiting for Godot" and "Bill & Ted's Excellent Adventure," it's hard not to be intrigued.
---
Oct. 16-Nov. 10
Lowell, with its large Cambodian population, seems the right place for the East Coast premiere of this 2018 play by Lauren Yee ("Hookman"), with music by the Los Angeles-based band Dengue Fever. The band made its name reviving the psychedelically tinged Cambodian rock music of the '60s and '70s, which was mercilessly suppressed (along with most arts and artists) by the Khmer Rouge. Here the Dengue Fever songs (with mostly Cambodian lyrics) are played by a fictional rock band whose numbers are threaded between scenes of a play focused on a Cambodian-American father, who escaped Pol Pot in 1978, and his American daughter, who is trying to piece together her family history some 30 years later. Described as "part mystery, part history lesson and part unabashed jukebox musical concert," the play features six actors — who also form the band! "Cambodian Rock Band" has won several awards, including the 2019 Harold and Mimi Steinberg/American Theatre Critics Association New Play Award. Marti Lyons directs the staging, a co-production of Merrimack Rep, Pittsburgh's City Theatre and Chicago's Victory Gardens Theater.

---
Oct. 18-Nov. 10
Stellar helmsman Scott Edmiston directs this 2015 satire by Larissa FastHorse, an enrolled member of the Rosebud Sioux Tribe, Sicangu Lakota Nation. The play takes apart the titular "most American of holidays: when families gather to celebrate the warmth of home, the bounty of the harvest — and a legacy of genocide and violent colonial expansion." It centers on four excruciatingly "woke," excruciatingly white theater "teaching artists" trying to concoct a school pageant that will celebrate both Thanksgiving and Native American Heritage Month — good luck to them. The very promising cast includes Barlow Adamson, Amanda Collins, Grace Experience and Jesse Hinson.
---
Oct. 30-Nov. 3
The photographs of Robert Mapplethorpe are the inspiration for this new theatrical oratorio with a score by Bryce Dessner (guitarist for the Grammy-winning band The National) and a libretto by Korde Arrington Tuttle that draws on the poetry of Mapplethorpe critic Essex Hemphill and Mapplethorpe chum Patti Smith ("Just Kids"). Kaneza Schaal is at the helm of the multimedia piece, presented by ArtsEmerson and the Celebrity Series of Boston, which features vocals by Roomful of Teeth (an eight-person ensemble specializing in singing traditions from around the world, from Tuvan and Inuit throat singing to yodeling) and includes projections of three of the controversial photographer's portfolios: "X" (images of gay S&M activity), "Y" (flower studies) and "Z" (nude portraits of black men). Hence the triptych in the tribute: none of it for the kiddies.

---
Nov. 5-17
This unlikely Broadway hit garnered seven 2017 Tony nominations, winning for Christopher Ashley's direction. (The show also won Drama Desk and Olivier Awards.) Featuring music, lyrics and book by the Canadian team of Irene Sankoff and David Hein ("My Mother's Lesbian Jewish Wiccan Wedding"), the musical tells the anti-xenophobic story of what happened when, in the immediate wake of 9/11, 38 planes headed for the United States were diverted to a small Newfoundland town with a very big airport, nearly doubling the hamlet's population. Deploying a folk and country pop-influenced score, judicious amounts of schmaltz and a tossed-around codfish, the show presents what the New York Times calls a "portrait of heroic hospitality under extraordinary pressure." Broadway In Boston is the presenter.

---
'the smuggler'
Boston Playwrights' Theatre
Nov. 7-24
Ireland-bred, Boston-based bard Ronan Noone won New York's 2019 Origin Irish Theatre Festival Best Playwright Award for this new solo work. The author of "Brendan," "The Second Girl" and "The Atheist" (another solo work), among others, Noone once again considers the plight of the immigrant, in this case Irishman Tim Finnegan, who, having heard opportunity's faint knock, finds himself struggling as a bartender on the island of Amity (Martha's Vineyard). "All that changes when a stranger arrives with a plan to make people 'disappear and reappear,' and Tim learns the price he must pay to become an American." Judy Braha directs the monologue, which will be performed by that incomparable Irish export, Billy Meleady.
---
'Moby-Dick'
American Repertory Theater at the Loeb Drama Center
Dec. 3-Jan. 12
Those of us for whom American Repertory Theater's 2015 pre-Broadway production of "Natasha, Pierre & the Great Comet of 1812" was among the most exciting theater events in recent memory eagerly await this world-premiere reunion of composer-librettist Dave Malloy, director Rachel Chavkin and the A.R.T. This time out, Malloy and Chavkin, who spun the earlier theater piece out of just 70 pages of "War and Peace," aren't serving up just a slice of a classic novel but the whole epistemological enchilada that is Herman Melville's 1851 seafaring epic "Moby-Dick." What's more, Melville and Malloy have been added to Captain Ahab's multicultural crew. The composer-musician will portray the book's author in the new musical adaptation, in which "Melville's 19th-century vision of America collides head-on with the present."